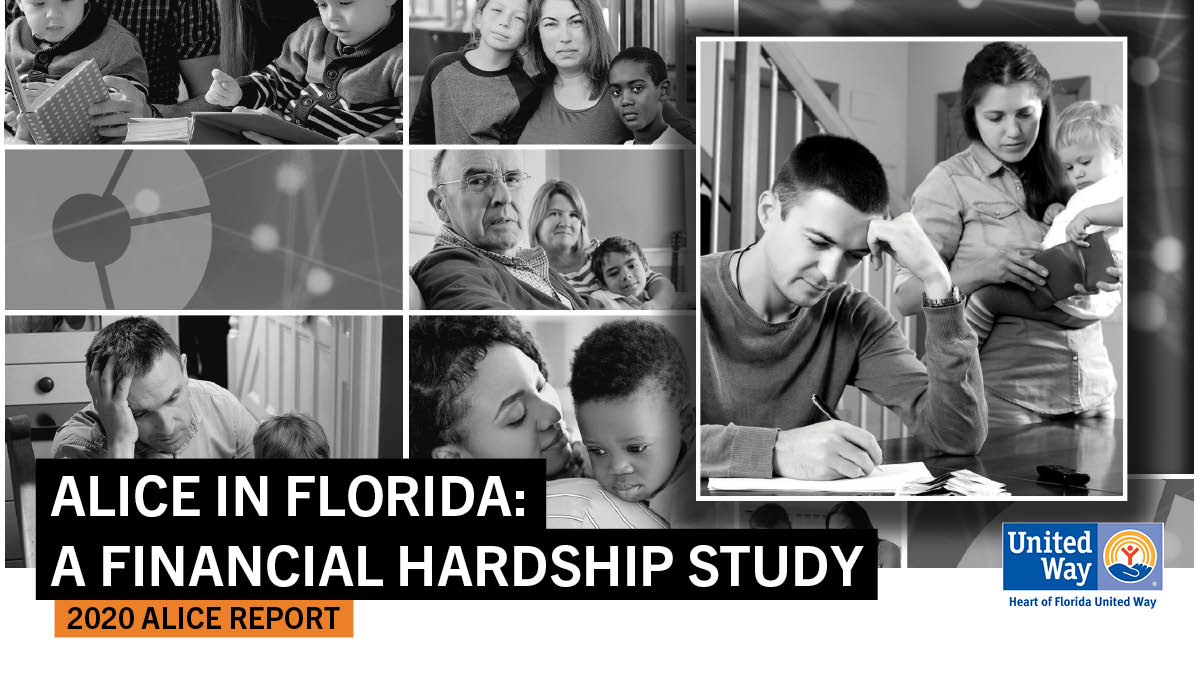 2020 ALICE Report
Top 10 Things to Know About the 2020 ALICE Report
We are living in historic times, and those households who are ALICE (Asset Limited, Income Constrained, Employed) are suffering unimaginably right now. The global pandemic COVID-19 has stricken a vulnerable part of our population who are fighting for their very lives. Around the world, the risk of personal safety has never been higher, and precautions are sweeping through our communities to protect our loved ones.
Yet there is another pandemic, a financial pandemic, striking at the heart of our community. The 2020 ALICE report does not account for the current COVID-19 situation we are all living with today. The data compiled from the most recent sources in 2018 is only a snapshot of our community's well-being. Knowing in 2018, 47% of our population is at high risk of falling into financial ruin, one can only imagine what these families are dealing with in the wake of the COVID-19 pandemic. ALICE households were struggling to survive, but today they are dealing with a reality they hoped would never come. They are no longer employed with little to no savings to help them through this crisis.
You know ALICE. You see them every day. They are the childcare worker at your daycare, the cashier at your supermarket, aging parents on Social Security, waiters & waitresses, office clerks, and others. They are essential, yet they struggle to survive.
ALICE is Asset Limited, Income Constrained, Employed. They are hardworking people one paycheck away from financial ruin. They live in continuous fear of an unexpected bill that may extend them beyond their already tight budgets.
The release of the 2020 ALICE Report comes during an unprecedented crisis — the COVID-19 pandemic. The impact of this global, dual health and economic crisis reveals the vulnerability of both ALICE families and our wider economy. ALICE remains central to the story: The problems and challenges facing ALICE households now are the same ones we have been analyzing over the last decade. With the challenges ahead, our community must come together, now more than ever, to stand with ALICE.
Although we hope you dig into the data more, here are the top 10 things we think you should know about the new 2020 ALICE Report…
Orange County remained about the same. 
Close to the state average, approximately 49% of Orange County households are unable to make ends meet. 35% of the households in Orange County are ALICE, and 14% are below the FPL. (ORANGE COUNTY REPORT)
Seminole County improved. 
Not only did Seminole County see a drop in the number of households in poverty, but also ALICE households, distinguishing it from the rest of Central Florida. Formerly 39% below the ALICE threshold, now Seminole County is 33% — 24% ALICE and 9% poverty. (SEMINOLE COUNTY REPORT)
Osceola County worsened. 
Although poverty level went down in Osceola County (15% in 2018 report to 12% in 2020 report), the region saw an increase in 12,095 ALICE households – or a 10% jump. In total, Osceola experienced an increase from 57 % to now 64% ALICE and below. (OSCEOLA COUNTY REPORT)
Central Florida is in line with the state average. Central Florida is in line with the ALICE state average. The state average of ALICE households in Florida is 33%, with an average of 13% of the population under the Federal Poverty Level (FPL).  46% of Florida's population lives below the cost of living for the state, as calculated in the ALICE Essentials Index. Similarly, across Central Florida it's 47%. 
The ALICE Essentials Index shows ALICE is being priced out of survival. 
Using the items calculated in the ALICE Survival Budget (Rent, Utilities, Childcare, Transportation, etc.), the ALICE Essentials Index measures the rate of change for these necessities over time. While the index factors rural and urban areas separately, in Florida, the annual rate of increase for these budget items are increasing at nearly the same rate of 3.3-3.4%. This rate is much higher than the Consumer Pricing Index (CPI) of 1.8%, which only calculates increases on goods purchased and not household necessities.
A Senior Survival Budget was added. 
In retirement, seniors have different sources of income and different types of household needs. The Senior Survival Budget accounts for their lower food costs, less demand for transportation, and fewer family responsibilities, yet have increased health care needs and out-of-pocket health care expenses. This information is critical to understand since 21% of Florida's Population are retired seniors.
Many are on the cusp of becoming ALICE. 
Before COVID-19, a growing number of households live on the edge of the ALICE threshold. In Florida, 14% of households were on the cusp of the ALICE threshold in 2018, with earnings with in $5,000 – $10,000 of the threshold. The percentage of households that were ALICE statewide rose from 22% in 2007 to 33% in 2018. By contrast, those in poverty fluctuated at around 13% throughout the period. More people are becoming at-risk of falling into poverty as they fall below the ALICE Threshold.
Inequalities are exacerbated by the pandemic. 
Households of all ages, genders, races, and ethnicities, living in rural, urban, and suburban areas, are impacted by the COVID-19 pandemic. But isolating in place is a luxury that many ALICE families cannot afford. Differences in income and savings determine who can stay home, buy protective gear, buy essential items in bulk, take time off work when sick, and access quality health care. ALICE families without savings and working hourly paid jobs are more likely to fall into debt and may not be able to protect themselves or afford treatment if they get sick. 
The digital divide is more evident during school/work from home. 
From remote work and distance learning to telemedicine and social connectivity, the critical importance of access to high-speed internet has been revealed by this crisis – as has the persistent "digital divide" by income. In Florida, 27% of households with income below the ALICE Threshold did not have an internet subscription in 2018, compared with only 8% for households above the ALICE Threshold. With less access to the internet and to computers, ALICE workers will have difficulty working from home even if offered the option. This can include teachers asked to teach online during school closures. 
ALICE Report data is here to work for you. 
United Ways are working for ALICE every day, and we want this data to help work for you. From interactive maps, job trends, demographics and more, there is more information available at www.UnitedForALICE.org/Florida. We encourage you to learn more about your community so we can stand with ALICE.
---
ALICE HIGHLIGHTS IN FLORIDA