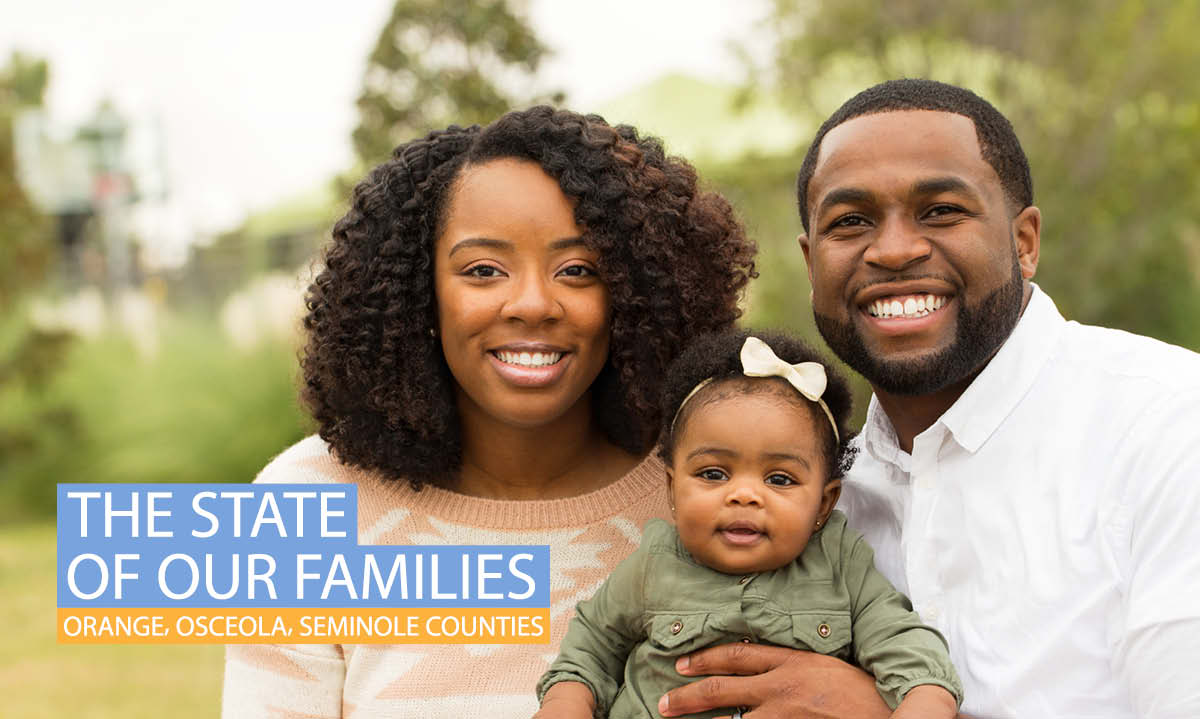 We need to all be the solution by working UNITED
"Even though ALICE families may be resourceful enough to overcome their current emergency, they may not be out of the woods yet; because the next financial hurdle is around the corner for those unable to prepare and save," stated Heart of Florida United Way (HFUW) President and CEO Jeff Hayward during the State of Our Families in 2019. That was two years ago. Little did we know we were foreshadowing a crisis that was right around the corner setting the entire world and its underserved residents, whom HFUW refers to as ALICE, into a financial tailspin or ruin.
The "Asset Limited" part of ALICE means they do not have savings to fall back on. ALICE lives paycheck-to-paycheck in jobs that typically require them to be on-site to perform their work. During the recent State of Our Families address, it was highlighted that the roughly 350,000 Central Florida ALICE households – or 46 percent – could not afford to be out of work for one week let alone more than one year. And while most of this population received $5,600 in Federal stimulus support – in addition to a few hundred dollars of unemployment benefits a month – this is certainly not enough for a family in Central Florida to survive, let alone thrive.
HFUW's 211 Information & Referral Crisis Line experienced a 400% increase in calls for rent, utilities, food and other basic needs. Pre-pandemic, it received an average of 700 calls a day. Within days of the pandemic hitting the region, that number jumped to 3,400 calls a day. Only in recent weeks has the average calls per day remained steady at a little more than 1,000.
Looking through the lens of Diversity, Equity and Inclusion (DEI), the most recent ALICE survey finds that female heads of households and minority households were significantly, and disproportionately, impacted by the events related to COVID-19.
The past 15 months has been the most challenging times our community has ever faced, but as we usually do, the community UNITED, stepped up, and as a result, HFUW was able to raise $1.9 million to help 13,500 households – so far – with rent and utility assistance through the COVID-19 ALICE Recovery Fund.
We also partnered with Orange County Government to develop an eviction diversion program and to assist in the distribution of nonprofit reimbursements for PPE to protect staff. Through a partnership with the City of Orlando, we created and implemented a rental assistance program that distributed more than $2.2 million of CARES Act funds to 520 households in Orlando.
HFUW also convened community partners multiple times to discuss rental assistance pertaining to the looming eviction crisis. It was imperative to reach as many tri-county residents as possible to get them the necessary help.
As a part of this address, HFUW held a panel discussion with Orange County Public Schools Chair Teresa Jacobs, Housd CEO Frank Wells, CareerSource Central Florida COO Mimi Coenen and Central Florida Transit Authority (LYNX) Director of Marketing and Communication Matt Friedman. Each expressed their learnings throughout the past 15 months. Below are some of the key takeaways:
OCPS ensured that every child had a device to connect to school, so then education could continue.
The cost to purchase a home has skyrocketed due to the influx of people moving to our region. Half of an ALICE family's finances are going towards housing. Community collaborators need to do a better job of getting to these families and connecting them with all of the tools and available resources to help them in life no matter which door they come through.
There are new opportunities in the workforce that have emerged: remote work, career pivots and emerging occupations.
We need to all be the solution by working UNITED to ensure the ALICE population is heard and supported.
Although the local COVID restrictions have been lifted, we are not out of the woods yet. Yes, we are a resilient community and you can witness our credo, LIVE UNITED, everyday throughout our community and in the work of our elected officials, community partners, organizations and local nonprofits. We need more people to come to the table with more resources and new ideas to address the issues facing our ALICE households.
---
Wonder what it's like to live like ALICE? Click here to take an interactive walk-in ALICE's shoes.

---
Click here to read the full Alice in Florida: A Financial Hardship Study 2020 Florida Report.
Partner Video Gallery