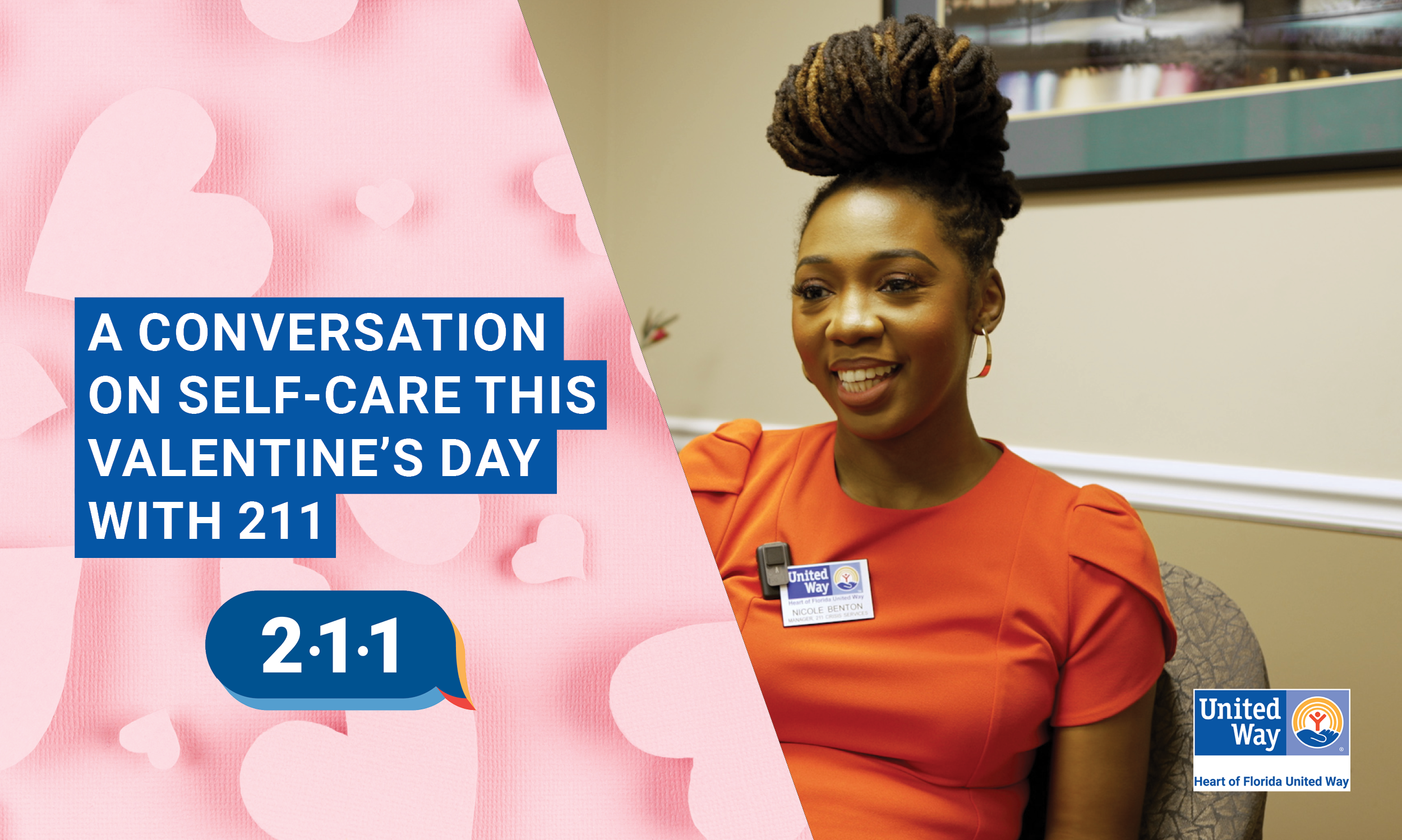 A Conversation on Self-Care this Valentine's Day with 211!
Roses are red, violets are blue, your self-care is important and Heart of Florida United Way thinks so, too!
In the spirit of Valentine's Day, we recently spoke with our 211 Crisis Services Manager Nicole in the following video to discuss the importance of self-care and a few ways to help you put yourself first.
Here a few self-care tips that Nicole shared:
Develop a self-care routine
Assess what you need and value as a part of your daily life and then develop strategies that can be used in a moment of crisis or fatigue. Self-care plans are inclusive of physical, psychological, emotional and spiritual health, and are unique to each individual.
By improving your sleep, exercise and eating habits you can give others your best self when giving back to those in need.
Dial down
Even if it's only five minutes, dedicate a little bit of time out of your day to be still and focus on yourself each day.
Taking this time to dial down will help you de-escalate from intense emotions and re-center yourself to your normal state of emotional regulation. When dialing down, think about where your normal state of being is in comparison to what you are feeling in the moment.
Set boundaries
You do not have to say yes to everything, and it is okay to have limits. Sometimes, you may not have the mental or emotional compacity to take on another task and that is okay.
Community care
You are not meant to live your life alone. It is important to integrate community into your life by surrounding yourself with loved ones.
We hope these self-care tips encourage you to take the time you need to show yourself love and compassion every day.
What You Can Do
Share this blog with someone who wants to learn how to practice self-care. 
Donate to Heart of Florida United Way, so we can continue to support our 211 team and the work they do to provide information and resources to our community.
Stay Connected  
For more information on HFUW, subscribe to our e-newsletter, and follow us on Facebook, Twitter, LinkedIn, and Instagram.