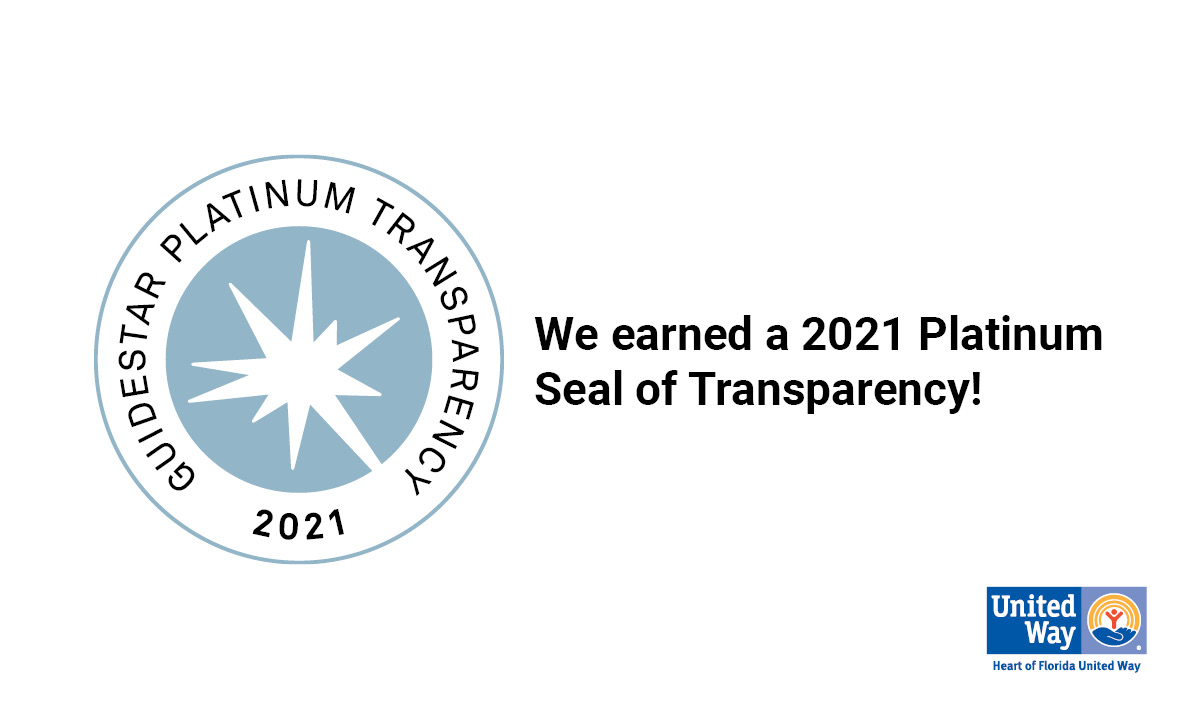 Striving for Excellence
Over the past year, Heart of Florida United Way has fought hard for those directly impacted by COVID-19. We have fought for families who have lost wages, struggled to put food on the table, or worried if they would have a roof over their heads. And we have done all of this with the help of our local partners, agencies, donors, and volunteers.
Our 211 Information and Referral Crisis Line saw an increase of 36%, receiving more than 360,000 calls for rent, utilities, and healthcare assistance. Over twenty thousand of those calls were COVID-related. We established the ALICE Recovery Fund, raised $1.9 million, and leveraged an additional $7.1 million in CARES Act and Utility company dollars to help nearly 13,300 Central Floridian households in need.
And our efforts have not gone unnoticed.
The community has recognized our staff excellence. In December, the Hispanic Chamber of Commerce of Metro Orlando and Prospera awarded Graciela Noriega Jacoby the Don Quijote Excellence Award.
From the Ryan White program, Andres Acosta received the Hispanic Heritage Unsung Hero award. Melanie Cross was a 2020 World AIDS Day Service Award recipient.
The Orlando Business Journal recognized me as a "CEO of the Year" honoree because HFUW "has worked to stay nimble during the COVID-19 pandemic."
Our entire organization, specifically our 211 Information and Referral Crisis Line, received recognition in the Florida Trend Magazine, naming the non-profit sector its "Floridian of the Year" for playing a "vital role amid the pandemic, maintaining a safety net for millions of struggling Floridians".
We were humbled to obtain the trust of author and national philanthropist, MacKenzie Scott, through a transformational gift, as she and her team "took a data-driven approach to identify organizations with strong leadership teams and results…"
This year, the Orlando Business Journal named me as a "Game Changer in 2021" and a "business leader to watch" because of "HFUW's effort to help people during the pandemic."
Although this has been one of the most challenging times, our organization has shown some of our proudest moments. As a team, we are grateful to you for your support and trust in our work.
GuideStar's Highest Honor
Today, we are proud to share that Heart of Florida United Way has received the Platinum Seal of Transparency from GuideStar! This recognition is the highest level an organization can receive, and it's a direct reflection of the work our dedicated staff and volunteer leaders perform daily.
This recognition aligns with our long-held belief in being transparent with the community about our work. We are an organization focused on measuring the progress and results of every dollar invested with us. We ensure potential funders have the information they need to make informed decisions. And we believe in providing donors accurate insight into our entire organization.
Many Central Floridians count on us for help every day. And we rely on you, our investors, partners, advocates, donors, and volunteers to trust us to be good stewards in our community. Thank you for having faith in our work and the work of our partners throughout Central Florida. There is a lot of work to be done, and we cannot do it without you.
Together we must all #LIVEUNITED.
Read more about the GuideStar Seals of Transparency by clicking here.