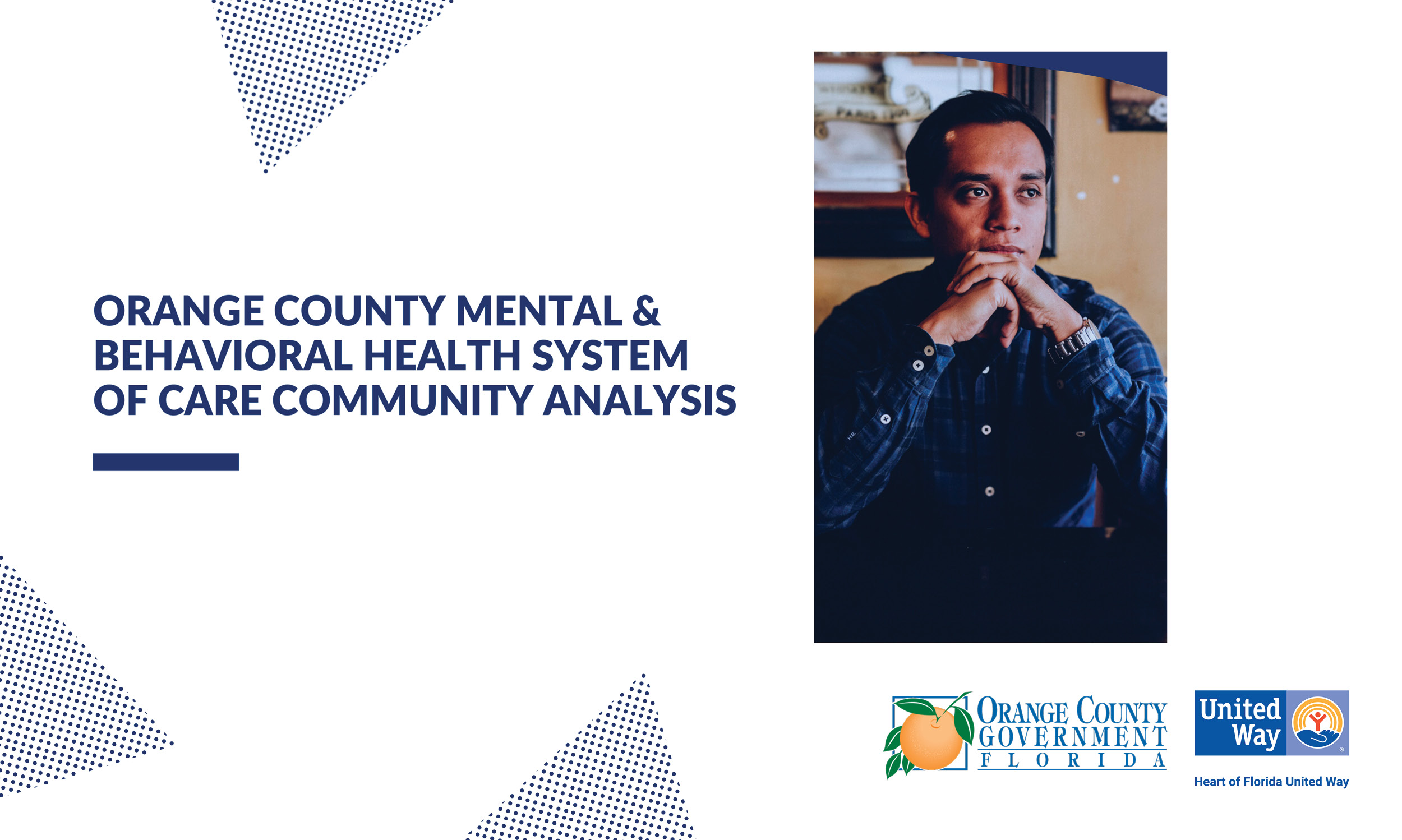 Mental Health Report
Heart of Florida United Way Launches a Mental & Behavioral Health Report in Collaboration with Orange County
Here's a hard truth. Last year, HFUW's 211 Crisis Line received an average of 4 suicide calls a day from Orange County residents in their darkest hour.  Every day, we hear the anxiety in the voices of desperate people calling the 211 Information & Referral Crisis Line. From this point of view, mental health is just as vital to an individual's well-being as physical health. 
Today, with the leadership of Orange County Mayor Jerry Demings and the Orange County Board of Commissioners, Heart of Florida United Way is proud to launch a research report that examines the mental and behavioral health system of care in Orange County.  HFUW worked with Dr. Lauren Josephs of Visionary Vanguard Group to conduct a comprehensive analysis of more than 200 community stakeholders who work in, contribute to and utilize the mental and behavioral health system in Orange County.
Primary concerns ranged from lack of knowledge about mental health benefits coverage through insurance and language barriers to increased demand that exceeds the system's capacity as a result of the pandemic and lack of parity for mental health insurance coverage – to name a few.
VIEW THE REPORT: ORANGE COUNTY MENTAL & BEHAVIORAL HEALTHSYSTEM OF CARE COMMUNITY ANALYSIS
ALICE and Mental Health
In Central Florida, nearly 50% of the population is ALICE or Asset Limited, Income Constrained, and Employed. However, we also know you do not have to be Asset Limited to feel the pain of missing work to care for yourself or your loved ones. You do not have to be Income Constrained to know that medical services can be costly. And you could be Employed, admired by your peers, and be successful in the eyes of others, but struggle mentally every day. If the impacts of COVID-19 taught the community anything, it's that mental health is important to all of us. However, the impact could be different for someone who is struggling to make ends meet for their family.
A Kaiser Family Foundation study recently reported that 41% of adults interviewed shared anxiety and/or depressive disorders symptoms. This figure is up from 11% reported in 2019 before the pandemic—additionally, a severe consideration for suicide among essential workers was reported in June 2020.
With Florida ranking 49th out of 50 for access to mental health services, it is feared that mental well-being is out of reach for many, perhaps being viewed as more of a luxury than a basic need.
Next Steps
It will take upwards of $49 million annually to fully work towards and implement the recommendations set forth in the Orange County report. An implementation group is being formed, made up of many who contributed to the report. Their job is to prioritize projects and move progress forward.
To learn more about the report or speak with someone about mental health in Central Florida, email LiveUnited@HFUW.org.
If you or someone you know is in need of support, reach out to 211 Information & Referral Crisis Line 24/7/365 by dialing 211, texting your zipcode to 898211, or visiting www.HFUW.org/GetHelp.