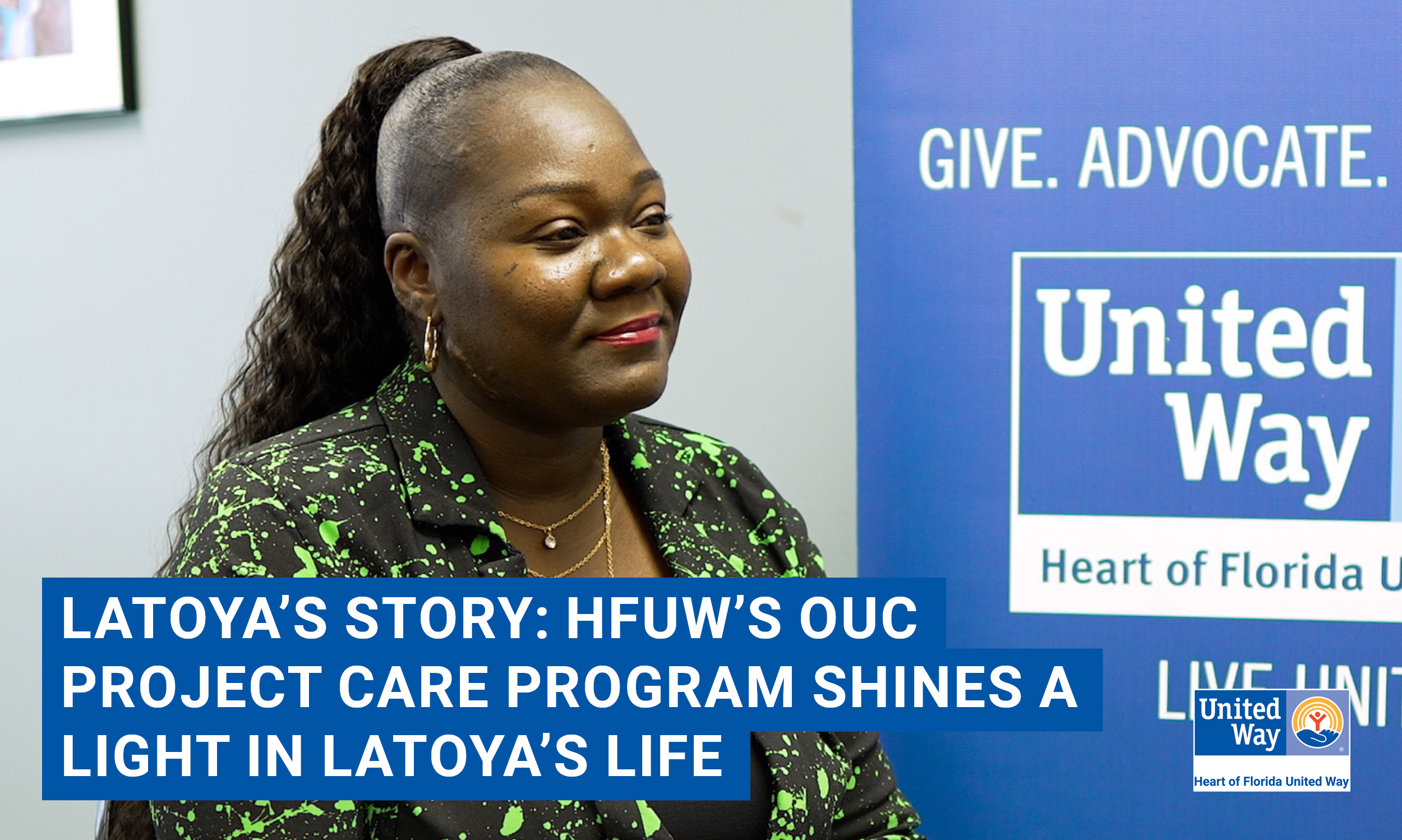 LaToya's Story: HFUW's OUC Project CARE Program Shines a Light in LaToya's Life
Have you ever had someone shine a light in your life in your time of need?
LaToya's Story
Meet LaToya Pugh, a single mother of two daughters who called Heart of Florida United Way's 211 Information and Referral Crisis Line in her darkest hour.
Recently, LaToya joined us at our 16th annual Women United Luncheon sponsored by OUC – The Reliable One where we shared LaToya's story.
LaToya had lost her job and began living off her savings, which led to her falling behind on her bills. When she struggled to pay her utility bill, LaToya would cook extra meals with the expectation that her utilities would soon get disconnected.
Then, LaToya heard about Heart of Florida United Way and called our 211 Information and Referral Crisis Line for help. Our 211 Crisis Services Manager Nicole answered LaToya's call, listened to her needs, and connected her to the OUC Project CARE program to help pay her utility bill.
LaToya was already given an extension and was anxious her utility bill wouldn't be paid on time, but then her phone rang. It was Nicole calling to let LaToya know that her utility bill had been paid thanks to OUC Project CareCare. "It was the best feeling ever," said LaToya.
With the help of the OUC Project CARE program, we were able to give LaToya the leeway she needed to seek full-time employment again.
Watch this video to hear LaToya share her story. 
What is OUC Project CARE?
OUC Project CARE is a utility assistance program in partnership with OUC – The Reliable One that is available to residential OUC customers in Orange and Osceola counties that provides one-time assistance of up to $500 per household in a 12-month period.
This program helps Central Florida families focus on more important things in their lives and get their lives back on track without worrying about keeping the lights on.
It is okay to ask for help. To learn more and apply for utility assistance like OUC Project CARE, click here.
What You Can Do
Share this blog to share the utility assistance resources available to our neighbors in Central Florida.
Donate to Heart of Florida United Way, so we can continue to be a light to our neighbors in need.
Stay Connected  
For more information on HFUW, subscribe to our e-newsletter, and follow us on Facebook, Twitter, LinkedIn, and Instagram.