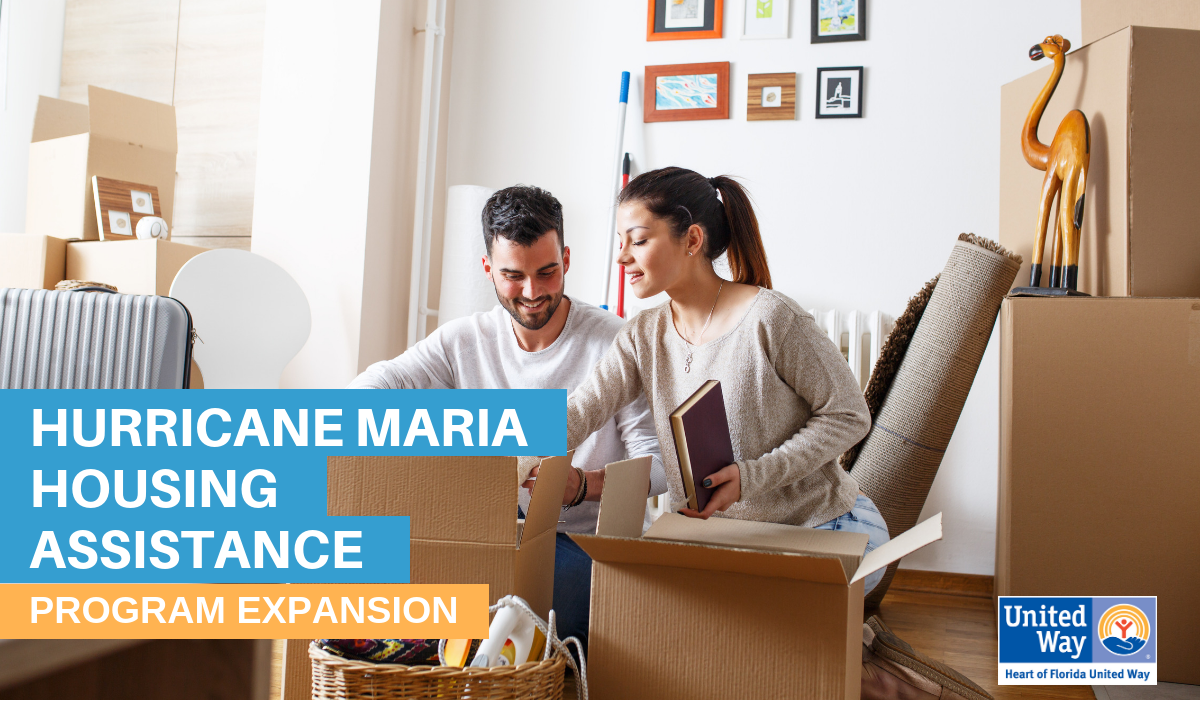 Hurricane Maria Housing Assistance Program Expansion
Hurricane Maria ripped across homes and communities a year and a half ago, but we are still feeling the effects of the storm. As Hurricane Maria evacuees began escaping into Central Florida, Heart of Florida United Way launched the Hurricane Maria Housing Assistance Program to help them overcome the barriers of securing stable housing. The Hurricane Maria Housing Assistance Program has provided stable housing to 180 families and assistance with basic household needs to 88 families.
As we continue to evaluate the evolving needs of these families, our goal is to assist them on the journey towards financial stability and security in our community. However several barriers have become a common theme among evacuees that keep them from sustainable income: language barriers, childcare, and a lack of required certification for job skills and education.
Hurricane Maria Housing Program Expansion Details
It is based upon those common denominators that we have decided to expand the Hurricane Maria Housing Assistance Program. While the program began as a means of securing housing and then expanded to cover household essentials, this new iteration will provide assistance with education and employment opportunities. The program will be providing financial assistance to cover expenses associated with education or certified training programs for job skills required by an employer. Financial assistance will also be provided to cover expenses associated with gaining and keeping employment, such as uniforms, tools, driver's license fees and short term training leading to employment.
In addition, other financial assistance will be available to cover housing expenses (including rent and utilities) that will give families the ability to cover other expenses like childcare, car insurance or car repairs and other critical needs that impact a family's financial stability.
Hurricane Maria Housing Assistance Program Qualifications
Documentation to confirm their status as a Hurricane Maria evacuee that has relocated to Orange, Osceola or Seminole county

Have family-sustaining employment (where salary will cover all basic needs) and be able to provide documentation
Have secured rental housing (to include completing the housing application, paying all application fees and have been accepted for housing)
Call United Way 2-1-1 for screening. Those who meet program qualifications will receive a return call within two business days
To apply for the Housing Assistance Program individuals must call United Way's 2-1-1 for assistance. Individuals can access 2-1-1 by phone, email, chat or text (just text your zip code to 898-211). 2-1-1 is free and completely confidential, available 24/7.
About the Hurricane Maria Housing Assistance Program
Since its launch in March 2018, United Way's Hurricane Maria Housing Assistance Program has provided one-time assistance for working families to get over the barrier of first and last months' rent, utility deposits required to secure an affordable rental unit in Central Florida and basic household needs.
Besides initial deposits, one of the biggest barriers evacuees are facing is being able to identify an affordable housing unit. As specified in the ALICE (Asset Limited Income Constrained Employed) Report in 2018 the affordable housing crisis continues to aggravate ALICE's stability. There is a deficit of more than 309,000 affordable housing units across the state. Currently, metro Orlando only has 17 affordable residential units for every 100 renters in need. The average cost of monthly rent for a two-bedroom unit in Central Florida is $1,264.
These numbers were before the arrival of evacuees in need of housing. Although available inventory of affordable housing will remain a challenge, Heart of Florida United Way will continue to advocate for the thousands of evacuees trying to start a new life in Central Florida.