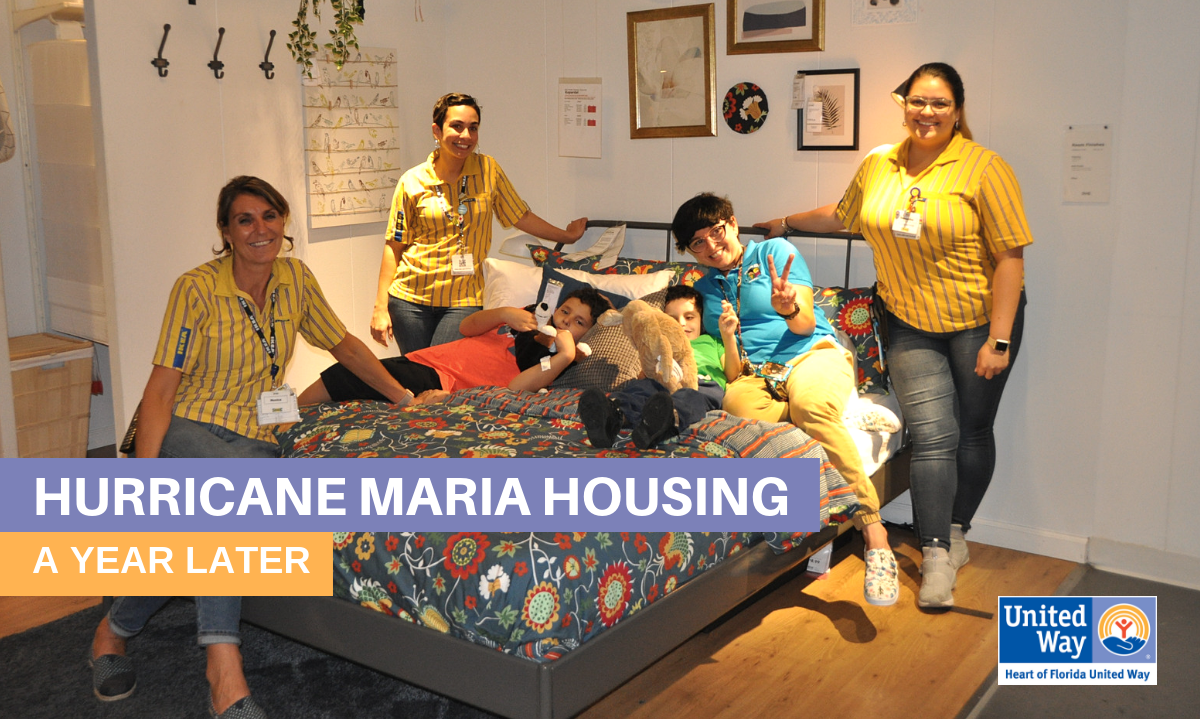 Hurricane Maria: A Year Later
Hurricane Maria Struck a Year Ago
A year ago, Hurricane Maria changed the lives of millions. Homes were destroyed, lives were lost, families were left feeling helpless and hopeless. Our own community changed as thousands of evacuees sought to start a new life in Central Florida. And it is with immense pride that we saw this community band together and welcome them with open arms.
United Way has been fighting for those impacted by the storm since day one, and we have seen lives change as many have now come to call Central Florida home. With assistance for initial rent and utility deposits, the Hurricane Maria Housing Assistance Program has helped 80 working families transition into permanent housing. However, many of these families fled to our community with only the clothes on their back. While they may have a roof over their heads, they only have an inflatable mattress to sleep on and little else.
Next Phase of Hurricane Maria Housing Assistance Program
Based on those needs, Heart of Florida United Way is expanding the Hurricane Maria Housing Assistance Program to provide an allocation for the purchase of basic furniture and household items. We have partnered with Ikea to provide evacuees who have moved into permanent housing with a gift card to buy beds, mattresses, couches, dining tables, kitchen utensils and other basic household items they might need.
Our community has seen an influx of thousands as a result of Hurricane Maria. Among them are stories of heart-breaking adversity, unimaginable tragedy and devastating circumstances. But because of your support, we are rewriting those stories into remarkable journeys of resilience, determination, courage and hope for tomorrow.
Frances' Story
As a single mom to two young boys, Frances already had her hands full. Her oldest son, 9-year-old Diego, has a very rare medical condition that requires special medication to be brought to the island. When Hurricane Maria struck Puerto Rico, Frances no longer had access to the medication Diego needed. She went to the local news station, pleading for help to get the medicine delivered. Every day that passed, she watched him grow weaker and she became more frantic.
When she heard Humvees making their way through town, Frances threw herself in front of the vehicles in desperation. Dr. Antonia Novello, a Central Floridian who had flown to the island to help, realized the gravity of the situation and arranged for transport of the family to the Nemours Children's Hospital in Orlando, Florida.
As the months passed, Diego regained his strength and fully recovered. Frances found a job, and applied for the Hurricane Maria Housing Assistance Program for help with the initial deposits in order to secure an apartment for her family. Although they only had a couple of twin mattress and a pack of paper plates, it was a place to call home.
With the expansion of the Hurricane Maria Housing Assistance Program, however, Frances was able to go to Ikea to pick out beds for her sons, a couch to do homework on and a dining room table they could have dinner at together. Now their apartment is home sweet home.