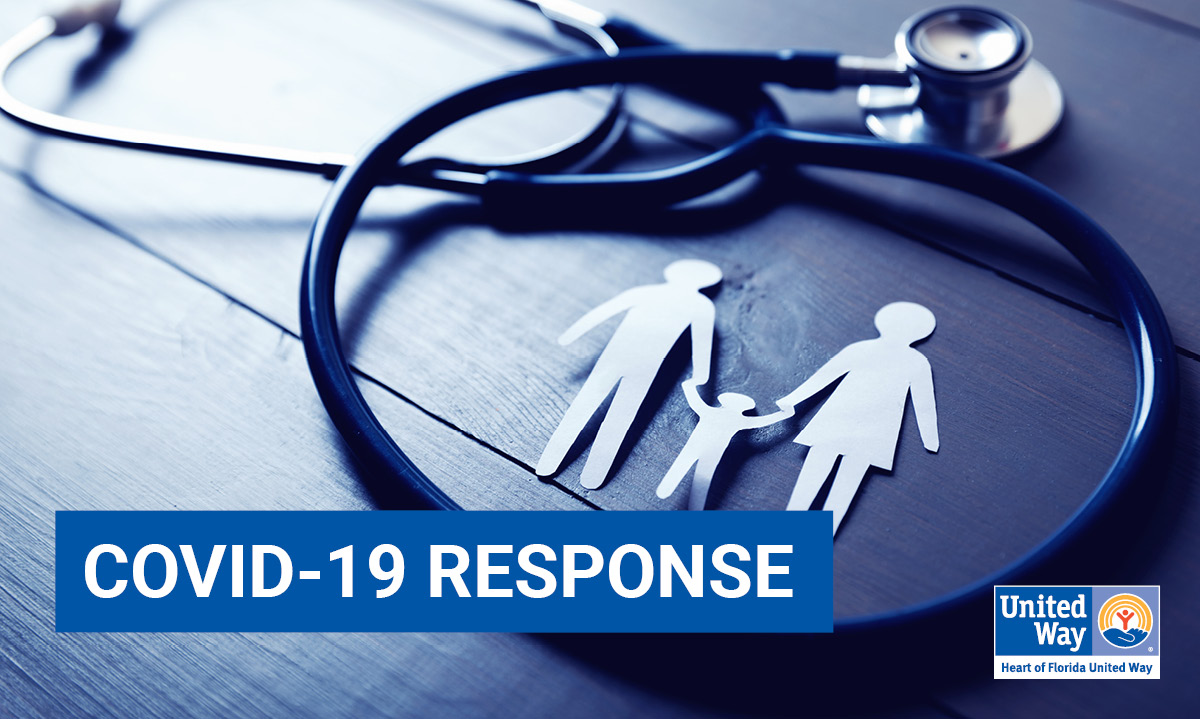 HFUW's COVID-19 Response
Since March 2020, when cases of COVID-19 were confirmed in Central Florida, Heart of Florida United Way has been central to critical conversations on the challenges families face. As the lead advocate for ALICE (Asset Limited, Income Constrained, Employed) families in Central Florida, we knew we had to act. On March 17, 2020, HFUW established the ALICE Recovery Fund to assist families impacted by the financial consequences of COVID-19 with rental assistance to prevent homelessness. No one could have imagined that the pandemic would have the impacts we saw after that.
HFUW's 211 Information & Referral Crisis Line was receiving up to 4-times the usual call volume at its peak. We received more than 16,000 requests for assistance from the ALICE Recovery Fund, which far outpaced the available resources. Every day we heard stories of households facing the fear of eviction because they may not be able to pay their rent, families having to make difficult choices, and individuals who have no idea when they might return to work and receive a full paycheck to pay for their essentials.
Generous partners stepped up to contribute to the fund totaling nearly $1.9 million. We are proud of the effort and thankful for the financial support from companies, foundations, and individual donors. However, the overwhelming reality is that while receiving $1.9 million in donations, we received more than $17 million in requests for assistance.
Even now, into 2021, the 211 Information & Referral Crisis Line continues to be a vital resource for many in our community as we maintain nearly double the call volume experienced before the pandemic. Although resources are scarce and the safety net is stretched thin, HFUW is proud of the impact we have been able to make on the lives of Central Florida families.
As of December 31, 2020, HFUW has served approximately 12,770 households throughout Orange, Osceola and Seminole counties with rent, mortgage and utilities assistance. This amounts to more than $7 million in aid for families financially impacted by this crisis. It is only because of individual donors, corporate citizens and public sector partners who invest and partner in our work that we could make such a meaningful impact.
For example, collaborations like that with utility provider OUC – The Reliable One to administer the $2.6 million Project CARE program supports residents who cannot pay their utility bills. Similar support programs with Duke Energy and the City of Winter Park have also developed. 211 has been widely cited as a central community resource by local government officials during press conferences and included as a go-to safety net resource.
We like to think of 211 as a "canary in the coalmine" to predict community needs and trends. Based on data from 211, the next issue we are keeping our eye on is evictions. As a compassionate measure and to help those suffering from job loss and furloughs, eviction moratoriums at the state and federal level were executed. While this refuge was a relief, it is temporary. As the federal moratorium is scheduled to expire on January 31, 2021, we know that the rent meter is still running, and our community is about to face a tidal wave of evictions. In turn, this will exacerbate already existing problems our community faces.. With a lack of sufficient affordable housing and a looming eviction crisis, United Way sees the need to bring this conversation to the forefront. We have convened several community-wide meetings to bring experts to the table, issues to the forefront, and information to those working on this critical issue.
2020 proved to be a year of challenge for many families. However, out of the many stories of hardship and loss, there are just as many of hope, love, and gratitude. HFUW is thankful to have had the opportunity to serve the community in hopes of bringing more smiles to Central Floridians' faces in 2021.