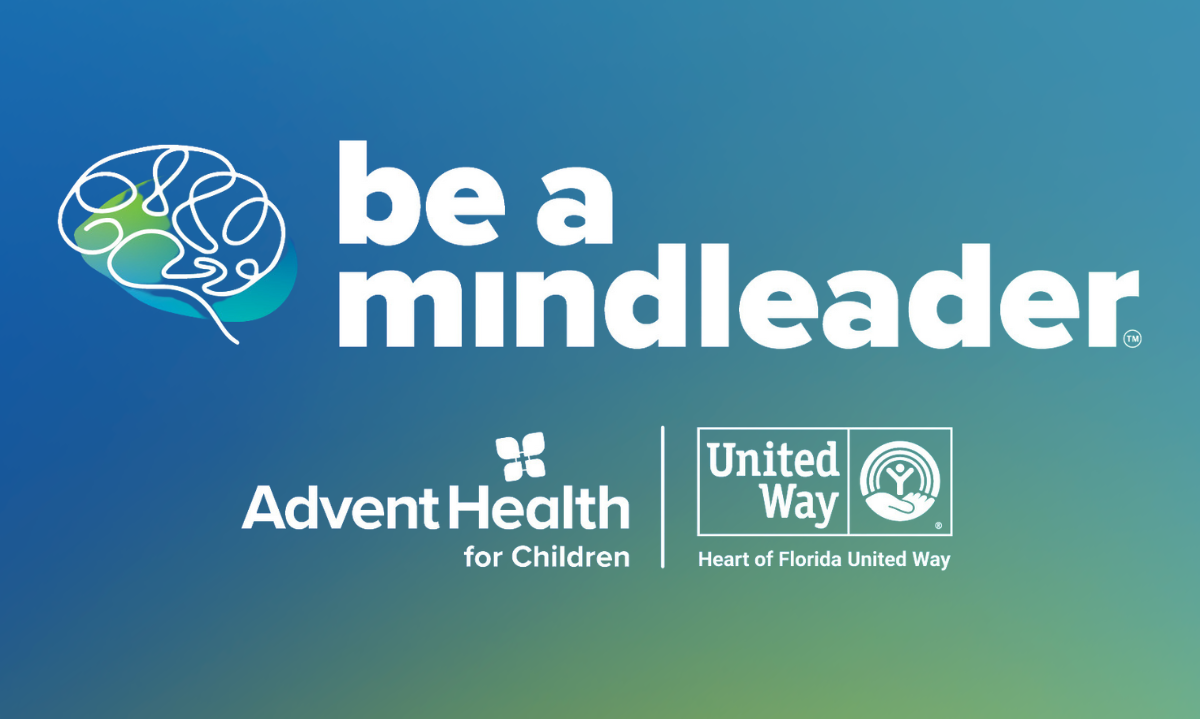 HFUW Teams Up With AdventHealth for Children to Break Down Stigma Around Mental Health Through a $1 Million Investment
This Mental Health Awareness Month, Heart of Florida United Way (HFUW) is teaming up with AdventHealth for Children on a first-of-its-kind campaign to get Central Floridians talking about mental health and empowering them to "Be a Mindleader."  
 
Talking about mental health is one of the best ways to reduce the stigma, create hope, and lead people to seek care, according to the American Psychiatric Association, and this campaign aims to do just that.  
 
HFUW is investing $1 million in the campaign, which will initially focus on children, parents, and caregivers and then on breaking down cultural and language barriers and stigmas within Central Florida's Spanish and Creole-speaking communities.  
The investment, which was made possible by a historic $20 million gift from philanthropist and author MacKenzie Scott, is a direct response to the findings of a comprehensive analysis of the mental and behavioral health system in Orange County, which Orange County Mayor Jerry Demings and the Orange County Board of Commissioners requested HFUW to complete last year.  
 
Presented in February 2022, the Mental & Behavioral Health Report revealed several important findings — including a lack of public knowledge about mental health insurance benefits, language barriers to accessing mental health support, the increased demand that exceeds the systems' capacity, and a need to increase the promotion of positive mental health behaviors.  
 
HFUW's investment in the Be a Mindleader campaign is a direct response to the findings of this report.  
 
Furthermore, as the organization literally answering the call of the National Suicide Prevention Lifeline, 988, in Orange, Osceola and Seminole counties, we have seen a significant increase in the number of suicide calls we have taken. If you compare the number of suicide calls received in January 2022 to January 2023, you will find that there was an increase of 115% – more than double the number of suicide calls year over year.
It's clear that our community needs increased mental health support, and HFUW is proud to be a part of the solution. This includes by helping to fund the Be a Mindleader campaign, which will help normalize conversations around mental health, reduce the stigma of seeking help, and connect members of our community to the resources they need.  
 
Other efforts to address our community's need for mental health support include continuing to operate our 211 Information and Referral Crisis Line and 988 Suicide Prevention Lifeline, as well as launching our very first mental wellness skillshop, Getting to the Heart of It: A Mental Wellness Skillshop, designed to help train community leaders through behavioral, psychological, and holistic wellness practices so that they can support their colleagues, family members, and friends. Registration is now open for our first skillshop, to be held Friday, May 12. For details and the link to register, click here.  
 
For more information about the Be a Mindleader campaign, visit BeAMindleader.com.  
What You Can Do
Stay Connected  
For more information on HFUW, subscribe to our e-newsletter, and follow us on Facebook, Twitter, LinkedIn, and Instagram.