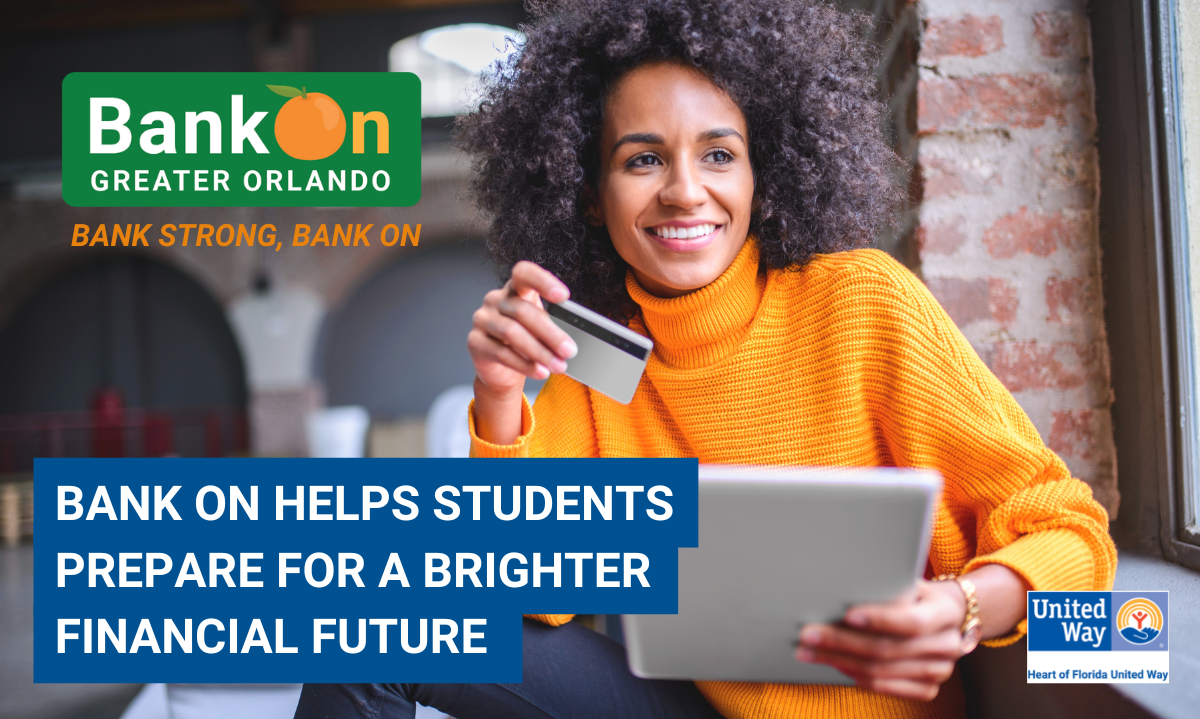 Calling All Students! Prepare for a Brighter Financial Future with Bank On
It's never too early to begin your journey toward financial prosperity.
Heart of Florida United Way's Bank On of Greater Orlando program can help connect students with the tools they need to open a secure and affordable checking account.
From high school students who may have recently started their first part-time job, to college students who are independently learning how to manage their funds for the first time, a Bank On certified account is a great place to start!
Benefits of Student Banking
Do you know a new or recent student in need of a safe, low/no cost checking account?
Managing personal finances may seem intimidating, especially for a young adult, but opening a checking account is the first step toward building a solid financial foundation. Having and using a reliable account at the right bank or credit union can help them gain a stronger understanding of personal finance, and even provide resources and educational services for budgeting, saving, and credit.
In addition, students are encouraged to access Bank On Certified accounts in order to safely and easily begin their journey at low/no cost. Certified accounts will never charge fees for insufficient funds, overdraft, low balance or inactivity/dormancy, ensuring that users will not be penalized for not having enough money.
Those who are seeking part-time jobs can use their new checking account to save more of their earned dollars through direct deposit and avoid paying hundreds in check cashing and paycard fees.
A reliable checking account can also aid a young adult's understanding of spending and budgeting skills needed to build and maintain a good credit score that will prepare them for successful financial management in the future.
Don't forget parents, you do not need to specifically be enrolled as a student to learn more about enhancing your current banking options with a new Bank On certified account! Explore great features like Zelle money transfers, free fraud protection, and early payday with direct deposit.
Click here to view a list of Florida Bank On certified accounts available to get started! 
What You Can Do
Share this blog with a student and/or their parent or guardian to help share the word about the benefits of Bank On certified accounts!
Donate to Heart of Florida United Way, so we can continue to be a resource for students throughout Central Florida
Stay Connected  
For more information on HFUW, subscribe to our e-newsletter, and follow us on Facebook, Twitter, LinkedIn, and Instagram.