Heart of Florida United Way's (HFUW) Women United Luncheon, presented by OUC – The Reliable One was one for the books!
On Wednesday, April 26, 2023, HFUW and their Women United Luncheon Committee hosted our 16th annual Women United Luncheon at the Renaissance Hotel at SeaWorld in Orlando, Florida.
Over 750 community leaders joined us for this inspiring event where public speaker, writer, competitive cyclist, and popular Peloton instructor Christine D'Ercole shared her keynote address focused on mindful motivations rooted in self-talk.
The event opened with remarks from our President and CEO Jeff Hayward, HFUW Board Chair and Vice President of Travel Services, Pricing, and Revenue at Disney Parks, Experiences, and Products Tracey Powell, Women United Luncheon Committee Chair and Marketing and Brand Activation Lead at Johnson & Johnson, Kathy Brown, and a few words from our presenting sponsor OUC – The Reliable One's Chief Customer and Marketing Officer Linda Ferrone, and Director of Marketing and Community Engagement and HFUW's Women United Chair Lisa Curran.
There was also a special performance by Central Florida Community Arts that lit up the room in song with This Little Light of Mine, which encouraged everyone in the room to be a light for our neighbors in need.

After the keynote message, some of our attendees joined us for a WORDSHOP – a workshop in self-talk, led by Christine D'Ercole herself! It was amazing to watch our community come together to edit their self-talk in real time.
Thank you to everyone who made this year's event possible including our Women United Luncheon Committee, and a special thank you to our Women United Luncheon Chair Kathy Brown.
Captured by: RTW Photography
The Women United Luncheon Committee members include:
Kathy Brown, Chair – Johnson & Johnson
Yanet Herrero, Vice Chair – Kings Service Solutions
Migdalia Figueroa, Second Vice Chair – Telemundo 31
Jessi Blakley – Tavistock
Michele Daugherty – Associated Builders & Contractors
Deisamar De Soto – Haciendo Negocios Radio Show
Crystal Gaines – Community Volunteer
Lisa Goetzke – Wawa
Lynette Jackson – JP Morgan Chase Bank
Tanisha Nunn Gary – African American Chamber of Commerce Central Florida
Marcela Restrepo – SkyBuilders USA
Laure E. Richeson, APR – Richeson Communications
Ana Carolina Salazar – BOLD Digital Marketing Studio
Corey Schoenfelder – Associated Builders & Contractors
Diane Sears – Go for the Greens Foundation
Dawn Young – Winter Park High School
We'd also like to thank our sponsors including OUC – The Reliable One, Gilbane Building Company, AdventHealth, TD Bank, Truist, and Wells Fargo; Self-Talk Sponsor RICOH; and our exhibitors including UCF College of Business Administration, Kendra Scott, RICOH, Associated Builders and Contractors, Designzillas, VyStar Credit Union, and Rollins College Hamilton Holt School!
And, we'd like to thank everyone who joined us and participated in our raffle that helped us raise $256,971 for Central Florida families in need. We hope this event made everyone who attended feel more empowered than ever to care for their mental fitness and the mental wellness of others.
Are you interested in joining the movement? Click here to join Heart of Florida United Way's Women United LinkedIn group.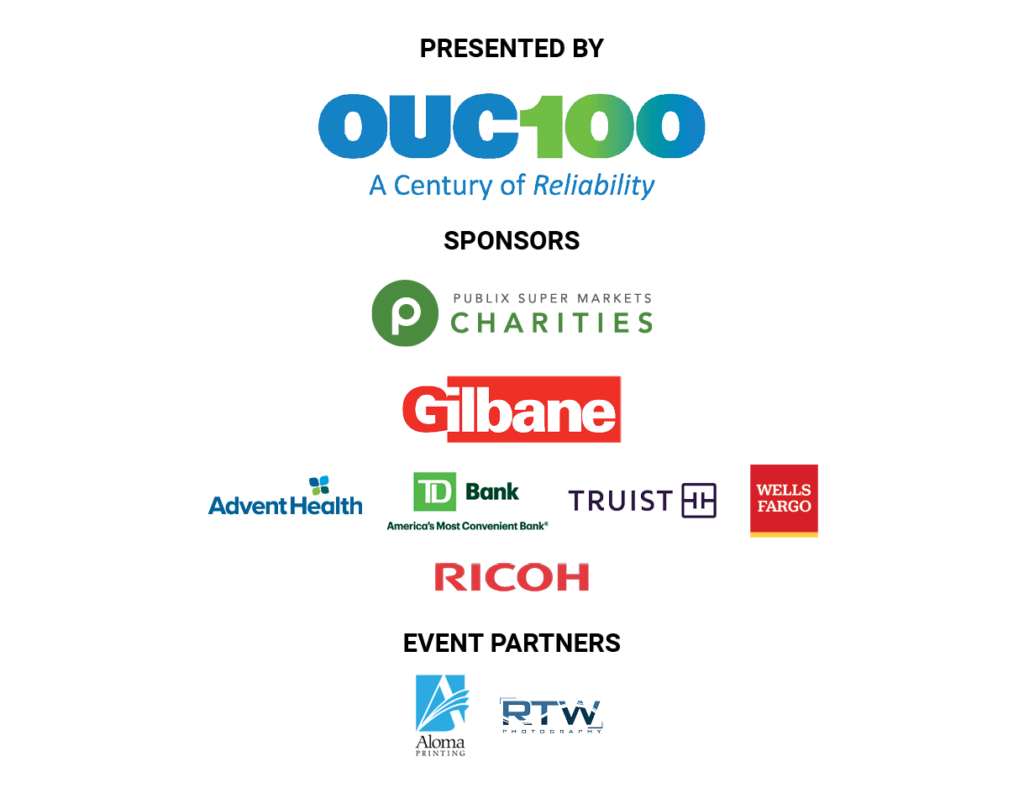 What You Can Do
Stay Connected  
For more information on HFUW, subscribe to our e-newsletter, and follow us on Facebook, Twitter, LinkedIn, and Instagram.