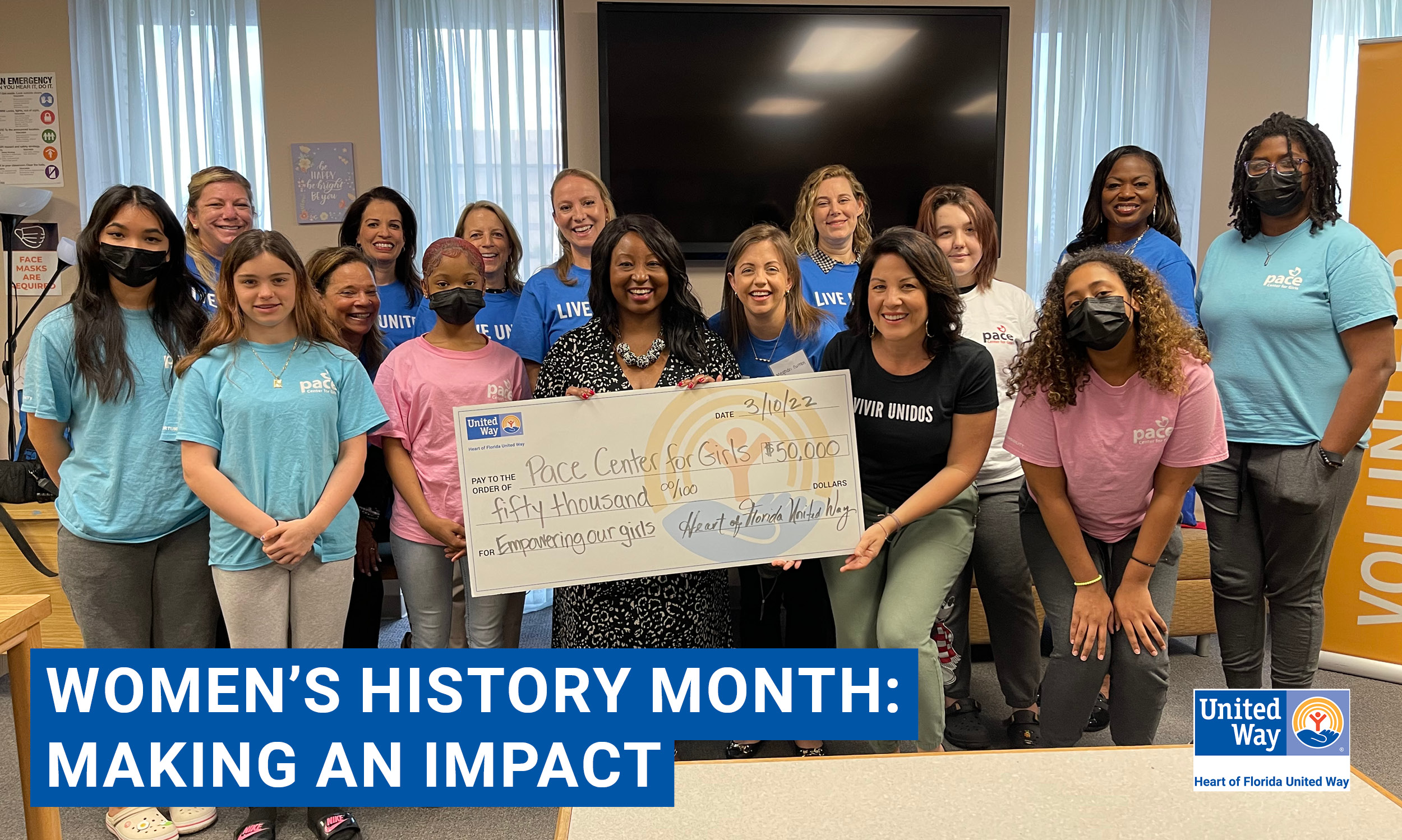 Women's History Month: Making An Impact
"None of us can be who we are alone. Right? When you look at any successful person, there is always a true tribe of people whether mentors, coaches, parents, or loved ones that are there cheering them on."
That is how Pace Center for Girls Executive Director, Rosene Johnson, set the stage for a recent visit from a group of Women United members; women who know giving back is an essential component of real success.
During our volunteering session at Pace, executives from some of our region's leading corporations spent time completing a goal mapping exercise with the Pace students – girls who faced challenges in traditional schools.
Lisa Curran, Director of Marketing and Community Engagement for OUC – The Reliable One and Women United Steering Committee Vice Chair, volunteered and said, "you're inspired and you walk away knowing you made a difference and that's just worth it. I just encourage everyone. You can do that in so many different ways."
"Doing that" is more important than ever as families begin to envision life post pandemic. For the families we serve at Heart of Florida United Way the economic, physical and mental toll of the COVID-19 pandemic will be felt long after we stop wearing masks for good.
Women United Engagement Committee Chair, Alyse Quinn, put it like this: "Well, that was a waste of an hour," said no Heart of Florida United Way volunteer EVER. This is why I support building community together – because giving part of yourself in service to others is one of the best gifts you can give yourself."
Women's History Month is the perfect time to reflect on the past, but also to look at the history we are building today. When future generations look back on how our region recovered from the pandemic, we want them to see a community that picked itself up and ensured their neighbors were not left behind.
Tracey Powell is Vice President of Pricing and Revenue Management at Disney Parks, Experiences and Products – a job that keeps her schedule packed. She takes the time to serve on the HFUW Board of Directors and the Women United Steering Committee because she knows there are crucial needs right now.
"I love that Heart of Florida United Way not only recognizes the long term goals, but knowing that we have some very close challenges, especially coming out of the COVID pandemic and how important mental health is," said Tracey. "We are right there, partnering with Central Florida to make sure that we're helping each and every one of our community members."
Women United Steering Committee Chair Elisha Gonzalez shared this reflection on the power of public service:
"A powerful quote that remains a constant in my journey is by Mahatma Ghandi, 'The best way to find yourself is to lose yourself in the service of others.' In addition to the health and well-being benefits, volunteering gives people a sense of purpose. The feeling of fulfillment you get from giving back and contributing to society is unparalleled. Giving back allows an individual the opportunity to get to know their community and its citizens. When you volunteer, you have a chance to meet many new people and learn their experiences. Volunteering at nonprofit organizations also provides great networking opportunities as well as chances to serve on organizations' boards and committees, and gain leadership experience. Giving back can give you a deep, rewarding feeling at heart. Millions of people have a habit of consistently giving to society to support causes they believe in. Volunteerism is proven to have a positive effect on your own life as well! You can be part of the change! As Margaret Mead said, 'Never doubt that a small group of thoughtful committed citizens can change the world: indeed, it's the only thing that ever has.'"
To everyone who supports Heart of Florida United Way, to the women who serve through Women United, to those helping us empower the next generation of leaders – during Women's History Month and always, WE APPRECIATE YOU.
To get involved with projects like this, visit https://www.hfuw.org/volunteer/.