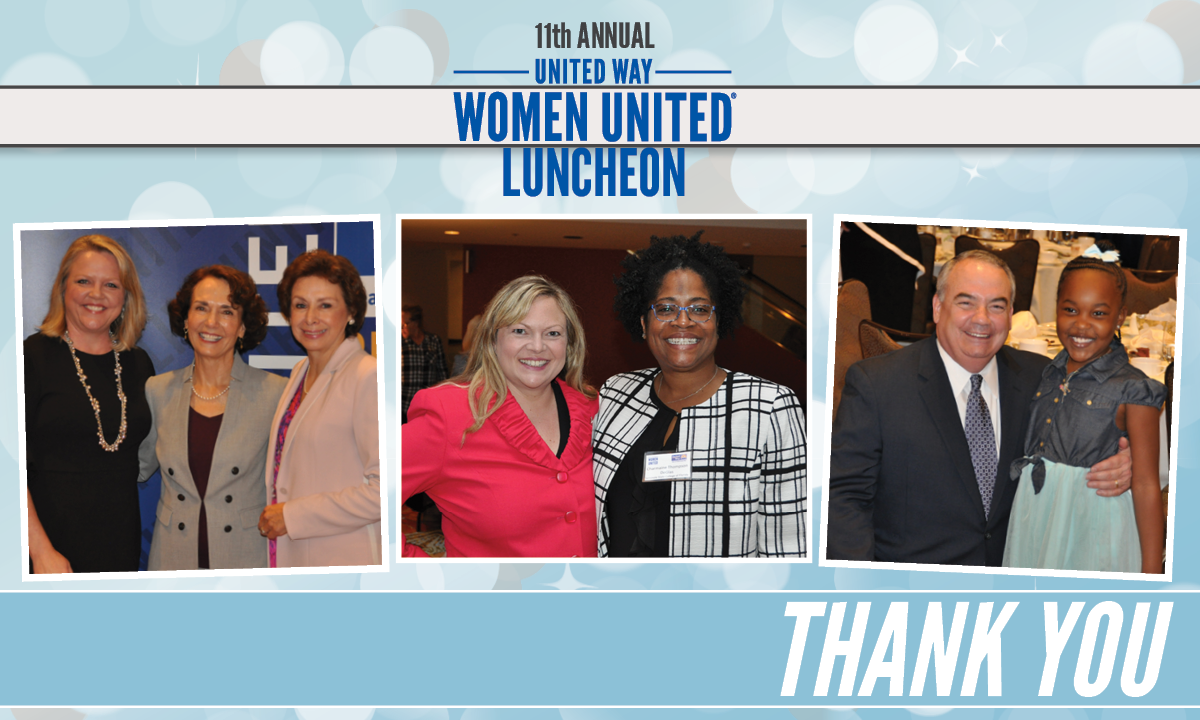 Women United Luncheon Helps Kids Have Access to Books
Women United Luncheon 2018
We are pleased to announce that the Heart of Florida United Way's 11th annual
Women United Luncheon successfully raised $182,500
for education and in-school literacy programs. Locally composed of a network of female leaders with more than 70,000 members, Women United will continue Heart of Florida United Way's mission to increase literacy in Central Florida schools. Funds will be used to bring digital literacy programs into classrooms giving students greater access to age-appropriate reading materials. During the uplifting and inspirational affair more than $6,200 was raised from audience donations. This spur of the moment generosity inspired sponsors Orlando Health and Tupperware to agree to match it, bringing the in-program fundraising total to over $12,000. Most of the attendees will agree that one of the highlights of the event was the on-stage presentation of beautiful Makayla, a 7 year old girl who loves reading and dreams about becoming a veterinarian. As a star of the
Women United Luncheon video
, her favorite book is
Pinkalicious
and she asked attendees to contribute so that all children can have books to read. She said we should raise "100 billion thousand" dollars and our President/CEO Jeff Hayward certainly agreed! We want to help make Makayla's and every child's dreams come true.
Keynote Speaker Dr. Elizabeth Cobbs
Our keynote speaker Dr. Elizabeth Cobbs, award-winning historian and author of
The Hello Girls
, spoke about the true story of the first American female soldiers and how they helped change history with the use of technology during WWI. These women were deployed to France in 1917 and worked near the battlefield as telephone operators, supporting combat soldiers in Europe. Some joined out of patriotism and others to seek adventure, but all believed they were being inducted into the army. To their surprise, after the war ended they realized they were not considered veterans or entitled to any post war benefits. It wasn't until 60 years later that 31 remaining survivors finally won a lawsuit and were recognized as veterans. Certainly a fascinating story of resilience and perseverance! We thank our wonderful Presenting Sponsor Orlando Health / Winnie Palmer Hospital for Women and Babies and Tupperware Brands Corporation, Gold Sponsor Publix Super Market Charities, Inc. and our other Sponsors for making this event possible. We also thank the generosity and support of Central Florida's most influential women. We had an amazing turnout and managed to bring in over $12,000 more in donations! With your contribution we will be able to create brighter futures and strengthening literacy in the communities we serve.
Be sure to check out pictures from the event
!
Learn More About Women United
For more information about Women United, visit our
webpage
, join our
Women United Facebook group
or email
WomenUnited@HFUW.org
.