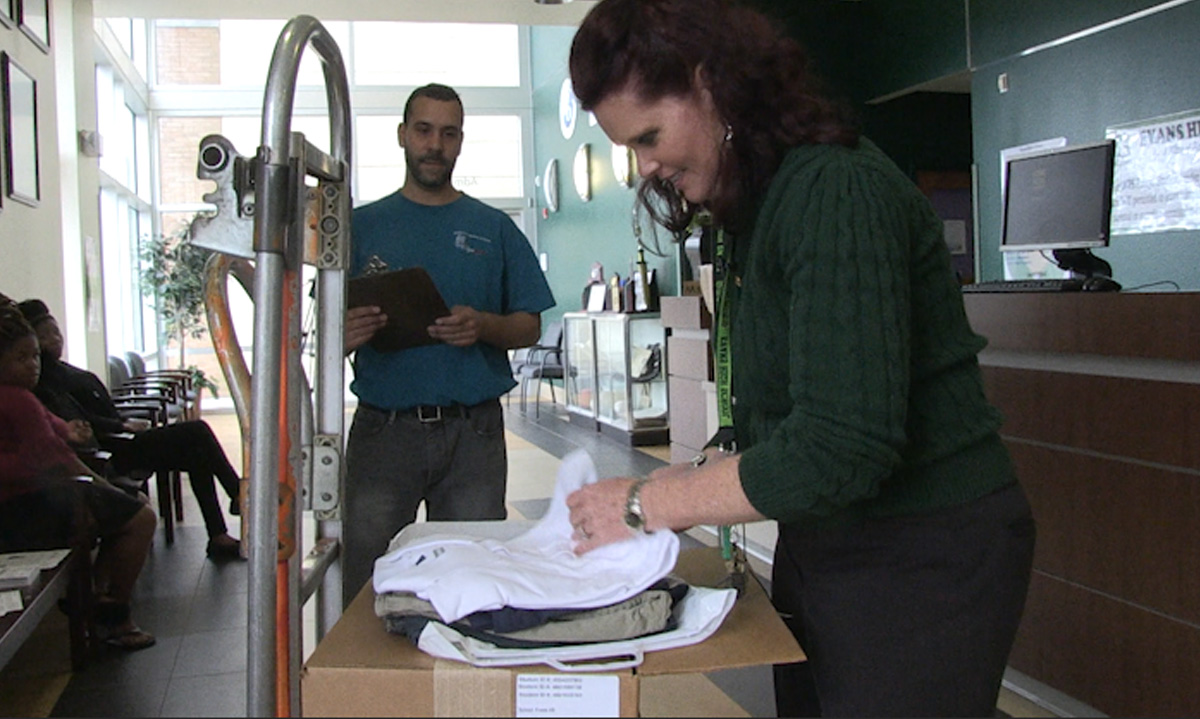 Dress2Learn
The day that Jenny Gibson-Linkh, principal at Evans High School in Orange County, discovered a student washing her clothes in the bathroom sink after school was the day she realized that clothing was a significant need among her homeless students. It's estimated that more than 10,000 students in Orange and Osceola counties are homeless and are faced with many challenges – both personally and academically.
Evans High Principl Unpacking"It's not just about dressing to look good or feel good, although that is significant to a student's self-esteem, but it's also to improve attendance, to provide the opportunity to stay on track academically, to graduate and ultimately move on to that next step in life. We may not think of clothing as a significant need, until you're the one without it."
In October 2014, Heart of Florida United Way launched Dress2Learn, a clothing program for homeless students in Orange and Osceola counties. As a result of the program this year, more than 5,400 homeless students across 250 schools received new Levi's brand apparel. Jeans, khakis, shorts, polo tops and graphic tees were distributed to K-12 children in need. Not only is it about attendance and performance in school, but it's also about relieving the financial burden of purchasing clothing for growing kids.
"When parents are concerned about keeping a roof over their kids' heads and putting food on the table, clothing is a need that gets pushed down the priority list," said Robert H. (Bob) Brown, president & CEO of Heart of Florida United Way. "Through Dress2Learn, we hope to level the playing field for our homeless students and allow them and their familiesDSC_0285 to focus on next steps beyond their current situation – whether that's graduating or regaining stability."
Evans High senior Romicha Baker was one of the 5,400 recipients of the Dress2Learn program.
"I'm glad that I have the help because there are people who make jokes out of what you wear and pick on you," Romicha said. "It makes it harder to be in an environment where you're supposed to learn when people are laughing and then get the whole class laughing at you. I used to worry about that. I'd go into class quiet, sit in the back so I wouldn't have anyone laughing at me."
Not only did Dress2Learn provide Romicha with a new set of fitting clothes, but also a renewed sense of hope.
"When I heard about [Dress2Learn], I thought this would be a way for me to actually sit up front and not have to worry about what other people have to say and try to graduate like the others."
It's easy to see the interconnectedness of United Way's focus areas – education, income, health and basic needs – through Dress2Learn. A balance must be achieved in all four of those areas for stability. Although, United Way believes that education is the change maker: get kids to focus in school, they may be able to break the cycle. And sometimes, it's something as small as a new t-shirt to get them there.
"I think sometimes we forget that it's the little things that make the biggest difference in education," said Gibson-Linkh. "We focus on test scores … we focus on curriculum … we focus on all the assessment, and sometimes we forget about the child. We forget about the basic necessities. We forget about them as a human. Dress2Learn brings it back to them and puts them first. I'm glad we're doing this because our students should always be first."