The State of Our Families
In Central Florida, 350,000 working households find it difficult to make ends meet and cover their basic needs. Understanding the state of our families starts with defining the struggles Central Florida families face. For far too many of these families, the cost of living outpaces what they earn. In fact, 46% of Orange, Osceola and Seminole county, households live on the verge of a financial disaster and are unable to build savings.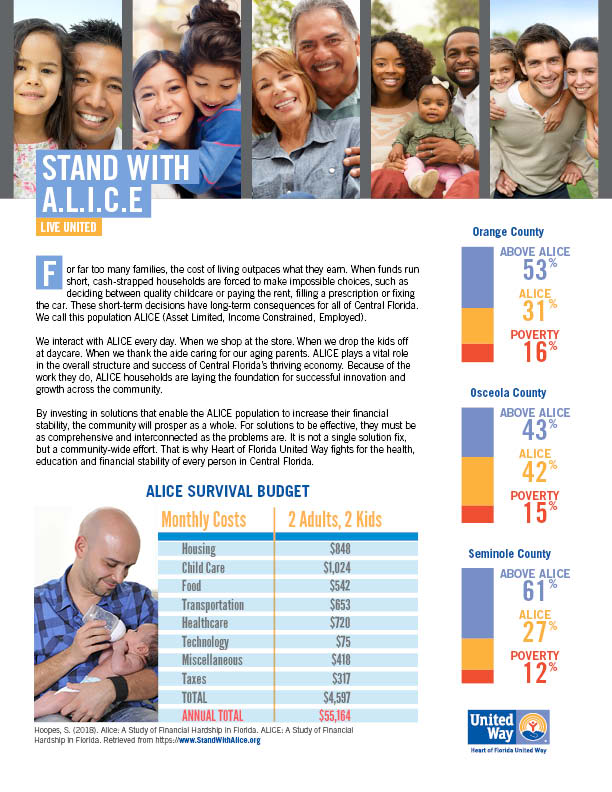 On August 22, 2019, Heart of Florida United Way convened over 200 business and community leaders to share the results of the recent ALICE report.
ALICE stands for Asset Limited, Income Constrained, and Employed. The vast majority of these individuals work one or more jobs yet still struggle to make ends meet each month, and would be unable to cover an unexpected $400 emergency expense.
In Central Florida, area businesses are making investments to support ALICE. During the State of Our Families event, four such companies shared why they stand with ALICE. SunTrust, OUC the Reliable One, Duke Energy and Publix shared statistics but more importantly shared the story of why supporting ALICE is important to their company and their community.
Jeff Hayward, President and CEO of Heart of Florida United Way, invited business and community leaders to join in standing with ALICE.
We frequently hear, unemployment is down and the economy is thriving. However, finding employment is not an issue for ALICE. Rather, the challenge is being able to sustain a family on multiple jobs. Willingness to work is not the problem and work itself is no longer the solution. Many times what could save an ALICE family from financial disaster is one-time emergency assistance.
Support ALICE
This is why Heart of Florida United Way is announcing the creation of the ALICE Coalition and the ALICE Fund. The ALICE Coalition will be comprised of businesses, corporations and other organizations who are taking a stand to address the unique needs of the ALICE population. Administered by HFUW, the purpose of the ALICE Fund is to provide emergency financial assistance for qualifying families that will prevent homelessness and increase financial stability. HFUW has already invested more than $436,000 serving 569 households (which includes investments in partner organizations to provide case management services) to provide services to the ALICE population. Through the announcement of this fund, HFUW contributed an additional $300,000 that serves nearly 400 households.