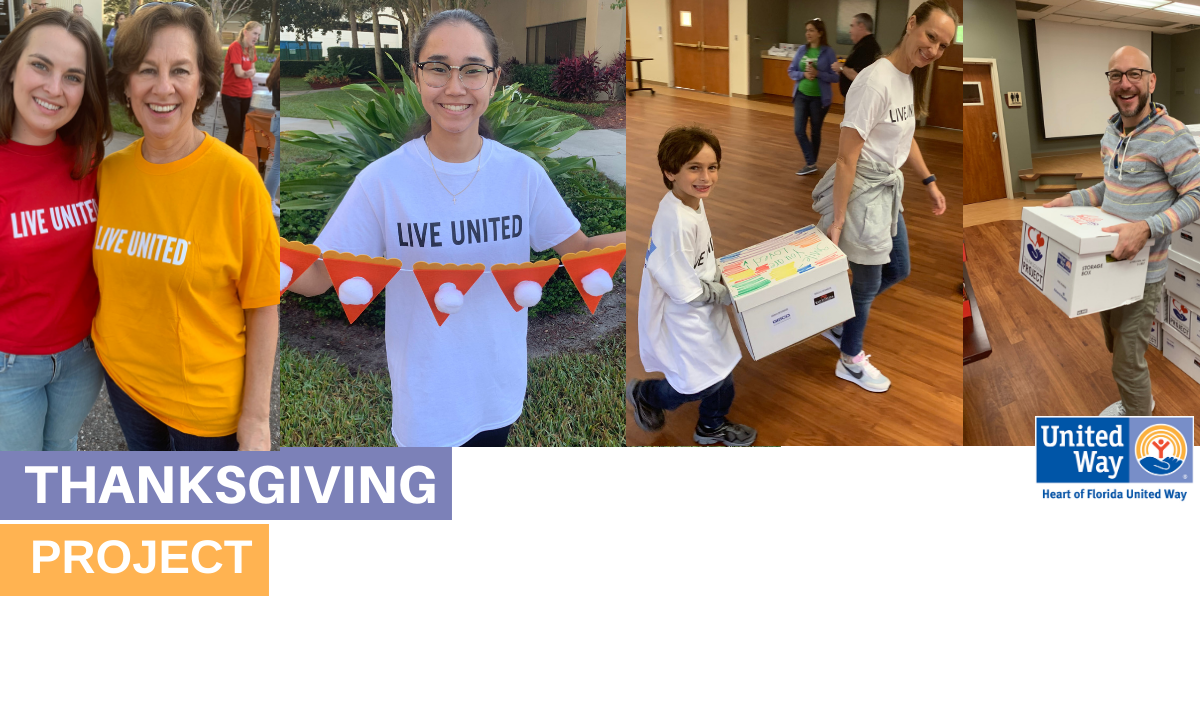 Thanksgiving Project
1,000 Thanksgiving Meal Kits Distributed to ALICE Families
For the first year, Heart of Florida United Way dished out 1,000 Thanksgiving meal kits with a side of hope at three sites throughout Central Florida. The Thanksgiving Project alleviated some financial burden for more than 600 pre-qualified ALICE families (Asset Limited, Income Constrained, Employed) by reducing expenses for a big holiday meal.
For many, Thanksgiving is a time for families, friends and the community to come together to show love and express gratitude. As tradition has it, the celebration takes place over a tasty meal around the dinner table. But what about the 350,000 Central Florida ALICE families that are unable to provide such a meal for their families?
Every family deserves the opportunity to enjoy a meal together without having to face a financial setback.
Because of community-wide efforts, ALICE families were given hope this Thanksgiving season. Lager families were able to receive more than one meal kit to ensure its household was appropriately covered. Sponsors included AdventHealth, Geico, Red Lobster and a significant contribution from an anonymous donor made through the Central Florida Foundation.
The Thanksgiving Project meal kit valued at $55 was also accompanied by a $15 Publix gift card to purchase any additional item of choice like a turkey.
ALICE Families Served by County
• 258 Orange County
• 278 Osceola County
• 99 Seminole County
Among these 635 families, more than 3,000 individuals were served.
Thanksgiving Project Moments
Our community is stronger when we work together.
Want to get involved?
As a family-friendly volunteer engagement opportunity, everyone can take part in making a difference in the lives of ALICE. To support ALICE in next year's Thanksgiving project through volunteerism, sponsorship or partnership, please email VolunteerCenter@hfuw.org.