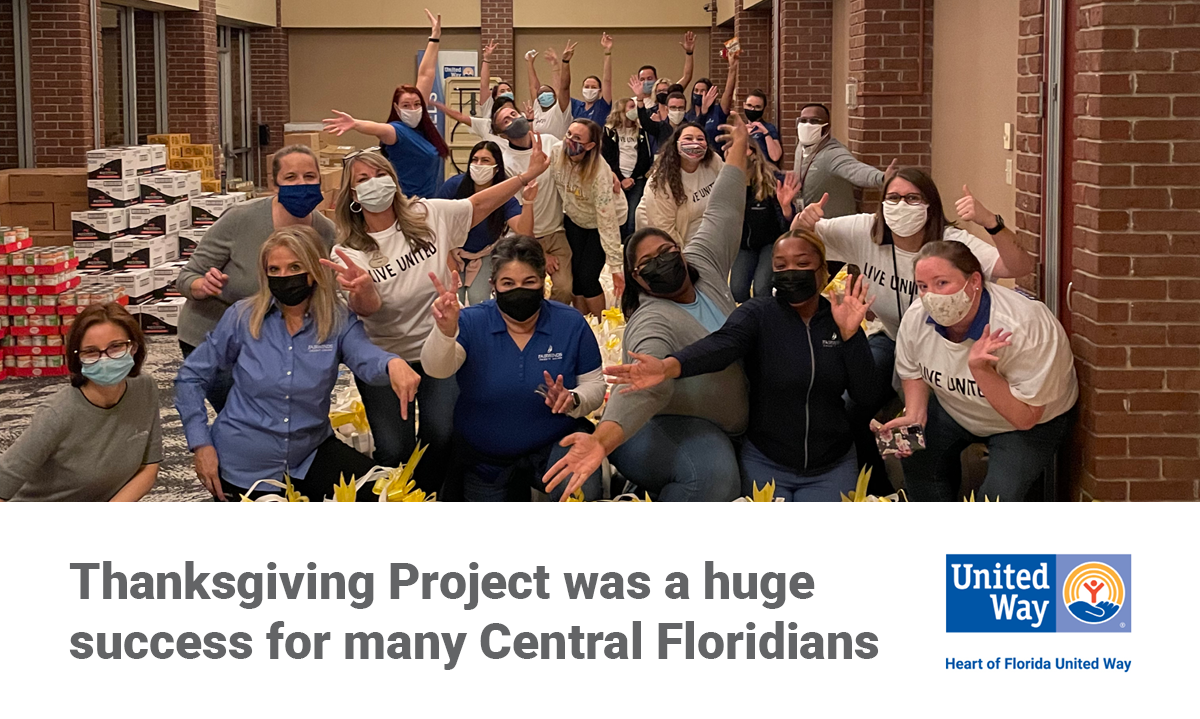 Thanksgiving Project helped 1,800 Central Floridians this Holiday Season
In Central Florida, nearly half of our community struggles to make ends meet, meaning holiday expenses are often not feasible for these families. This year, Central Floridians are hurting more than ever as the effects of COVID-19 continue to devastate our community. This catastrophic year added to rising food costs means that expenses for a Thanksgiving meal are not possible for many of our neighbors.
To help ease the financial strain, this year's Thanksgiving Project assembled and distributed 1,800 meal kits throughout Orange, Osceola, and Seminole counties to people in need throughout Central Florida. Along with our dedicated partners like Smart City Fund at the Central Florida Foundation, Orlando Health, AdventHealth, Bank of America, Red Lobster, Geico, Lockheed Martin, Fairwinds Foundation, and hundreds of community volunteers, this project was a huge success.
From Monday, November 15 – Saturday, November 20, Heart of Florida United Way's Volunteer Resource Center hosted 636 volunteers who contributed 1,575 hours of service to sort, pack, and distribute over 21,000 pounds of food!
The Thanksgiving Project would have never happened without our wonderful volunteers and the generous support of our community sponsors and donors. That's what it means to LIVE UNITED.
Click here to view our Facebook Photo gallery
Notes of Thanks:
"I can only say that you guys were a blessing to our school kiddos! To many, these meal kits made their Thanksgiving memorable. Some were not able to come and get them from school due to transportation, but myself and our other counselor drove the kits to them, and it helped 40 kids in our school community and their families! Thank you all so much! Your work is outstanding! Many blessings to you and your family!"
Sylmari Mendez-Plumey – Neptune Middle School, Guidance Counselor
---
"The Thanksgiving Meal Kits helped our families prepare for the upcoming holiday. At Orlando Day Nursery, we were able to distribute 99 meal kits! Our families expressed immense appreciation. Some families expressed that they were initially unsure if they would be able to purchase a large enough protein because of how costly they were. Having the extra support with the gift card was very helpful. From all of us here at Orlando Day Nursery, thank you for all you do!"
Liz Franqui – Orlando Day Nursery, Center Director
---
"Your Thanksgiving meals helped our clients by putting a smile on their faces and bringing them together. It helped provide them with family time along with helping our clients be able to communicate and socialize with their siblings. Our families and team are thankful for your organization in helping out our families."
Ashmaine Bangaru – Aspire Health Partners, Lead Case Manager
---
"Thanks to Heart of Florida United Way, 200 of our Club families had something to be grateful for this Thanksgiving. HFUW and their partners teamed up to provide a wonderful holiday meal — all the fixings plus $30 Publix gift cards for turkeys — to families struggling to make ends meet. We're thankful to these faithful friends for filling our hearts and bellies during this season of giving"
Nic Freeman – Boys & Girls Club, Associate Director of Volunteer Engagement & Corporate Citizenship
---
For more information on how to get involved next year, contact VolunteerCenter@HFUW.org.