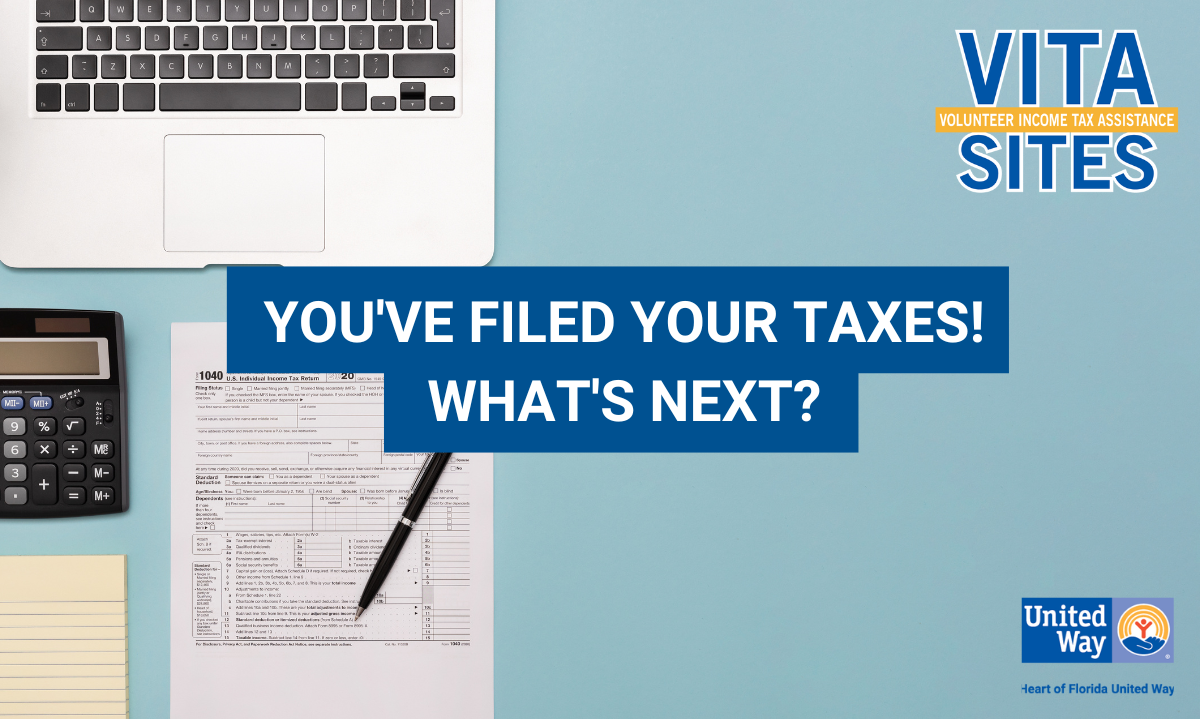 Congrats on Filing Your Taxes! Check Out These Next Steps
Congrats on filing your taxes – but now what's next?
Heart of Florida United Way's Volunteer Income Tax Assistance program has shared the following next steps for our Central Florida neighbors who have filed their tax returns this tax season.
Track Your Tax Refund
Now that you've completed your tax return, you may wonder where your tax refund is or when you can expect to receive it.
Did you know that you can check on your income tax refund 24 hours after e-filing your taxes? Check the status of your tax refund here.
According to the IRS, they typically issue refunds for filers who E-file and use DIRECT DEPOSIT in less than 21 calendar days. However, if you filed on paper and expect a refund, it could take six to eight weeks or more to process your return and receive a refund.
Do you still have questions about your tax refund? Click here to review frequently asked questions on tax refunds.
Set Up Tax Payments
Tax Day was the deadline to file your tax returns and to start paying any additional taxes you may owe to avoid any additional penalties and interest.
You can easily sign into your IRS account to pay online, by card, bank account, or cash.
If you have not yet begun your tax payments or cannot afford to pay the total amount at this time, you can visit the IRS website to explore payment plan options or monthly installments. Details about payment options can be found here.
If you have any questions about your next steps for this tax season, you can contact our Financial Stability Manager, Tién Holmes at tien.holmes@hfuw.org.
What You Can Do
Share this blog with someone who needs help navigating their next steps after filing their tax return.
Stay Connected  
For more information on HFUW, subscribe to our e-newsletter, and follow us on Facebook, Twitter, LinkedIn, and Instagram.