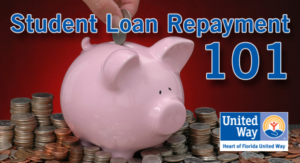 With college graduation comes celebration and relief. But after the parties end, reality sets in. For 40 million Americans, student loans are a necessary evil in order to pursue higher education. Facing a large loan balance can be overwhelming and confusing, so it's important to understand your loans and your repayment options.
When do I start paying the loans back?
For most federal loans, you have a grace period of about six months from the time you graduate until you need to start making payments. During that grace period, if you have an unsubsidized loan your account will still rack up interest charges; you just won't be responsible for the principle (the amount you borrowed before interest). If you get a job after graduation and can afford to start making payments before the grace period is up, absolutely do so. It will help bring down how much interest you pay over the term of your loan.
Some loans do not have a grace period, so be sure to double check your lender agreement for your payment start date.
What do I actually owe?
It's not uncommon for loans to change lenders over time. If you can't find your lender or loan details, this site can be a huge help. This will help you locate your lender, figure out how much you owe and what your monthly payment will be.
I'm supposed to pay that?!
Your student loan payments may be hefty, and your starting salary may be too low for you to handle basic necessities and your full payment. Understand all of your options regarding repayment. Common options include:
Standard: You pay a set amount every month for up to 10 years. Under this plan, the payment amount never changes and you pay it off faster and with less interest than other plans.
Graduated Repayment: You'll pay less on your loan every month at first, then it will gradually increase. This can give you some more wiggle room when you're first starting out but you will pay more on your loan than if you did the standard repayment plan.
Extended Repayment: Rather than a 10 year term, your loan can be extended in certain circumstances to as long as 25 years. This can greatly reduce your monthly payment, which can be a huge help if your salary isn't cutting it, but you will end up paying much more than on a standard or graduated repayment plan in the long run.
What if I can't afford it?
If even on an alternate repayment schedule you can't afford payments, it's imperative to work with your lender. Student loans are one of the few kinds of debt that can't go away with bankruptcy. If you don't pay, your credit score can get wrecked and the lender can even garnish your wages. No matter how long it takes you, you have to pay back your loans.
But there are options to help you through a tough time, such as unemployment or a medical issue.  Carefully consider these options and work with your lender to find what works best for you. Call the number listed on your lender account website and explain to the representative that you cannot afford your payments. Make sure to say why that is—temporary job loss, disability, etc—since that will determine what your options are:
Deferment: During a deferment, your loan payments are delayed for a set period of time up to 3 years. You can be eligible for deferment if you are unemployed, are deployed in the military or are experiencing significant financial hardship. Deferments are not automatic and you are not guaranteed to be granted one. You'll need to contact your lender to talk through the application process to have a deferment enacted.
Forbearance: If you don't qualify for a deferment, you may qualify for a forbearance. Your payments can be stopped or reduced for up to 12 months. A temporary financial hardship or illness may get you qualified, but again, the process is not automatic and you have to work directly with your lender.
Completely overwhelmed? Lifehacker has a quick guide to help walk you through the process of talking options over with your lender.
I have a good job and can actually make my payments! Should I pay extra?
Congratulations! Paying even a little more each month can make a huge difference; Extra payments lessen the amount of interest you'll pay off over the long-term and you'll have your loans paid off early. The Student Loan Repayment Calculator is a great tool; enter your loan balance, how much longer you have to pay, and your interest rate, and it will show you how making extra payments will impact your loan. Even paying as little as $5 more a month can cut months off your loan terms and can save you hundreds of dollars in interest.
This article is meant as a general overview of the most common student loans, but as always, your situation and your loans may differ. Be sure to check your loan terms with your lender.
Heart of Florida United Way is focused on addressing the five major building blocks of financial stability in order to provide low-income working families the services and support necessary to succeed. For more information, visit www.hfuw.org or if you are in need of assistance, call 2-1-1, our 24-hour information and referral helpline.