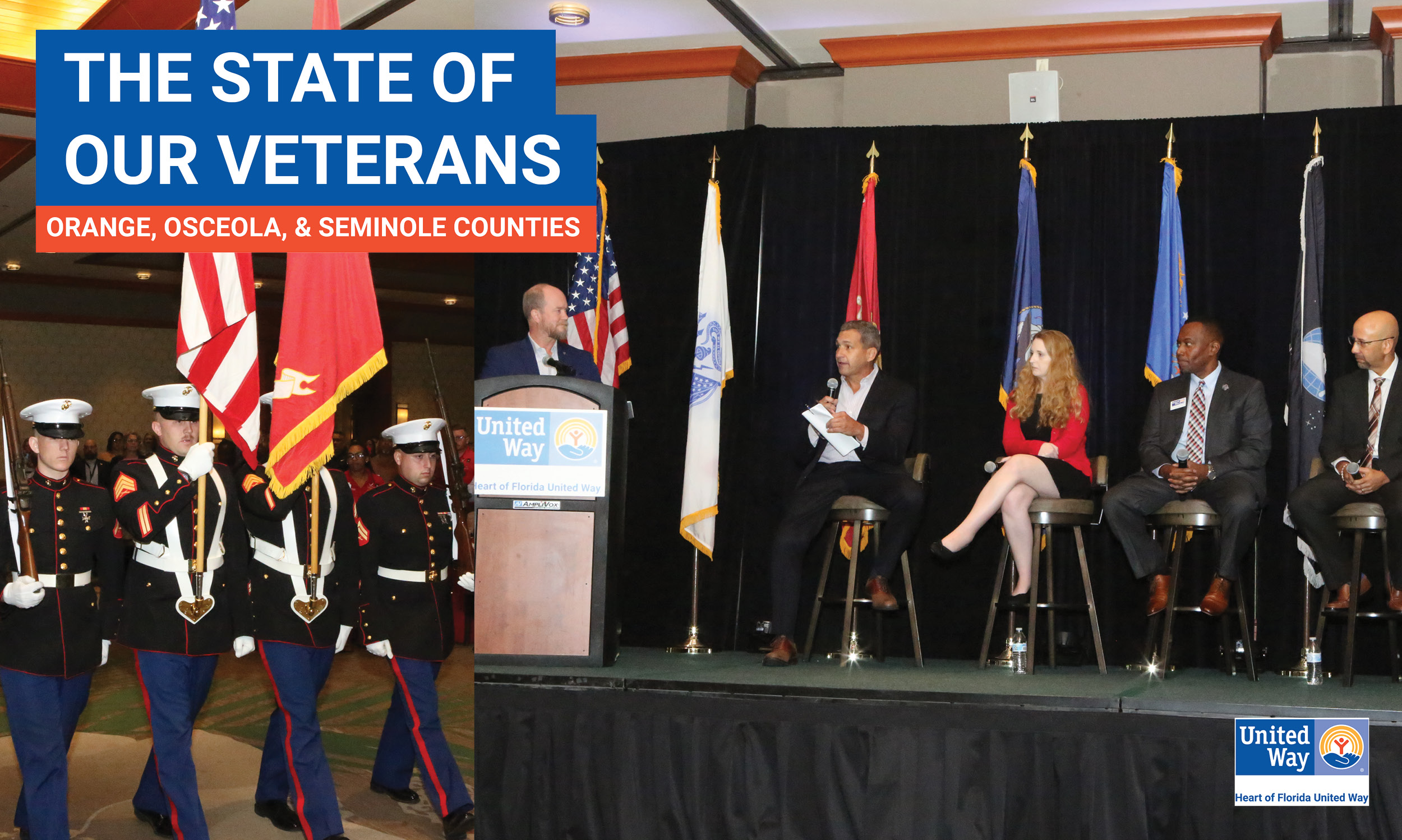 Heart of Florida United Way Hosts 2022 State of Our Veterans Event to Address Mental Health Issues Facing Central Florida Veterans
On Wednesday, October 26, 2022, Heart of Florida United Way (HFUW) partnered with Lockheed Martin and VyStar Credit Union to present the 2022 State of Our Veterans. The purpose of the event was to bring to attention the pressing issues facing Central Florida's Veterans, especially as it pertains to mental health, and how we can help individually and as a community.
The presentation began with an introduction by HFUW President and CEO Jeff Hayward, who cited troubling statistics revealing that 30% of our Veterans are at the ALICE (Asset Limited, Income Constrained, Employed) level or below, and 11-20% of Veterans experience PTSD each year, with Veteran deaths by suicide increasing by 25% in 2020.
Jeff then welcomed Paul Hey, Director of Infrared Search and Track for Lockheed Martin, to the stage followed by Executive Director of the Florida Department of Veteran Affairs Major General James Hartsell.
Following the opening speakers, a panel of Veterans affairs and mental health professionals gathered for a panel discussion of Veteran issues. Our esteemed panelists included:
Panel moderator Tim Cooke, Medical Center Director/CEO of the Orlando VA Healthcare System
Norris Henderson, Mission United Manager for Heart of Florida United Way
Dr. Amie Newins, Associate Professor of Psychology at the University of Central Florida and Director of Clinical Operations for UCF RESTORES
Dr. Gustavo Rivera-Cruz, Associate Chief of Staff for Mental Health for the Orlando VA Healthcare System
Charles Tulaney, Military Relations Manager of Talent Acquisition for Lockheed Martin
Following the panel, Jeff returned for closing remarks and pointed out that while many critical problems were addressed, the discussion of issues alone is not enough. It takes action on the part of the community to solve the problems affecting those who have served.
That is why Heart of Florida United way established its Mission United program, which leverages community partnerships, volunteerism, and advocacy to bring support to Central Florida's Veterans.
View this video below for a recap of this year's State of Our Veterans event.
What You Can Do
Stay Connected 
For more information on Heart of Florida United Way, subscribe to our e-newsletter, and follow us on Facebook, Twitter, LinkedIn, and Instagram.