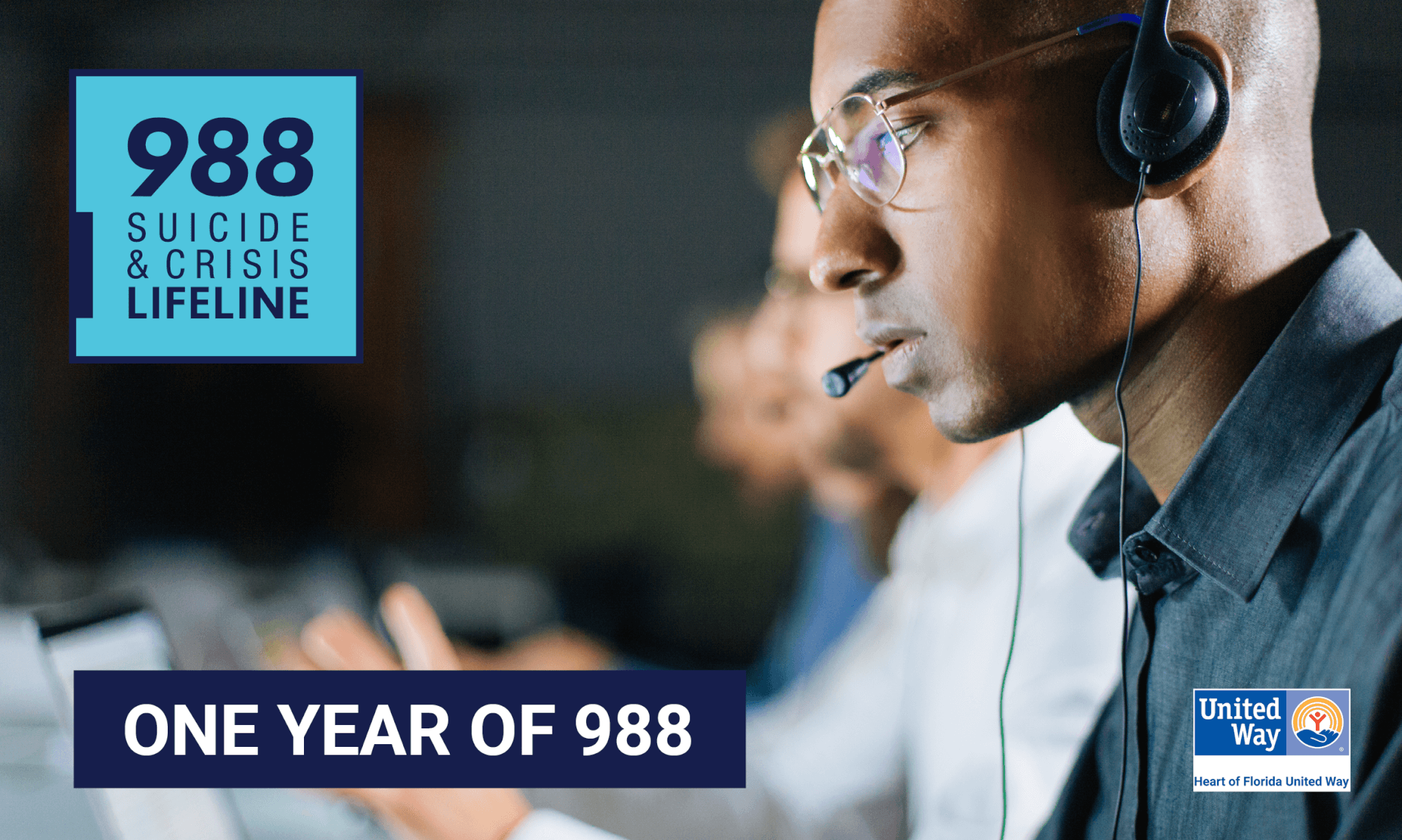 Heart of Florida United Way Commemorates One-year Milestone of the National Transition to the 988 Suicide and Crisis Lifeline
One year ago, the National Suicide Prevention Lifeline transitioned to become 988 for easy to remember three-digit dialing access and making the vitally important mental health resource accessible by simply pressing three buttons. As a result, the lifeline has seen a significant increase in calls — supporting more people in need than ever before.  
No matter the crisis you are experiencing, whether or not you're thinking about suicide, if you need someone to lean on for emotional support, call 988.

The 988 Lifeline is confidential, free, and available 24/7/365. 988 has a variety of specialized resources for Veterans, LGBTQIA+ individuals, those who are deaf or hard of hearing, and even resources to communicate in more than 240 languages. The service is accessible through call, text, or chat.

Across the United States, there are 184 call centers for 988. In the state of Florida, there are 12 call centers, and Heart of Florida United Way is proud to be one of them.

From January to June 2023, HFUW answered 9,984 988 calls, and that number continues to grow every day. Even during Hurricane Ian, our call center was able to re-route calls to a backup center, ensuring that anyone who needed help during that time could get it.

HFUW has helped to de-escalate 94% of 988 calls, and less than 2% of all calls have required 911 intervention.
We want to thank our 211 Call Center staff at HFUW for continuing to help our Central Florida community through our 988 and 211 services. Thanks to your hard work, thousands of people have been able to access the resources they need.

What You Can Do
Share this blog with a friend or colleague and let them know about 988.
Get informed by viewing our 988 webpage, including our dashboard with information about the calls we receive.

Stay Connected  
For more information on HFUW, subscribe to our e-newsletter, and follow us on Facebook, Twitter, LinkedIn, and Instagram.