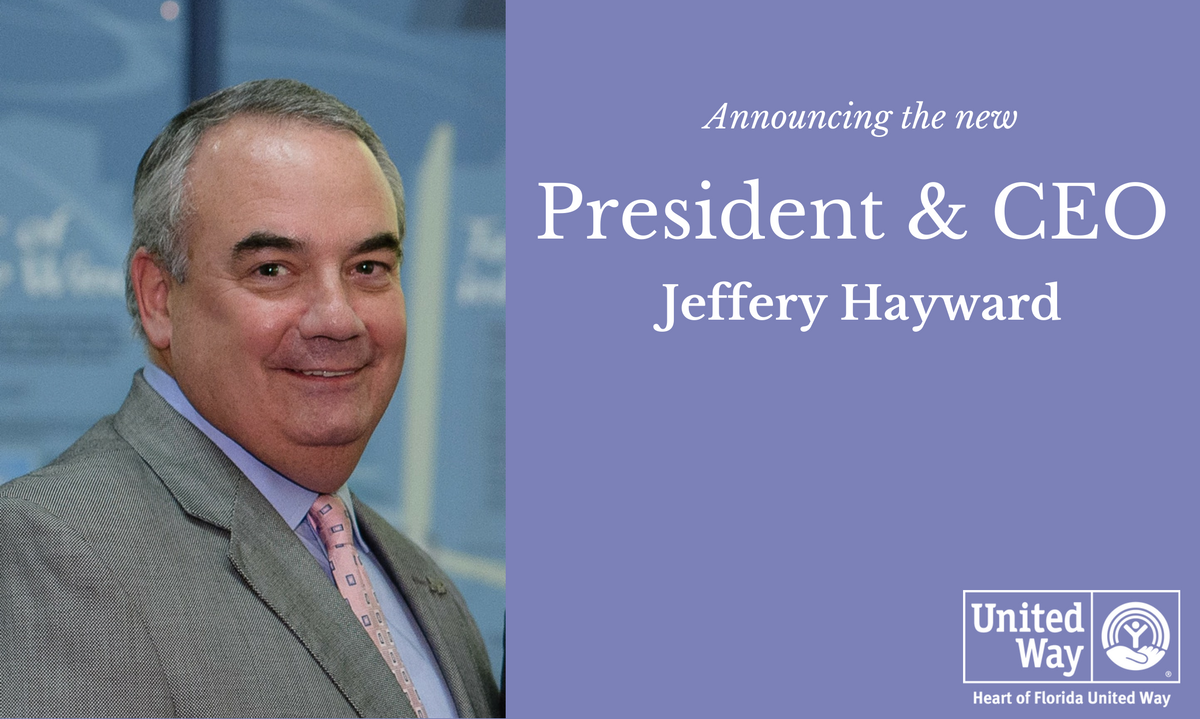 Welcome New President and CEO Jeffery Hayward
We are pleased to announce that after a four month search in which nearly 300 applications were submitted, the volunteer search committee has appointed a new president and CEO for Heart of Florida United Way. Jeffery J. Hayward, currently chief of external affairs at United Way of Massachusetts Bay, will assume the helm of Heart of Florida United Way in early December.
"As difficult a task as replacing Bob Brown – a community fixture – the search committee feels that the very best candidate for the job has been found and selected," said Ed Timberlake of Seaside National Bank, our longtime board member and chair of the search committee. "Jeff's experience is a great mixture of politics, public and private sector service."
Jeffery comes to us with nearly 18 years of experience in the United Way network with his most recent role being responsible for overseeing the annual strategic investment of nearly $35 million in initiatives and agencies. In addition, he managed the public policy strategy, volunteer opportunities, grants, and marketing and communications. In 2007, he oversaw United Way of Massachusetts Bay's strategic shift to a Investing in Results grant-making strategy.
In previous roles, Jeffery served as chief of staff to the Mayor of Lynn, a member of the Massachusetts House of Representatives, as well as the New England vice president for development and marketing for a national, publicly traded health care company. He is a graduate of St. Anselm College and was a Casey Foundation/United Way of America Fellow at Harvard's Kennedy School of Government – Family Strengthening for Success.
As we wish Robert H. (Bob) Brown a happy and well-deserved retirement after ten years of service to Heart of Florida United Way and 45 years as a nonprofit administrator, we are excited to have Jeffery to the Orlando area in December as well as his wife Anne-Marie and their children, Nathaniel, 17, Victoria, 13, and Abigail, 12, in the coming months.
Welcome to the Heart of Florida United Way family, Jeffery!