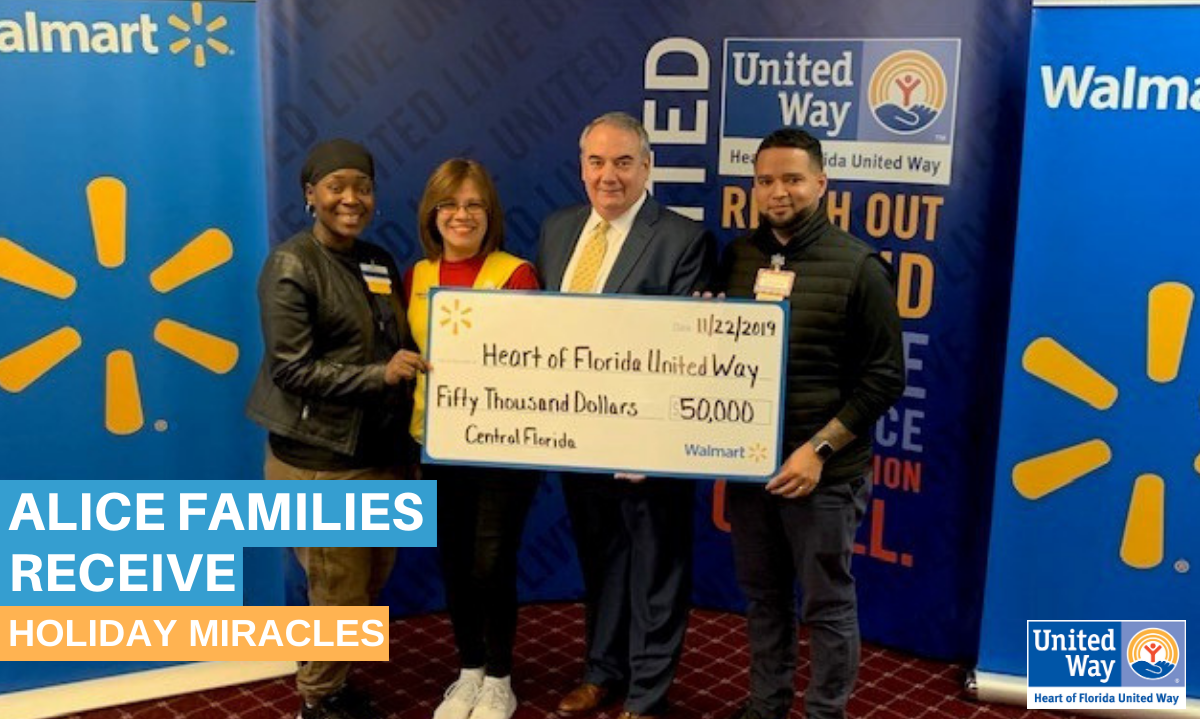 More than 50 ALICE Families receive Holiday Miracles
The holidays will be a little brighter for over 50 local ALICE families thanks to Walmart.org and Heart of Florida United Way. Walmart.org donated $50,000 to Heart of Florida United Way to help Central Florida families in need this holiday season. The support was announced on Giving Tuesday, a global generosity movement that encourages people and organizations to transform their communities on the Tuesday after Thanksgiving.
ALICE is Asset Limited, Income Constrained, Employed. ALICE often work multiple jobs but struggle to cover their basic needs. Just in time for the holidays, these families received a Holiday Miracle grant. The grants have all been distributed to families who qualified for assistance through one of United Way's programs. The grants ranged from $500 to $1,000 depending on the size of the household.
During the announcement, a family that has benefited from such contributions spoke about the impact Heart of Florida United Way has had on their journey to financial recovery. Jason Kellie's household became financially strained due to an unexpected medical condition his wife faced that caused them both to be out of work and placed them and their 5 children on the brink of eviction. "It's still kind of a struggle but things are really looking up for us," said Kellie. "We are still trying to make ends meet, but thanks to the help we've received, we're on the right track right now."
Jason and his family is just one of thousands that are in need of a holiday miracle. Thanks to the partnership with Walmart.org, this holiday miracle has restored hope for more than 50 families.
 "Overwhelmingly, Holiday Miracle recipients are putting these dollars toward paying for January's rent," said Jeff Hayward, President & CEO of Heart of Florida United Way. "There's nothing like home for the holidays and Walmart.org's generosity has allowed these families one of the greatest gifts – peace of mind knowing they have a place to call home for another month."