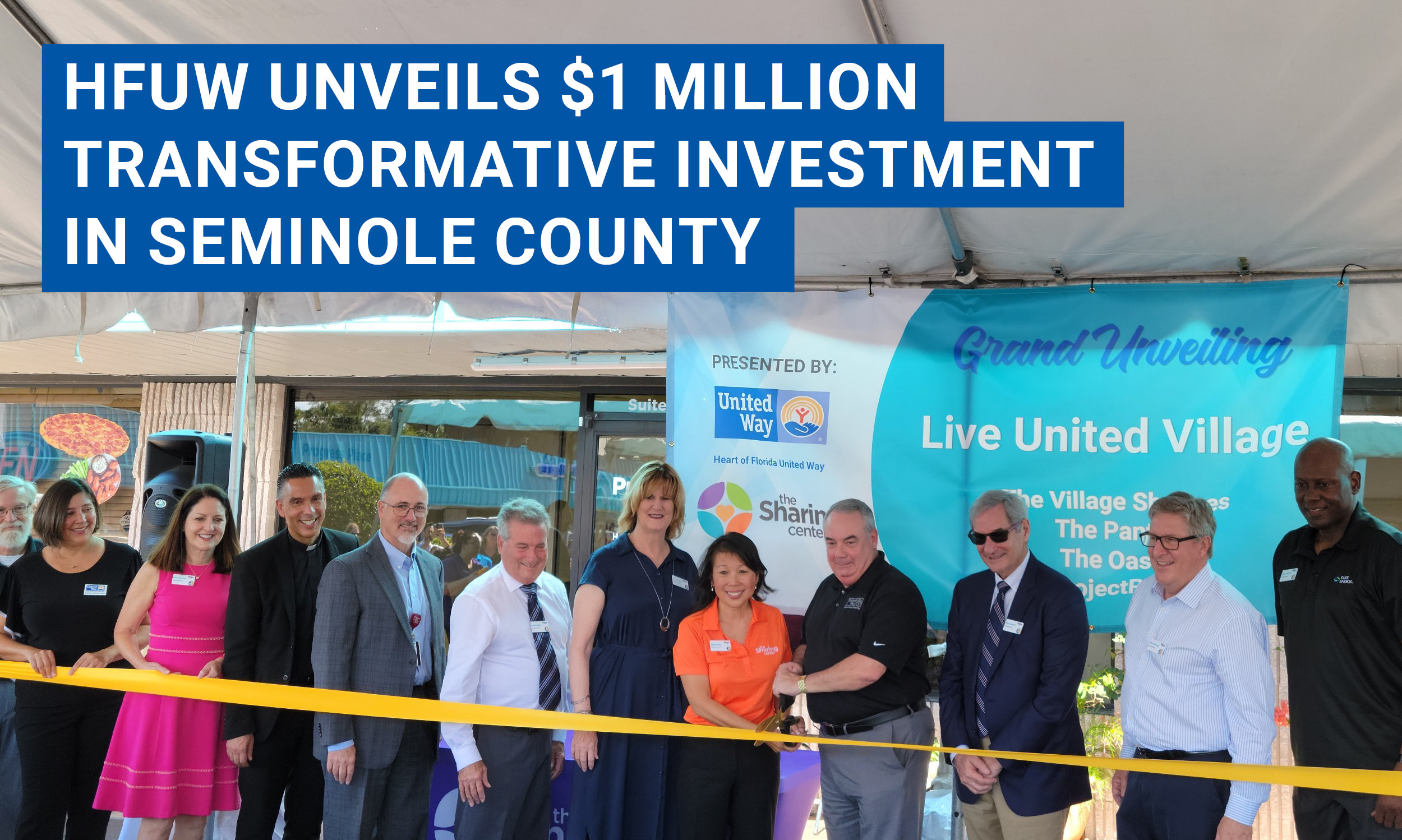 The New Live United Village: Heart of Florida United Way Unveils Their $1 Million Transformative Investment in Seminole County
At Heart of Florida United Way (HFUW), we are thrilled to announce our transformational $1 million investment to enhance social services in Seminole County through a partnership with The Sharing Center.
Together, we are bringing a mutual vision to life of creating a one-stop hub to support our homeless neighbors and help uplift Seminole County residents out of poverty.

The official unveiling was announced earlier today at the new Live United Village.
Live United Village Supporting a Better Tomorrow
The Live United Village will help members of the community struggling financially to achieve financial stability by supporting job searching, job training, and finding a stable place to live.
Additionally, it is expected to lift 126 family members out of poverty through a newly launched program, ProjectRISE (Reach, Inspire, Sustain, and Empower), a workforce development program for individuals and their families to gain skillful employment, financial freedom, and housing stability.
The Sharing Center will continue to provide emergency services as well. Originally created in 2011, The Oasis is a respite center that is tripling in size with the new renovations.

Now in a 3,600-sq.-ft. space, The Oasis will offer services to double the number of homeless individuals and families — or approximately 4,118 individuals — per year who require services every day.
This new space now holds:
A state-of-the-art multi-purpose training center
Double the number of personal shower rooms
Double the number of industrial washer and dryer sets
Additional space for case manager and partner offices
What You Can Do
To support Live United Village and our neighbors in need, you can:

Advocate for the needs of homeless individuals and families
Stay Connected
For more information HFUW and how you can help support our community, subscribe to our e-newsletter, and follow us on Facebook, Twitter, and Instagram.