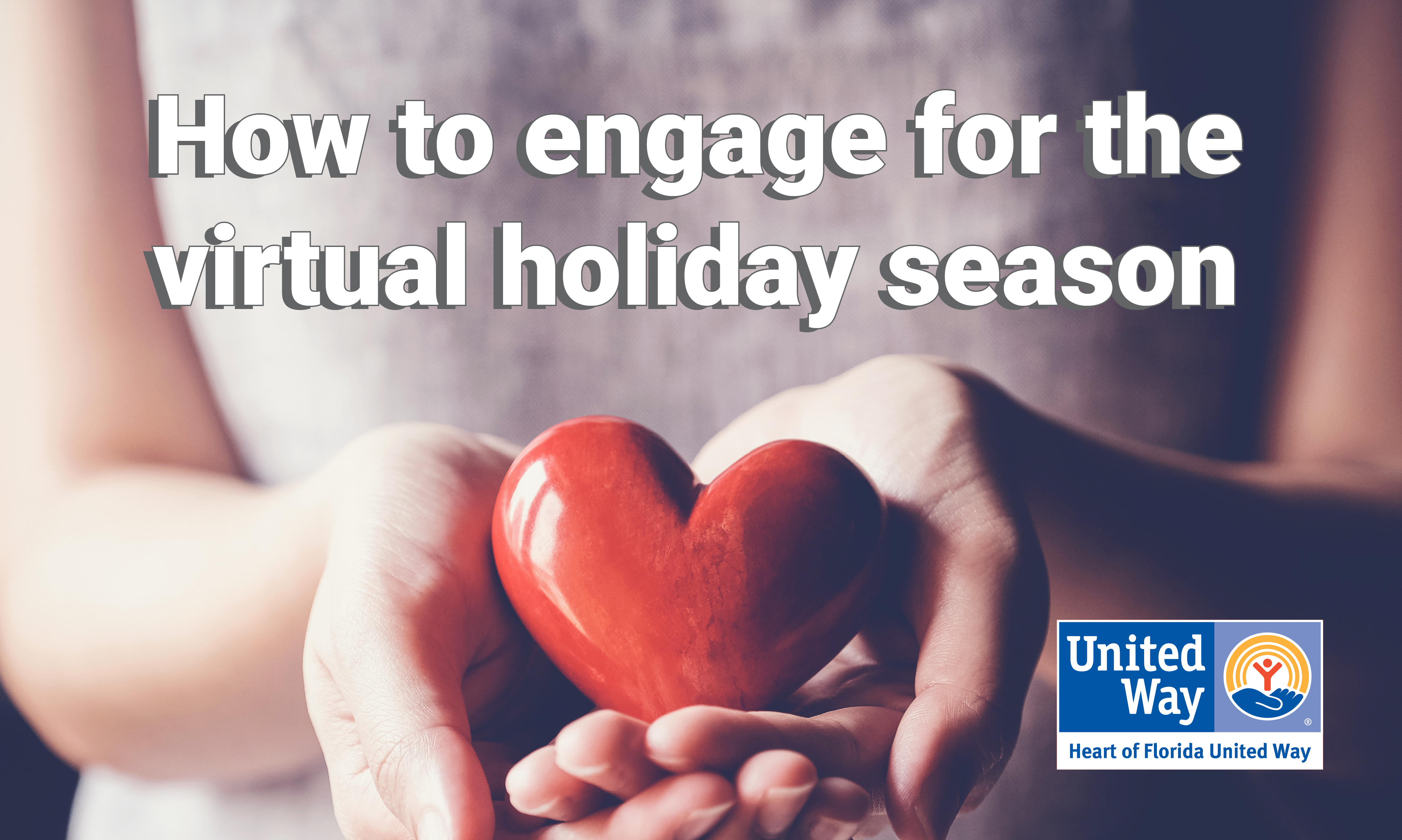 How to engage for the virtual holiday season
The holiday season is a time to reflect on all the reasons to be thankful. It is a gentle reminder of what the season is truly about. From making care packages for the less fortunate to donating gently used items to homeless shelters, here are a few ways to give back this holiday season in a fun and COVID-friendly manner.
Heart of Florida United Way's Volunteer Center is ready to help you, your family or your team create the perfect opportunity to give back this holiday season.
---
"FEEL BETTER" KITS
The winter months are rolling in! As you are preparing to shield yourself from the severe illness that comes with the cold weather, double up on supplies!
What to do:
Purchase extra vitamins, pain relief, chapstick, cold medicine, and socks
Packing these items in a pair of socks makes it compact and easy to hand out to the homeless
Spread some love and donate a care package to a local nursing home or homeless shelter. Contact Toni Johns at toni.johns@hfuw.org for donation location recommendations.
"BUY FOR TWO" DRIVE
As you are grocery shopping for your holiday meal, pick up a few extra nonperishable items. Some stores even offer the option to buy items at the register, ask them upon checking out.
What to do:
Purchase any pre-packaged/nonperishable items at the grocery store
Pack them in a nice sturdy box, extra points for decorating the box
"CLOSET" SHOPPING SPREE
Even in Florida, it can get cold, and many families need clothes to help them get through the winter.
What to do:
Take an evening to go through your closet
Take out those unworn sweaters and gently used clothes that you no longer want or need
Donate them to small local organizations like Mustard Seed
"E-HOLIDAY" CARD
2020 has been challenging to get together with our friends and family members (even our "work" families). Thanks to modern technology, we can create Holiday E-Cards to share with our loved ones.
What to do:
Visit any one of the many ecard sites like BlueMountain, American Greetings, or HallmarkECards.
Pick your favorite card
Customize the message and send it
You could encourage others to support their local communities. Share your favorite community program or initiative. Or remind them that you are thankful they are in your life.
"VIRTUAL" HOLIDAY PARTY
No holiday work party this year? No problem! Gather your team and have a virtual Holiday Party.
What to do:
Invite a guest speaker to talk about giving back.
Lead an engaging activity like packing "Feel Better" Kits to make your virtual party impactful!
Have a drive-in or drive-by party at your office and invite your colleagues to dress up and decorate their cars for some holiday fun!
Encourage your staff to bring any donations to give to families in need. Or carpool to a donation center and create a traffic jam of gifts to organizations in the community.
Heart of Florida United Way's Volunteer Resource Center is here to help you be creative as this year comes to a close. If you are interested in any of the opportunities above and wish to obtain information about other options throughout the community, contact Toni Johns at toni.johns@hfuw.org.
From our families to yours, we wish you a safe and healthy Happy Holiday season!