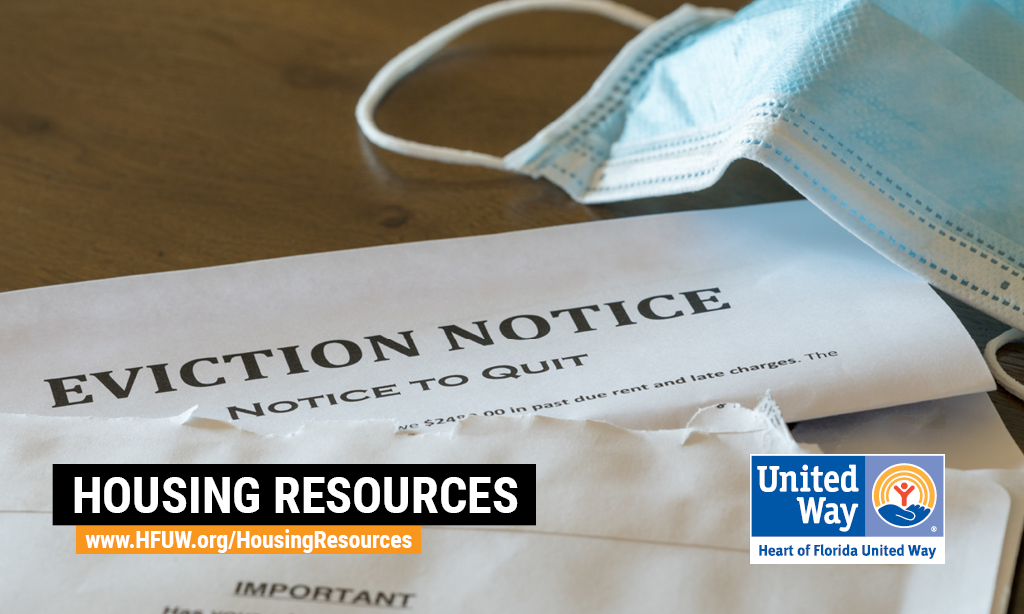 Housing Assistance & Eviction Prevention
Resources for those impacted by COVID-19 in Central Florida
At this time, thousands of Central Florida families housing stability is uncertain. As one of the providers in the community grappling with how to best support those in need, Heart of Florida United Way has put together the reference guide below for individuals seeking assistance with rental assistance, eviction prevention, legal help and shelters. This reference guide is a snapshot in time, however resources are constantly evolving.
The 211 Information & Referral Crisis Line maintains an online database that is updated on a very regular basis. For the very latest information, it is always best to check the online database for new or updated resources. If you know of a resource that is not listed in the database or a listing needs to be update, please click here.
---
United Way 211 Information & Referral Crisis Line
24-hour information & referral line
Dial 211 or (407) 839-4357
Text your zip code to 898211 for a list of agencies nearest you.
https://www.hfuw.org/gethelp/
---
Financial Assistance for Residents Impacted By COVID-19
Orange County Government: Orange CARES for Residents
311 Main – Government Information Line or (407) 836-3111
Eviction Diversion Program for Landlords & Tenants (Renters Only)
Seminole County Government:
(877) 330-1818 Helpline/Hotline – CARES Funding Hotline for Individuals
Osceola County Government:
Orange County's Hotel Extension & Relocation Assistance Program: Coalition for the Homeless
Applicants will need to meet certain criteria to be eligible and provide documentation to support the application will be requested.
To determine eligibility call 407-872-5790 and request to speak with a Housing Counselor.
Or visit the Intake Center at Coalition for the Homeless located at 18 N. Terry Ave, Orlando, FL 32801, Monday-Friday 7:00am – 3:00pm.
---
Legal Assistance
COMMUNITY LEGAL SERVICES OF MID-FLORIDA – ORLANDO
EVICTION PREVENTION LEGAL ASSISTANCE
(800) 405-1417 Toll Free Legal Helpline
www.clsmf.org
COMMUNITY LEGAL SERVICES OF MID-FLORIDA – SANFORD
HOUSING AND FORECLOSURE COUNSELING UNIT
(800) 405-1417 Toll Free Legal Helpline
www.clsmf.org
SEMINOLE COUNTY BAR ASSOCIATION LEGAL AID SOCIETY
EVICTION PREVENTION LEGAL ASSISTANCE
(407) 834-1660 Main
www.scbalas.com
COMMUNITY LEGAL SERVICES OF MID-FLORIDA – KISSIMMEE
EVICTION PREVENTION LEGAL ASSISTANCE
(800) 405-1417 Toll Free Legal Helpline
www.clsmf.org
---
Emergency Shelters
HOMELESS SERVICE NETWORK (HSN)
COORDINATED ENTRY SYSTEM (CES)
Contact 211 for information
Service Description:

A brief assessment of an individual's or household's housing status is conducted by 211 in order to enter the recorded information into a centralized intake system to connect the client(s) to support measures. The client(s) will then be contacted back by an Intake Specialist through the Coordinated Entry System (CES) within 3 business days for further conversation to explore resources and supports to possibly keep client(s) off the streets or out of shelters. Services are not immediate or guaranteed.

Eligibility:

Individuals and households who are experiencing homelessness
Households with a veteran who are at risk of homelessness or are experiencing homelessness

Intake Procedure:

Contact 211 to be pre-screened (all in-person HUBS to complete intake are closed out of caution due to COVID)
Individuals and households who are experiencing homelessness
COALITION FOR THE HOMELESS OF CENTRAL FLORIDA
COMMUNITY SHELTER
Contact (407) 872-5790 for information
www.centralfloridahomeless.org
Service Description:

Program provides emergency shelter services.

Eligibility:

Single adults ages 18 years and older

Intake Procedure:

Call for availability and intake
ORLANDO UNION RESCUE MISSION
TRANSITIONAL HOUSING
Contact (407) 423-2131 for information
www.ourm.org
Service Description:

Program provides a faith-based Christian long-term transitional housing program.

Eligibility:

Single women, single mothers with children, single father with children and married couples with children

Intake Procedure:

Call to verify availability and intake
MEN'S EMERGENCY SHELTER
Contact (407) 423-3596 for information
Service Description:

Program provides an emergency shelter with daily intake.

Eligibility:

Men ages 18 years and older who are willing and able to work

Intake Procedure:

Walk-ins accepted on a first-come, first-served basis (Mon-Sun 2pm-6pm)
SALVATION ARMY – ORANGE COUNTY
WOMEN'S AND CHILDREN'S SHELTER
Contact (407) 423-8581 for information
www.salvationarmyflorida.org/orlando
Service Description:

Program provides an emergency shelter with daily intake

Eligibility:

Single women and women with children

Intake Procedure:

Call to verify availability (check-in begins at 4:30pm daily)
MEN'S SHELTER
Contact (407) 423-8581 ext. 26480
Service Description:

Program provides emergency shelter and a transitional housing program.

Eligibility:

Men ages 18 years and older

Intake Procedure:

Call to verify availability
ASPIRE HEALTH PARTNERS – H.O.M.E. (HELPING OTHERS MAKE THE EFFORT)
TRANSITIONAL HOUING SHELTER in OSCEOLA COUNTY
Contact (407) 932-0413 ext. 1
www.aspirehealthpartners.com
Service Description:

Program provides 1-3 months transitional housing for single mother households.

Eligibility:

Single mothers with custody of children ages 17 years and younger who are experiencing homelessness, are not experiencing domestic violence, are able to work and consent to regular drug screenings

Intake Procedure:
RESCUE OUTREACH MISSION OF CENTRAL FLORIDA
SHELTER FOR WOMEN AND FAMILIES
Contact (407) 321-8224 ext. 2
www.rescueoutreachcfl.org
Service Description:

Program provides emergency shelter for single women with or without children and transitional housing program for families.

Eligibility:

Single women, women with children and intact families (two parent households)

Intake Procedure:
MEN'S SHELTER
Contact (407) 321-8224 ext. 3
Service Description:

Program provides emergency shelter for single men.

Eligibility:
Intake Procedure: