2022 Women United Luncheon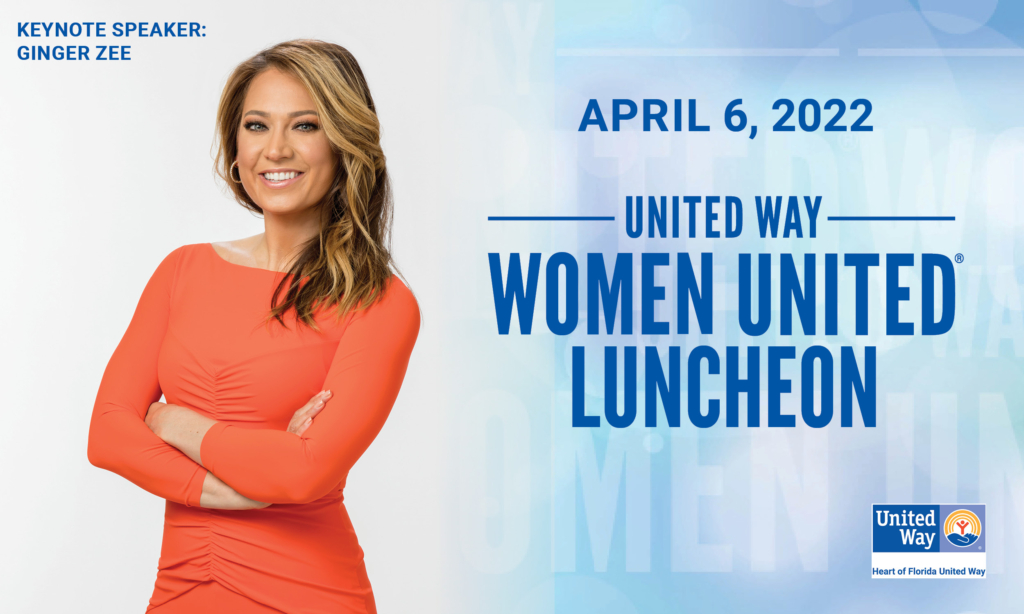 The Women United Luncheon is returning in-person in 2022! And you won't want to miss it! 

Join Women United Luncheon Chair Lourdes Mola, Lourdes Mola Solutions, and Vice-Chair Kathy Brown, Johnson & Johnson Human Performance Institute, at Heart of Florida United Way Women United's 15th annual Women United Luncheon!

Wed., April 6th, 2022
11:00 a.m. – Registration & Networking
12:00 – 1:30 p.m. – Lunch & Program

Rosen Plaza Hotel
9700 International Parkway
Orlando, FL 32819



Early bird tickets are just $75

Offer extended until January 14th



With the release of her New York Times best-selling memoir  Natural Disaster: I Cover Them, I am One,  Ginger Zee brings readers along the immensely difficult path that took her from a depressed fledgling meteorologist to the first female chief network meteorologist at a network.  As she puts it, by chasing these storms she was avoiding the real one brewing at home—a string of misguided relationships, including a horrifically abusive one that wouldn't end until she was forced to call the police, and a deep soul search that  lead her to check in to a mental health hospital ten days before starting her job at ABC. Zee was struggling with significant mental health issues that went undiagnosed until she entered that inpatient therapy and began—slowly but surely—to get her on track.

Despite  all of  this dysfunction, self-doubt, and turmoil, Zee has managed to build a remarkable career  and family. Now, in addition to her ongoing  Emmy and Murrow Award-winning  career in meteorology, Ginger  is taking her message of resilience and self-care around the country. Zee will leave audiences feeling renewed, empowered, and intensely moved by her raw, poignant chronicle of life as a Natural Disaster.

For sponsorship information call (407) 429-2104 or
e-mail WomenUnited@hfuw.org for more information.