Pulse Recovery Summit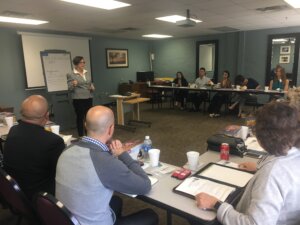 We recently hosted the Pulse Recovery Summit with the Disaster Distress Helpline. Over 15 agencies from across Central Florida came together to discuss the long-term recovery of our community in response to the Pulse tragedy that took place on June 12, 2016. "We are here to transition from survivor mode to thriver mode," said Joél Morales, Community Partnership Developer at the Orlando United Assistance Center.
Topics discussed included ensuring longevity of access to counseling, community education in response to disaster-specific trauma outreach, securing access to LGBTQ and Latino acculturated providers and more. By creating a long-term plan of recovery, it will help guide our community towards a place of healing and restitution.
Emotional Distress after Disaster
While many of the survivors of disaster suffer from emotional distress, there are others at risk such as family and loved ones of victims, first responders and those who were a part of the community. It's important to pay attention and recognize the warning signs of distress in yourself or someone you care about. While it may seem like everyday stress could actually be a larger issue like depression, anxiety or substance abuse.
Warning Signs of Anxiety After Disaster
Sleeping too much or too little
Stomachaches or headaches
Feeling anger or overwhelming sadness
Feeling a sense of guilt but not sure why
Eating too much or too little
Drinking alcohol or using tobacco more than usual
Not connecting with others
Get Help
It's normal to show signs of stress as a short-term reaction to any life changing event. However, if you or someone you care about may be suffering from depression or abusing alcohol or drugs, know that you are not alone. Reach out to the Disaster Distress Helpline at 1-800-985-5990 or text TalkWithUs to 66746. For Spanish speakers, text "Hablanos" to 66746. Trained counselors are available to talk 24/7/365.