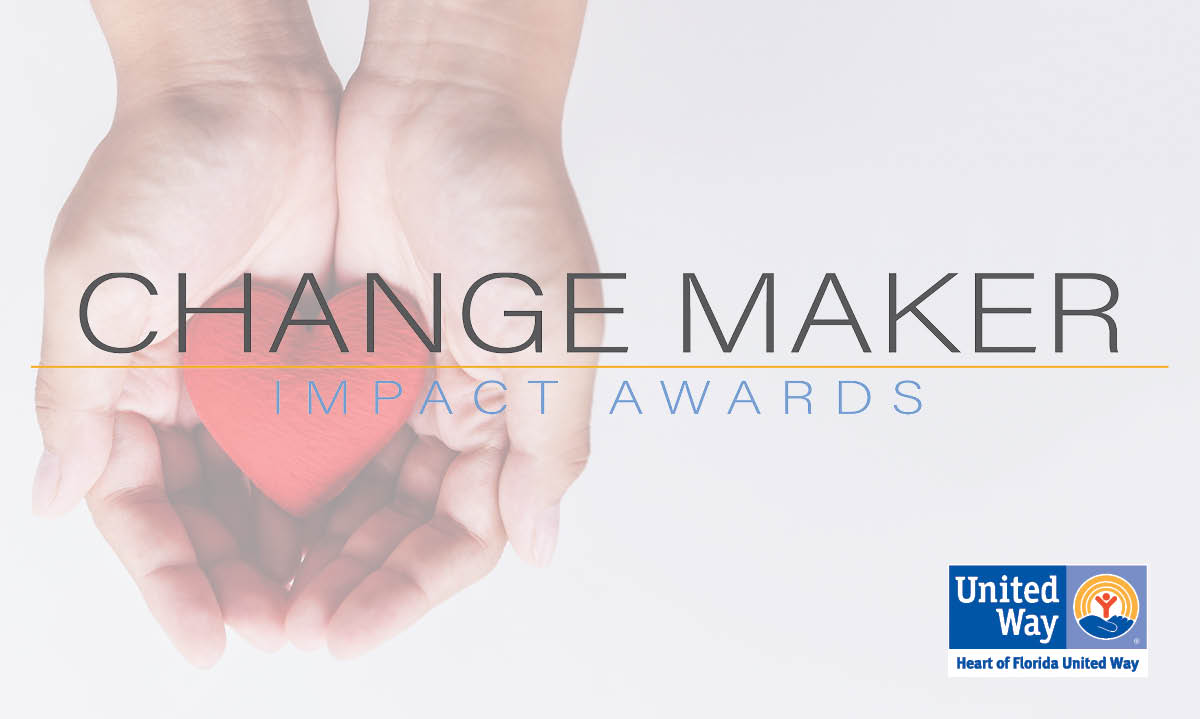 2020 Change Maker Impact Awards
Without question, 2020, and the onset of the COVID-19 pandemic, brought more change and caused more disruption in our lives and communities than anyone could have anticipated.
Despite this upheaval in our community, there are those who have stepped-up and stood out. They answered the community's desperate call for help with support, compassion, bravery, and much-needed relief. They showed their dedication and service to the greater good by being Change Makers at a time when sacrifice and a commitment to others was needed most. This year, more than ever, we are proud to highlight our community's efforts to unify and uplift, to fearlessly lead the way in a year fraught with uncertainty and overwhelming need – in short, we want to recognize our community's efforts to Live United.
This year, Heart of Florida United Way partnered with the Orlando Business Journal to showcase the amazing work of the 2020 honorees of the Change Maker Impact Awards. Make sure to check out the digital galleries for each of the honorees below.
---
CHANGE MAKERS OF THE YEAR
The healthcare heroes and first-responders who helped to care for our neighbors through the COVID-19
If this year taught us anything, it's that not all heroes wear capes. Many wear masks, scrubs, lab coats, or uniforms.
When COVID-19 hit Central Florida in March 2020, no one anticipated the scenes that would unfold across the country. Cars lined up for miles awaiting a test. Emergency rooms and hospitals braced for the impact. The scene was grim, and unlike anything, our community has ever experienced. Through it all, these Change Makers showed up to serve and care for others. This year's Change Maker of the Year award cannot go to one standalone person or company this year. This is why we are proud to recognize all the healthcare heroes and first-responders who helped to care for our neighbors through the COVID-19 crisis. See the digital gallery highlighting some representatives from this industry who demonstrate the sacrifice and dedication of all Change Makers of the Year.
---
Robert Stuart
Legacy Honoree
Robert Stuart's passion in life is to serve. He has been serving the Central Florida community in a multitude of ways for more than 25 years. Advocate, executive director, elected official, Sunday school teacher, youth baseball umpire, the list goes on. In all of these roles, Robert serves others while maintaining his perspective on what he counts as the essential thing – providing the most basic human needs to our neighbors.
The impact he has made in Central Florida by tirelessly rolling up his sleeves for 25 years makes him Heart of Florida United Way's Legacy Honoree for the 2020 Change Maker Impact Awards. This prestigious recognition is for individuals with the utmost achievements, whose deep and meaningful impact spans beyond just one year. They display outstanding leadership in philanthropy, volunteerism, advocacy, or collaboration, essentially influencing the future of the Central Florida community. See Robert Stuart's digital gallery by clicking here.
---
Lockheed Martin
LIVE UNITED Award
If you live in Central Florida, you have heard of Lockheed Martin. Beyond the economic contributions and technological advancements, Lockheed Martin is known for its contributions to the community and those underserved and most vulnerable.
Throughout the years collaborating with Lockheed Martin, we have seen first-hand how Lockheed employees live out their core values by giving their time, talent, and resources to essential issues in their community. Your organization truly sets the example of what it means to "Live United." See Lockheed Martin's digital gallery by clicking here.
---
Lisa Williams
Unsung Hero

The Unsung Heroaward lifts up a person or organization that is making significant contributions to our community when no one is looking. Be it someone who makes a career of service or someone who volunteers their time, we want to honor those who are making a difference at the grassroots level regardless of getting credit for their work.
For the past 16 years, on any given Tuesday, Wednesday, or Thursday night, throughout Central Florida, Lisa can be found in a community center recreation room surrounded by pizza and dozens of energetic teenage girls there for a specific purpose – to find their lane. Lisa Williams and LANES Teenage Girls was selected from a public nomination process, and represents the 2020 Unsung Hero honoree. See Lisa Williams, LANES Teenage Girls' digital gallery by clicking here.
---
Miles Newbold
Change Maker Junior
Age is just a number and certainly does not define the impact you can make on your community. New this year, the Change Maker Junior award celebrates contributions to Central Florida made by some of the regions youngest leaders. Miles Newbold is Heart of Florida United Way's first Change Maker Junior selected from a public nomination process.
At nine-years-old, Miles, a kind-hearted young man, decided he wanted to help those in need. Now 12, he has a non-profit organization called Miles To Go which creates hygiene and snack bags to help give hope and dignity to the homeless in Central Florida. See Miles Newbold, Miles To Go's digital gallery by clicking here.