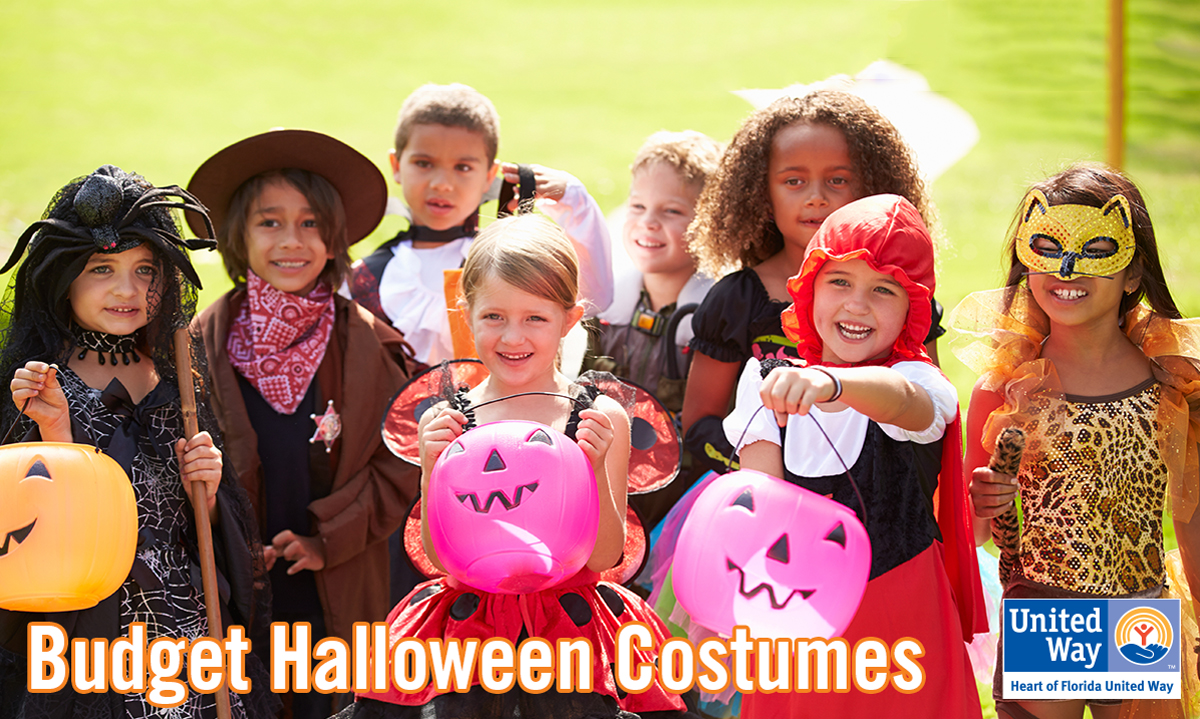 Budget Halloween Costumes
The countdown to Halloween has begun. Soon ghosts and ghouls will be roaming the streets, asking the age old question: "Trick or treat?" In the buzz of costume hunting, candy collecting and visiting haunted houses, it's easy to lose track of your budget. However, Halloween is a great opportunity for DIY which can add up to huge savings. Instead of spending big bucks on a store made costume for your children, check out some of these wallet-friendly, classic ideas:
With the zombie craze still going strong, this is a popular choice with lots of creative options. Either go to the thrift store or raid your child's closet for items that are no longer worn or have been outgrown, then have fun destroying them! Cut holes, roll in the mud and add fake blood (try mixing corn syrup, red food coloring and cocoa powder) to "zombify" the outfit. Put some dark eye shadow under your child's eyes and have fun practicing their zombie walk.
Secret Agent Spy. Stop by the thrift store for a black jacket and pants for your child. To complete the outfit, get some fun accessories such as a pair of dark sunglasses or briefcase. Build up your child's spy arsenal with an old watch to act a secret communication device.
Stick Man. This costume requires a white shirt and pants, black duct or electrical tape, a paper plate and some string. Use the tape to create a line down the front of the shirt to create the body, and lines for the arms and legs. Draw a simple smiley face on the paper plate, cut out eye holes, and use the string to hold it in place.
If instead of the classics your trick-or-treater is looking for something more "of the moment," there are plenty of options to recreate outfits without having to go over budget. Here are a few ideas:
Joy from Inside Out. With Inside Out coming out to DVD soon, Joy is a great emotion to feel and emulate in costume. Check thrift stores for a yellow dress and spruce it up with some blue glitter paint. Pick up a can of blue hair spray from the dollar store or party store and your child will jump with joy at the great costume.
Charlie Brown. The Peanuts Movie is due out later this year which means Charlie Brown has begun to make a comeback. All that is needed for this costume is a yellow t-shirt or polo, black pants and black duct (or electrical) tape. Use the tape to create the zig-zag pattern along the bottom of the shirt. To really spruce up this costume, use a washable black marker to draw the curly hair on your Charlie's forehead and have your child carry a white stuffed animal dog to be faithful Snoopy.
Minion from Minions Movie. If your child has a yellow shirt and blue jeans, you already have half the costume ready. You can add suspenders, black gloves or a yellow stocking cap to help complete the outfit. Swing by the dollar store for safety glasses and hot glue the rims of two mason jar lids for minion goggles and your minion is ready to go!
No matter what your kids decide to be on Halloween, a little creativity will go a long way in helping keep costs low. Most thrift stores carry discounted Halloween outfits this time of year and dollar stores are packed with dress up clothes and accessories. If you have a cardboard box and some paint, there are plenty of options! No matter what the costume, the key to a successful Halloween is lots of fun at the end of the night.
Heart of Florida United Way is focused on addressing the five major building blocks of financial stability in order to provide low-income working families the services and support necessary to succeed. For more information visit www.hfuw.org or if you are in need of assistance, call 2-1-1, our 24-hour Information and Assistance helpline.