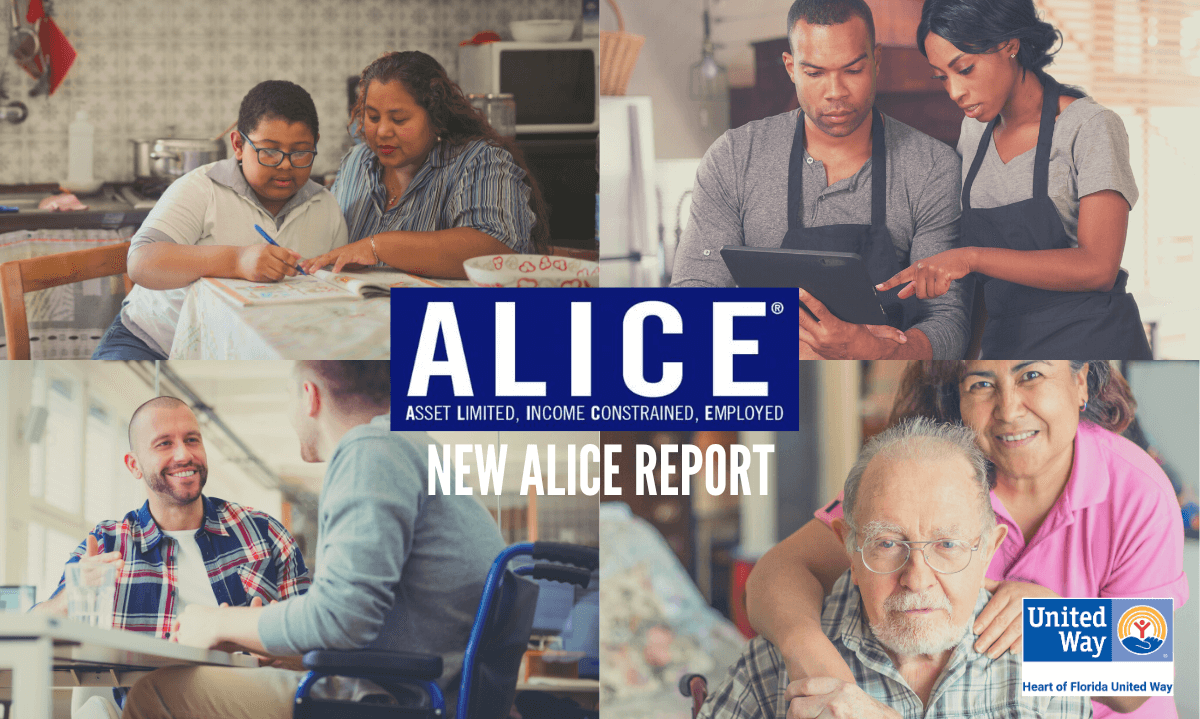 Central Florida ALICE Households Facing Financial Hardship Increased by More Than 33,000 Throughout Pandemic
The number of Central Florida households unable to afford basic needs increased during the first two years of the COVID-19 pandemic, reflecting a total of 386,077 households throughout Orange, Seminole, and Osceola counties.

Outlined in the new ALICE in the Crosscurrents: COVID and Financial Hardship in Florida report from Heart of Florida United Way and its research partner United for ALICE, this is up from 347,000 in 2018 and 353,000 in 2019. However, significant in-migration to the area decreased the overall percentage of households struggling to afford basic needs – 50% in 2019 to 47% in 2021.
This number includes the 110,250 Central Florida households living in poverty, as well as another 275,827 families defined as ALICE (Asset Limited, Income Constrained, Employed), earning above the Federal Poverty Level but less than what's needed to survive with the escalating cost of living in Central Florida.

ALICE families have been overlooked and undercounted by traditional poverty measures. ALICE is the nation's retail employees, childcare workers, home health aides, and cashiers deemed essential workers during the pandemic – those working low-wage jobs, with little or no savings and one emergency from poverty.
The new report shows that the percentage of ALICE households in Florida remained relatively stable between 2019 (46%) and 2021 (45%). However, the total number of households increased by more than 227,000. Florida experienced a large in-migration, while other states lost population. In Florida, from 2019 to 2022, all five of the largest counties (by total households) experienced an increase in total households, which included Orange County (12%). Osceola and Seminole counties also experienced significant in-migration at 20% and 4% respectively.
In the tri-county region, the number of ALICE households increased by 20,793 from 2018 to 2021. In contrast, there were 17,494 more households in poverty.
Florida remained 44th in financial hardship among all 50 states, with one of the nation's highest percentages of households struggling to make ends meet in 2021.
The report finds while job disruptions and inflation delivered significant financial distress, a combination of pandemic supports and rising wages did help to blunt what could have been a deeper financial crisis. However, as some benefits are peeled back, and inflation persists, signs of greater financial stress are on the horizon.
According to the report, for a family of four with an infant and a preschooler, the annual ALICE Household Survival Budget, which is the basic cost needed to live and work in Central Florida, was $74,576 in 2021.

HFUW believes this to be an unrealistically conservative figure, with a more realistic annual budget for the same family being closer to $86,000.

Two people in Central Florida making minimum wage would have to work more than three full-time jobs in order to make ends meet – or 130 hours per week combined every week of the year.
Inflation of basic essentials continues to squeeze ALICE families. According to the ALICE Essentials Index in Florida, the increasing price of basic essentials (housing, childcare, food, transportation, health care, and smartphone plan) outpaces the rate of increase for the national Consumer Price Index (CPI), which measures a much larger basket of goods.

ALICE Essentials Index increased 3.3% on average annually from 2007 to 2023, whereas national CPI increased 2.5% annually. For context, the median wage for a common occupation in Florida, a retail salesperson, increased 1.9% annually from 2007 to 2022.
To read a copy of the report and find county-by-county and town-level data on the size and demographics of ALICE as well as the community conditions and costs faced by ALICE households, visit www.UnitedForALICE.org/Florida. 
Stay Connected  
For more information on HFUW, subscribe to our e-newsletter, and follow us on Facebook, Twitter, LinkedIn, and Instagram.