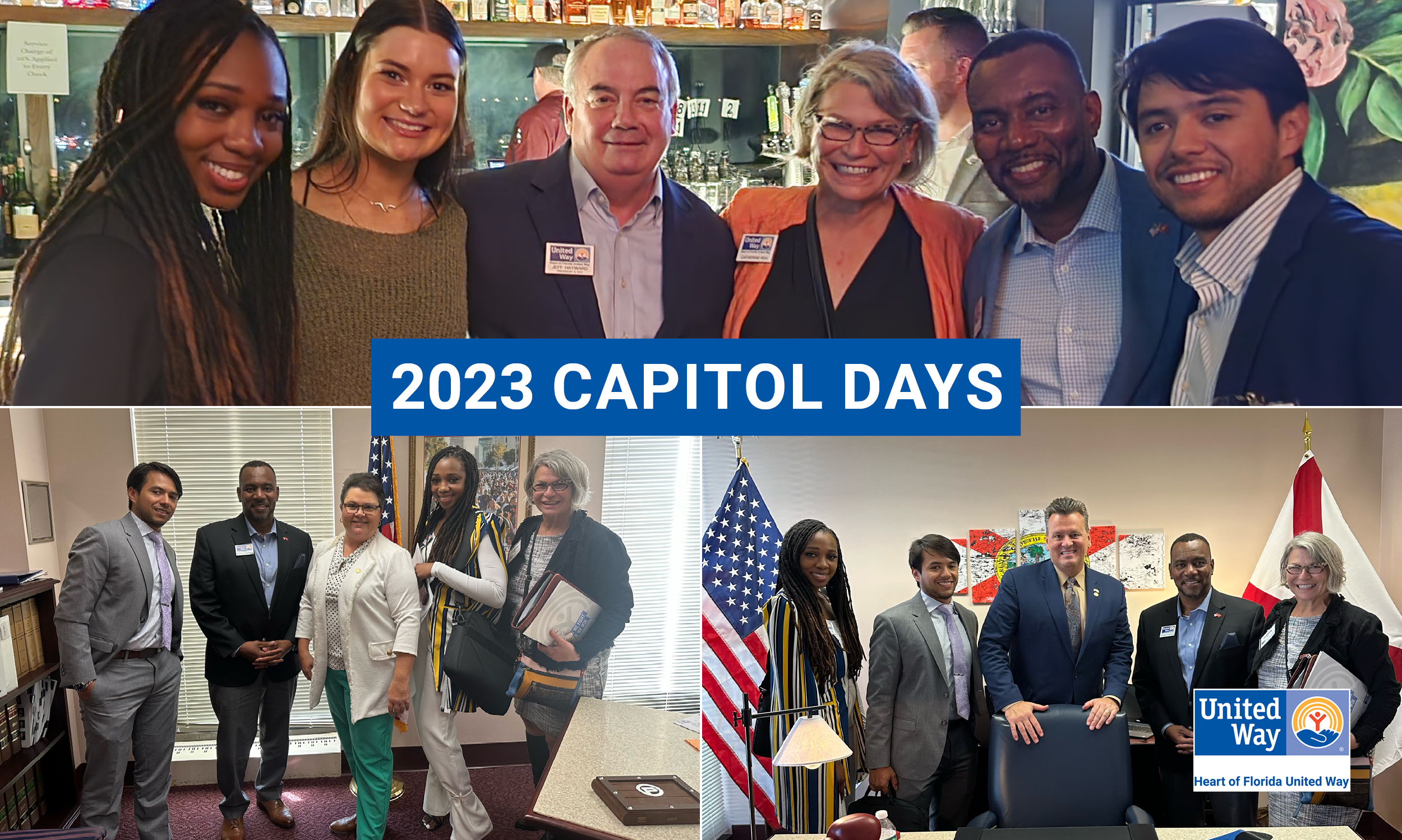 Heart of Florida United Way Attends 2023 Capitol Days, hosted by United Way of Florida
On February 22, 2023, United Way of Florida (UWOF) hosted its 2023 Capitol Days, which focused on advocating for the UWOF consensus agenda.

During the conference, Heart of Florida United Way (HFUW) staff heard from Rep. Dana Trabulsy, House Minority Leader Fentrice Driskell, Secretary of the Florida Department of Business & Professional Regulation Melanie Griffin, the Florida Department of Children and Families, and others.

Our HFUW delegation to Tallahassee included: Jeff Hayward, President and CEO; Catherine Rea, Vice President of 211; Norris Henderson, Mission United Manager; Nicole Benton, Crisis Service Manager, and Daniel Vanegas; Advocacy and Public Policy Director.
Our HFUW delegation had the opportunity to meet with various Representatives, Senators, and/or their staff. Their meetings included the following: Rep. Fred Hawkins, Rep. Susan Placensia, Rep. David Smith, Rep. Rita Harris, Rep. Johanna Lopez, Sen. Geraldine Thompson, Sen. Linda Stewart, Rep. Kristen Arrington's Legislative Aide, Sen. Jason Brodeurs' Legislative Aide, and Sen. Victor Torres' staff.
At each of the meetings, HFUW staff advocated to the elected officials about supporting the UWOF consensus agenda. They also made the representatives and senators aware of the concerns that 211 representatives have in regard to the 988 continuous funding.

The conversations focused on asking for support of Senate Bill 468, sponsored by Senator Garcia, and House Bill 655, sponsored by Representative Trabulsy, tasking the Commission on Mental Health & Substance Abuse to assess Florida's 988 system and to make recommendations for improvements.
Stay Connected  
For more information on HFUW, subscribe to our e-newsletter, and follow us on Facebook, Twitter, LinkedIn, and Instagram.