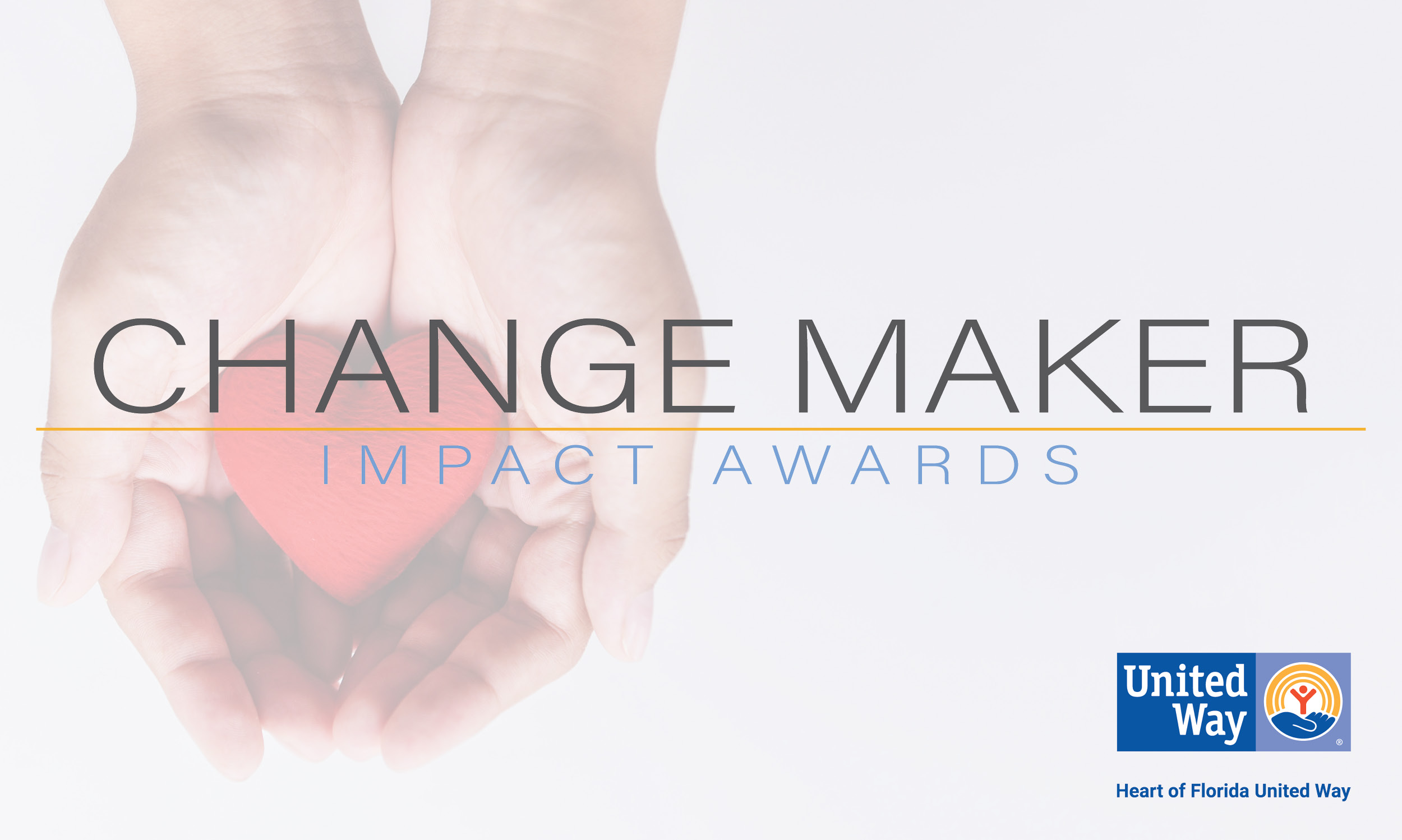 Let's Celebrate our 2022 Change Maker Impact Award Winners
Together, we are the game changers. We are the hand-raisers. We are the change makers.

This October, Heart of Florida United Way will recognize the people and organizations who have contributed significantly to our community through the Change Maker Impact Awards.
In case you missed it, here are the event details:
Date: Thursday, October 13, 2022
Location: The Citrus Club (255 S Orange Ave Suite 1800, Orlando, FL 32801)
Time: Registration and networking 11 a.m. – 12 p.m. | Program 12 p.m. – 1:30 p.m. (lunch will be served)
We're proud to announce the following honorees, who will be celebrated at the upcoming awards ceremony.
Change Maker of The Year
The DeVos Family Foundation 

The DeVos family is an exemplary steward as caretakers of the Orlando Magic and investors in Central Florida's prosperity. In celebration of their 30-year milestone, the DeVos family chose to express their appreciation to our community with their Orlando Magic 30 Grants for 30 Years initiative, in which the foundation has committed to donating a total of $3 million to 30 nonprofits. This effort invests in people and projects impacting youth, essential needs for families, and community enrichment across Central Florida. Through their initiatives over the last three decades, the DeVos family has demonstrated philanthropy, generosity, and dedication to making Central Florida a better place.
---
Legacy Honorees
Dr. Richard Lapchick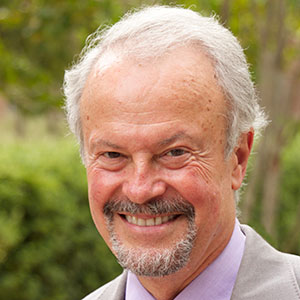 Dr. Richard Lapchick founded the University of Central Florida's DeVos Sports Business Management program, one of the most highly regarded programs around the country. Its unique, rigorous curriculum and emphasis on social change have impacted countless lives. Through the DeVos program, Dr. Lapchick has influenced students and graduates with values they have taken into their workplaces and shared knowledge on how sports can support communities.

He also helped form the Institute for Sport & Social Justice to teach youth how to improve race relations, develop conflict resolution skills, prevent gender violence, and avoid drug and alcohol abuse. Dr. Lapchick has advocated for justice since his early adult years, and as he developed his career, which helps pave equity for his students.
Finally, he is a long-time HFUW volunteer — focusing his efforts on opportunities to battle racism and other forms of discrimination.
---
Sandy Hostetter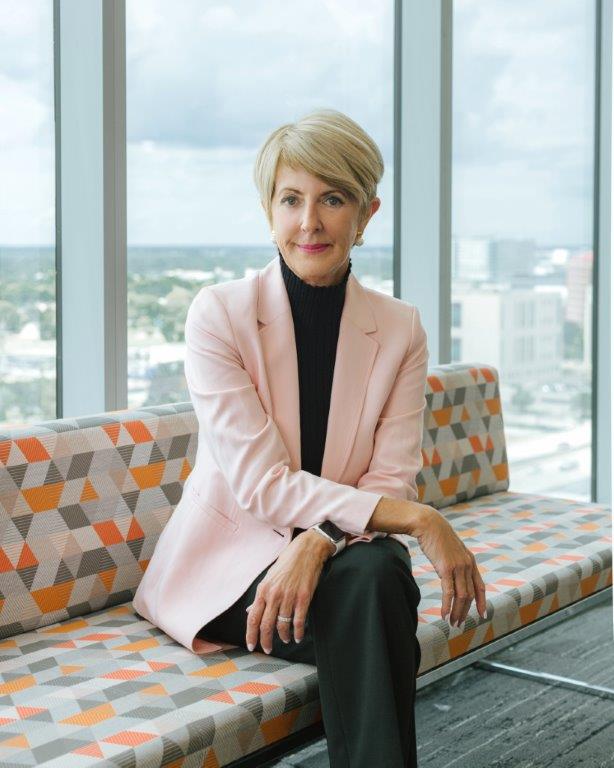 Sandy Hostetter is a Central Florida banking veteran with over 35 years of local experience in the financial services industry. Hostetter is a senior leader in the Central Florida market who recently retired from her role as Central Florida Regional President at Truist Financial Corporation, where she was responsible for directing the commercial business and delivering the full complement of Truist's services to clients. She currently chairs the Orlando Economic Partnership as an energetic leader and a catalyst for change.
She also serves on the board of AdventHealth, as well as the board of the Central Florida YMCA and is a founding member of the board of LIFT Orlando. Additionally, Hostetter serves on the boards of 4Roots Farm and Florida Citrus Sports.
---
Ed Timberlake
Ed Timberlake is the Chair of the Dr. Phillips Center for the Performing Arts after serving on its Board of Directors for 17 years. As a founding donor, he was also instrumental in the completion of the original design of the arts center. He has been involved in many charitable organizations, like the Central Florida Commission on Homelessness, for which he served as managing chair.
Now, the career-long philanthropic contributor mainly focuses his charitable efforts on supporting the Dr. Phillips Center, as well as the Heart of Florida United Way — where he currently serves as a board and executive committee member.

Ed has accumulated nearly 50 years of commercial banking experience. Most recently, he retired from Seaside National Bank (now United Community Bank) as chair of the boutique institution's Central Florida market, which he joined in early 2008. Previously, Timberlake retired as President of Bank of America Central Florida in late 2007 after seven years as president and 15 years with the bank and its predecessor organizations. Towards the end of his term at Bank of America, Timberlake orchestrated the first major corporate donation for the Dr. Phillips Center's capital campaign.
---
Live United Impact Award for Education
Osceola County Government – Osceola Prosper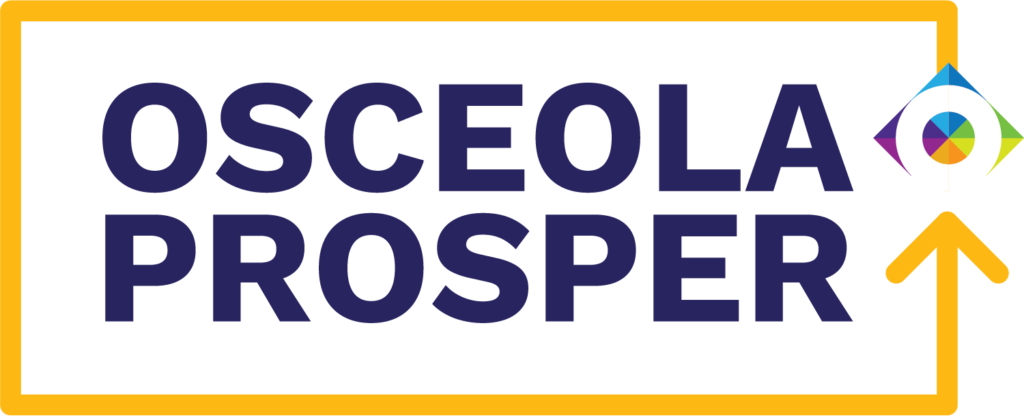 Osceola Prosper is an educational program open to all public, private, and home-schooled students in Osceola County who are part of the class of 2022 high school graduates. This program covers tuition and fees (after any grants or scholarships a student receives) at Valencia College or Osceola Technical College (OTECH) through a student's graduation or program completion — making higher education more accessible.
---
Live United Impact Award for Advocacy
Brandon Wolf
Brandon Wolf is a nationally recognized LGBTQ civil rights advocate, leader in the movement to end gun violence in America, and survivor of the 2016 shooting at Pulse Nightclub. He serves on the Advisory Boards for the Ban Assault Weapons Now campaign and the National Organization for Victims Assistance.
In 2019, he became the first survivor of the Pulse Nightclub tragedy to testify before Congress and in 2021, he was appointed to the Florida Advisory Committee for the US Commission on Civil Rights. He is a co-founder and current Vice President of The Dru Project, a nonprofit organization that empowers safe spaces in schools for LGBTQ youth, and the Press Secretary for Equality Florida, the state's LGBTQ civil rights organization.
---
Live United Impact Award for Philanthropy
Lonnie Bell, Jr. (Posthumously)
Lonnie Bell, Jr. who passed away earlier this year, was deeply committed to helping disadvantaged youth and adults. The Orange County Director of Community and Family Services since 2009, he also served on a number of nonprofit boards. Orange County Major Jerry Demings described him as "a champion for improving the health and welfare" of those in need.

Additionally, Lonnie was HFUW's single largest contributor from Orange County Government over the years through workplace campaigns.
---
Live United Impact Award for Children
Dr. Barbara Jenkins
Dr. Barbara Jenkins has been dedicated to serving the needs of students for more than 30 years. She has served as superintendent of Orange County Public Schools from 2012-2022 and will retire at the end of this year.

Under Dr. Jenkins' leadership, the district won the prestigious 2014 Broad Prize for Urban Education. The prize earned half-a-million dollars for student scholarships from the Eli and Edythe Broad Foundation.
Deeply engaged in the community, Dr. Jenkins has served on the boards of Advent Health, Orlando Economic Partnership, United Arts of Central Florida, Central Florida Regional Commission on Homelessness and the Orange County Youth Mental Health Commission.
---
Live United Impact Award for Leadership
Chief Orlando Rolón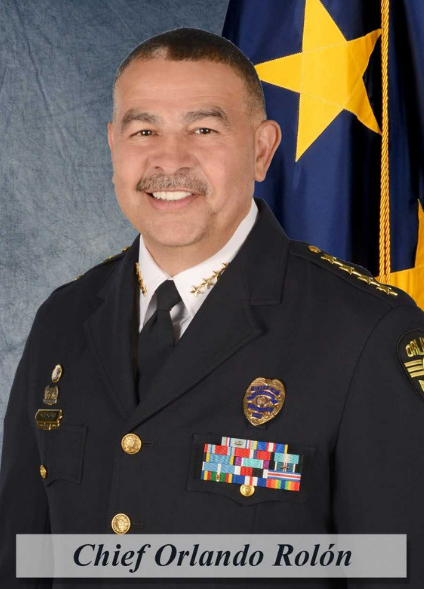 As the first Hispanic chief in the history of the Orlando Police Department, Orlando Rolón served the city beautiful for 30 years while serving on HFUW's Board of Directors. Rolón has met the challenge through our community's toughest times, including through the pandemic and racial inequality.
Join Us in Celebrating Our Honorees
Get your tickets here to join us at the Change Maker Impact Awards Ceremony this October. There, we will celebrate all of our winners listed above, and announce our publicly nominated winners for the Change Maker Junior Award, Women United Impact Award, Mission United Impact Award, and Unsung Hero Impact Award.
Stay Connected
For more information on HFUW and how you can become a change maker in our community, subscribe to our e-newsletter, and follow us on Facebook, Twitter, LinkedIn, and Instagram.