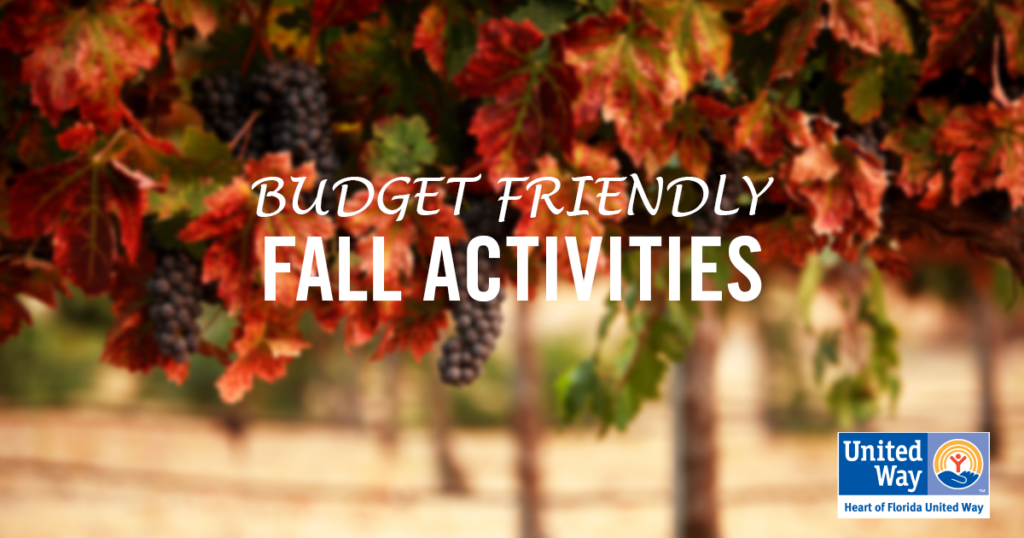 Fall is finally here! The blistering heat of summer has faded away which means there are plenty of fun fall activities happening in the area. Here are 10 fall activities for $10 or less.
Orlando Area Parks
When: Every day
Cost: Free
What to do: Orlando boasts over 40 parks, with many of them having many amenities including playgrounds, grills and pavilions. Pack a picnic and plan to spend the day enjoying the outdoors and basking in great fall weather.
Leu Gardens
When: The first Monday of the month, 9am-5pm
Cost: Free
What to do: With over 12,000 plants as well as a large collection of sculptures, there is plenty of beautiful scenery to enjoy as you walk around. Admission also includes a tour of the Leu House Museum.
Partin Ranch Corn Maze
When: Every weekend in October, 10am -5pm
Cost: $10 general admission, $7 kids ages 4-12, Free for kids 3 and under. $1 off coupon on website
What to do: Admission fees include corn mazes, barrel train ride, hayride, zip line for kids, and multiple games and play areas.
Community Harvest Festival
When: November 6-8
Cost: Free
What to do: They will have carnival rides, raffles and a full schedule of bands and dance groups every day of the festival. There will be a large food tent and craft vendors as well.
Orlando's Fiesta in the Park
When: November 7-8, 10am-5pm
Cost: Free
What to do: Stroll through Lake Eola Park and view local artists and crafters with their masterpieces on display.
Manello Museum Free Family Day
When: The second Sunday of the month, 12pm-4:30pm
Cost: Free
What to do: Besides viewing the galleries, they will have a make-and-take craft table for kids open until 2:30. The museum offers rotating exhibits of American art from a wide range of genres and time periods.
Veterans Day Parade
When: November 14, 11am-1pm
Cost: Free
What to do: Come out and support our veterans! Arrive early to find a good spot to view the floats, vehicles and marching bands.
Heart of Florida United Way is focused on addressing the five major building blocks of financial stability in order to provide low-income working families the services and support necessary to succeed. For more information visit www.hfuw.org or if you are in need of assistance, call 2-1-1, our 24-hour information and assistance helpline.