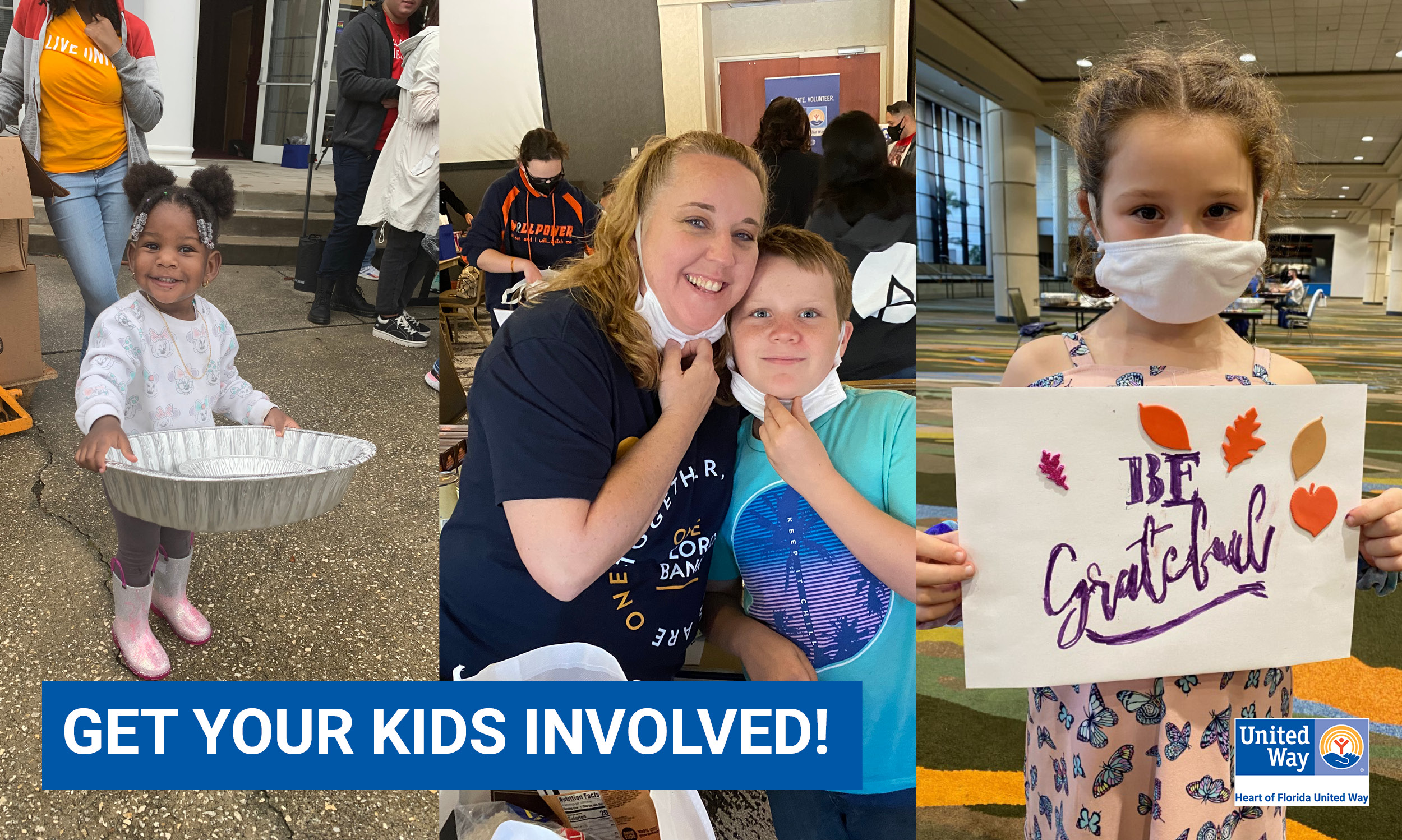 Get Your Kids Involved: Five Family-Friendly Volunteer Activities for Your Family to Make a Difference
Empathy and compassion are some of the most critical understandings that parents could instill in their children. You probably know that as an adult you can get involved as a Heart of Florida United Way Volunteer to start making a difference for your community, but did you know that your whole family can, too?
Through our Volunteer Resource Center, we are proud to offer an array of family-oriented volunteer events and activities that anyone can take part in.
Here are some activities available throughout the year:
Sign Up for Thanksgiving Project
We also run many annual events that provide opportunities to help the community. If you register as a volunteer at volunteer.hfuw.org, you will be notified when a new chance to help arises. One such event is the upcoming Thanksgiving Project, where volunteers will help prepare grocery bags to be delivered to the less fortunate. This project takes as many hands as it can get and there are plenty of shifts to go around. Look for indicated family-friendly shifts at https://x.gldn.io/e/pW4ruHPDUtb.
Student Volunteer Hours
Not only do these events act as an opportunity to spend time with your loved ones while doing some good for the community, but some can also fulfill community service hours if they are a requirement at your child's school. Students at the high school or college level who are in need of hours may want to consider being a Volunteer Leader for the Thanksgiving Project. Sign-ups are available at https://x.gldn.io/e/CcEN6FUHfub .
DIY Dinner Kits for Food Pantries
What is your favorite meal? Can you find shelf-stable ingredients that you can pack into a disposable roasting/casserole pan or large bag to donate to a food pantry? We also suggest including plates, cutlery, napkins, and even a gift card if your recipe needs fresh ingredients.
This activity also works well for Birthday Cake packs and other family favorites!
Host a Collection Drive
Get a copy of our Collection Drive toolkit! Contact volunteer.center@hfuw.org and ask for the Collection Drive toolkit along with who you would like to support, what type of items or a list of items you would like to collect, and the dates you would like your collection to run.
If you do not know who you want to help, we can help brainstorm ideas with you! After your details are confirmed, you will receive a printable flyer and an item tracking sheet to help you count all of your collected items.
After the final day of collection, HFUW will help you deliver to a nonprofit in need of your collected items. Great for Scout Troops, students, and neighborhoods!
Join the Action Team
This special group of volunteers will receive email updates to provide you with the first pick for all volunteer activities and other exclusive opportunities throughout the year. Sign up here!
Giving back as a family teaches invaluable lessons to your kids, and learning to give back at an early age builds a strong foundation of empathy, generosity, and awareness of our community's needs.
Even the smallest gestures can have a big impact, and it is important for children to understand this from an early age.
We are grateful to all the children (and parents!) who've rolled up their sleeves at our volunteering events, and we invite those who haven't yet to give it a try.
When we show our children how to volunteer, we empower them to lead, help, and advocate; this is how we #LiveUnited and build a stronger Central Florida for the future.
What You Can Do
Share this blog with parents looking for a free and fun way to spend time with their children and teach them about giving back
Stay Connected
For more information on HFUW, subscribe to our e-newsletter, and follow us on Facebook, Twitter, LinkedIn, and Instagram.