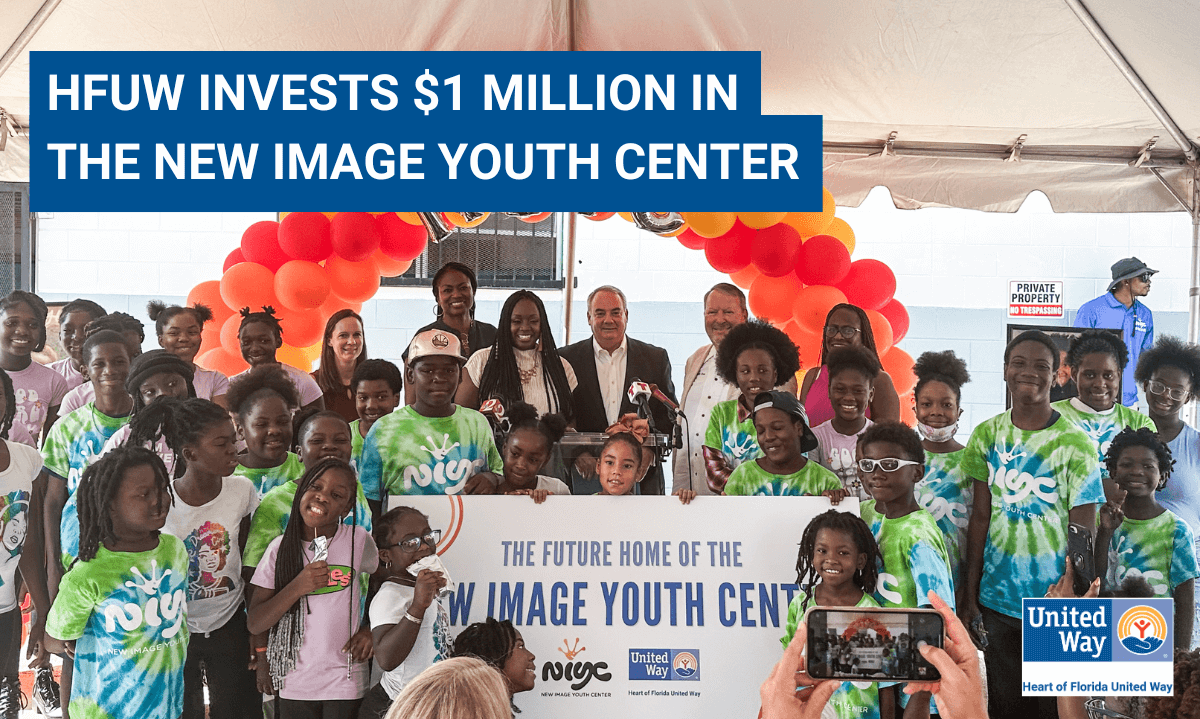 Heart of Florida United Way Invests $1 Million to Create New, Permanent Home for New Image Youth Center in Parramore
On Friday, August 4, 2023, Heart of Florida United Way (HFUW) announced a $1,000,000 investment in the New Image Youth Center (NIYC), an organization that provides after-school and summer programs for Parramore's children and teens. The funds were specifically invested for the purchase of a new building.
NIYC, celebrating its 19th anniversary this year, provides academic support, social development, health and wellness support, crisis intervention, and social justice programming for K-12 students residing in the Parramore community. HFUW has partnered with NIYC previously, making smaller investments to support programming. However, when the future of NIYC was threatened by increasing rent prices and crumbling infrastructure, HFUW decided to invest in the long-term success of this organization – a new home.
Watch this conversation between NIYC Executive Director Dr. Shanta Barton-Stubbs and HFUW President and CEO Jeff Hayward. 
The Impact of the New Image Youth Center
Smiling children enter NIYC every day with their Executive Director Dr. Shanta Barton-Stubbs welcoming them with open arms before grabbing a snack and settling down to do their homework. The New Image Youth Center and Miss Shanta are making a difference in these children's lives and throughout the neighborhood. That is why Heart of Florida United Way is proud to be a part of their journey.
Although extensive renovations are needed, this is exactly where the future of the New Image Youth Center is meant to be according to Dr. Shanta Barton-Stubbs.
"The New Image Youth Center has been able to bring almost 20 years of transformative youth programming to the Parramore community," said Barton-Stubbs. "Now with the stability of having a forever home with the help of Heart of Florida United Way, we are looking forward to providing more services to more youth for the next 20 plus years to come. What a way to show our current generation of children, and our alumni how much the community supports their future."
A Home for the Youth of Parramore
In 2004, 21-year-old Shanta saw a need to support youth in a neighborhood where violent crime, drug abuse, and homelessness were commonplace. That first summer, she started with eight youth, $1,500 of savings, and a handful of used board games. Today, New Image Youth Center is a consistent presence in the lives of youth who often lack stability.
The New Image Youth Center has provided a safe and supportive environment with invaluable resources which has allowed children and teens to unlock their greatest potential.
An Investment Funded by a Historic Gift
Funding for this initiative is from a historic $20 million gift from philanthropist and author MacKenzie Scott. This was the largest single gift HFUW has ever received in the organization's 83-year history.
We are grateful she selected us and now we want to make sure the dollars are put to use in a way that will transform lives by providing opportunities that will yield dividends for generations to come. It is also our hope that other corporations and philanthropists step forward to generously invest with us. To live better, we must all Live United. 
Stay Connected  
For more information on HFUW, subscribe to our e-newsletter, and follow us on Facebook, Twitter, LinkedIn, and Instagram.