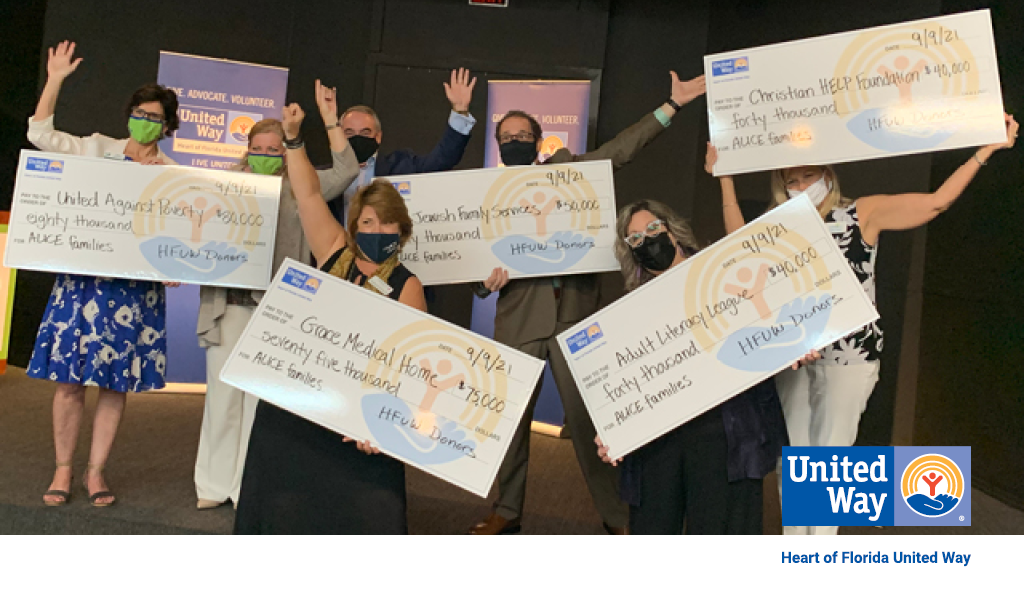 Heart of Florida United Way Invests a Quarter of One Million Dollars in Five Local Agencies to Stabilize Asset Limited, Income Constrained, Employed Households
Heart of Florida United Way (HFUW) today announced $250,000 in investments to five local nonprofit agencies to support the stabilization of the ALICE (Asset Limited, Income Constrained, Employed) population, which accounts for more than half of the tri-county area residents. It also represents households who are one paycheck and one crisis away from financial ruin, including before the COVID pandemic. The awarded investments are unrestricted.
"It's important that we – as a community – work to help stabilize ALICE so they can again be in a position to thrive following the challenges of the COVID pandemic," said Jeff Hayward, president and CEO of HFUW. "ALICE was already one crisis away from financial ruin, and many weren't able to pay bills or mortgages due to limited savings to get through the extended time of the COVID pandemic. These investments in partner agencies allow for more ALICE families to be supported."
The agencies awarded unrestricted grants to stabilize ALICE families to thrive are United Against Poverty ($80,000), Grace Medical Home ($75,000), Jewish Family Services ($50,000), Adult Literacy League ($40,000), and Christian HELP Foundation for case management ($40,000). All provide case management and supportive services to help
qualifying individuals complete accelerated training programs and/or certification programs; job placement services to those who have completed credentialing and certification programs; and financial education and training designed to increase understanding of affordable housing, debt management, budgeting, savings, and acquiring assets.
"During this time of significant need, United Against Poverty is thankful for this grant from Heart of Florida United Way," said Nancy Robbinson, executive director of United Against Poverty Orlando. "These funds will enable us to serve more ALICE families through our crisis stabilization, workforce development, education, and low-cost grocery programs."
To support ALICE during the pandemic further, HFUW also launched the COVID-19 ALICE Recovery Fund in the middle of 2020 with the help of individual donors and corporate citizens who invest and partner in the organization's work. As of June 30, HFUW distributed more than $7.51 million in emergency financial assistance to 13,519 tri-county households providing rent, mortgage, and utility payments for residents who qualified. In addition, in December 2020, HFUW invested more than $1 million amongst 11 local agencies to support basic needs. And in March 2021, HFUW invested an additional $150,000 in three agencies providing legal representation for families facing COVID-related eviction. Since the pandemic's start, HFUW has invested nearly $9 million overall in programs to support ALICE across the tri-county region.
"More people are in need than ever, which strains the safety net of nonprofits in our community," continued Hayward. "We understand that resources to meet increased demand are scarce, so through general operating support investments, these hard-working agencies can keep their operations running a little longer to meet the needs of Central Floridians."