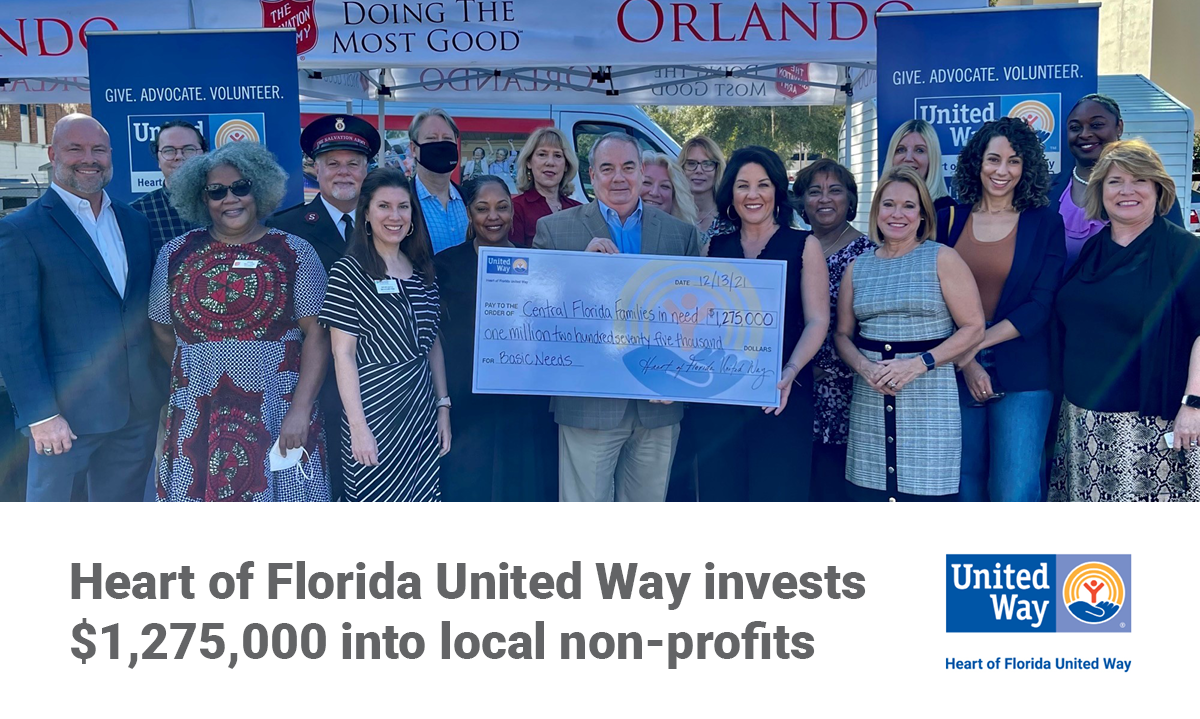 Heart of Florida United Way invests $1,275,000 into local non-profits
Heart of Florida United Way Invests $1.275 Million to Stabilize Asset Limited, Income Constrained, Employed Households in Tri-County Area
15 agencies awarded to provide needed basic needs support to ALICE families
Today, Heart of Florida United Way (HFUW) announced investments in community agencies that provide basic needs support to stabilize Central Florida families. $1,275,000 was distributed for immediate use by 15 agencies to help address growing, basic community needs in Orange, Osceola, and Seminole counties. The investments range from $45,000 to $195,000 and are based upon the scale of programs, capacity to serve, and continued increased demand.
"Our local nonprofit agencies have been and will continue to work tirelessly as we navigate ourselves and our residents out of the COVID pandemic," said Jeff Hayward, President and CEO of HFUW. "Given ALICE was already one crisis away from financial ruin, many have either depleted or have limited savings to make ends meet. These investments in partner agencies allow for more support to ALICE families."
The following agencies received a portion of the $1.275 million investment in basic needs:
These grants are the second in a series of investments under HFUW's revamped "Investor Model," allowing flexibility to respond to unanticipated needs, crises, or opportunities. The Investor Model also provides general operating support, ensuring that the dollars are more valuable to agencies and have greater impact, but continues to allow HFUW to capture performance outcomes.
Since the pandemic's start, HFUW has invested more than $10.26 million to agencies that support ALICE across the tri-county region. These organizations provide case management and supportive services to help qualified individuals improve their lives and supply them with the basic needs to thrive.