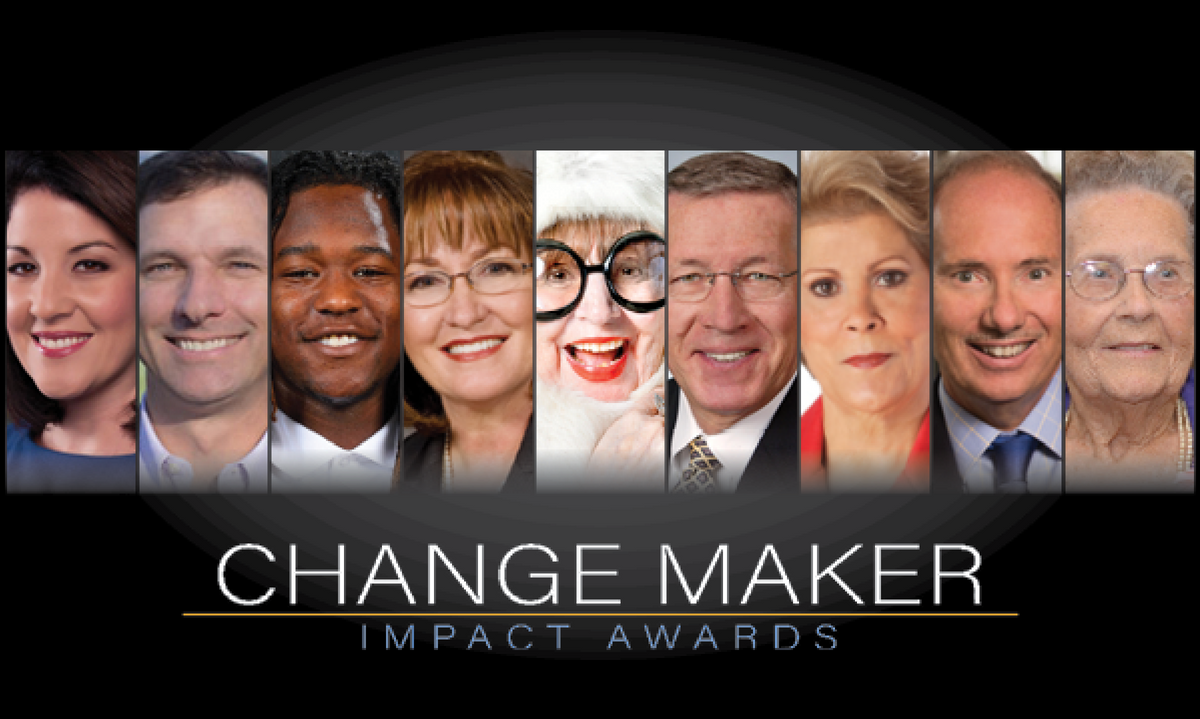 Announcing the Change Makers of Central Florida
The Change Makers of Central Florida
Central Florida is a strong community because some key players took a stand to make our community a better place. These Change Makers are at the forefront of improving lives which is why we are recognizing them at our inaugural Change Maker Impact Awards. It will take place on Monday, September 24 at the Ballroom at Church Street.

Change Maker Honorees
Mayor Teresa Jacobs
Change Maker of the Year – For her unconditional support and leadership in responding to the Hurricane Maria evacuee crisis in Central Florida.
Shaquem Griffin
Ground Breaker – Former UCF Linebacker for his determination to overcome adversity and inspiring youth with disabilities to achieve their full potential.
BRIDG
Ground Breaker – The high-tech sensor manufacturing facility changing the face of the economy in Osceola County for inspiring a region through innovation and cultivating new economic opportunities for the future.
The late Harriett Lake
Impact Leader for Philanthropy – For blessing so many in Central Florida with the resources they need to shine brightly and lead better lives.
Dr. Antonia Novello
Impact Leader for Advocacy – For her heroics in giving hope to the hopeless and saving the lives of dozens of children following Hurricane Maria.
Nancy Alvarez
Impact Leader for Advocacy – Reporter for WFTV for giving a strong voice to those unable to speak for themselves in the aftermath of Hurricane Maria.
Ed Timberlake
Impact Leader for Volunteerism – Long-time community volunteer and executive board member for his leadership, vision and devotion to many in Central Florida through volunteerism.
Steve Hogan
Impact Leader for Collaboration – CEO of Florida Citrus Sports and a driving force as a board member of LIFT Orlando for creating collaboration to break the cycle of poverty and transform neighborhoods.
Kathleen Bean
Unsung Hero– For 25 years of volunteer service cooking thousands of meals for the working poor and homeless at Christian Service Center. Public nomination led to the selection of Mrs. Bean, who will receive a $500 grant to donate to the nonprofit of her choice.
Legacy Honorees

Another important aspect of the event will be recognizing our inaugural class of Legacy Honorees. These are the Change Makers who have contributed faithfully year after year to ensuring our community thrives.
• Walt Disney World
• Publix Super Markets, Inc.
• Edyth Bush Charitable Foundation
• Dr. Philips Charities
• Carol Jenkins Barnett, President of Publix Super Markets Charities & Barney Barnett, Vice Chairman of Publix Super Markets, Inc. and Vice President of Publix Super Markets Charities
• Jim Seneff, Executive Chairman CNL Financial Group
• Jacob Stuart, Retired president of Orlando Regional Chamber of Commerce
• Dr. Nelson Ying, philanthropist and community champion
Event Details
The Change Maker Impact Awards will be held on Monday, September 24, 2018 at The Ballroom at Church Street. It begins with a Community Connection Speed Networking Reception at 5:30 P.M. to connect individuals looking for meaningful volunteer opportunities with nonprofits in need of skilled volunteerism, board members and committee leaders. The networking reception will be followed by dinner and award show to honor this distinguished group who are crucial to our community.
Event Sponsors

For more information, email us at LiveUnited@HFUW.org