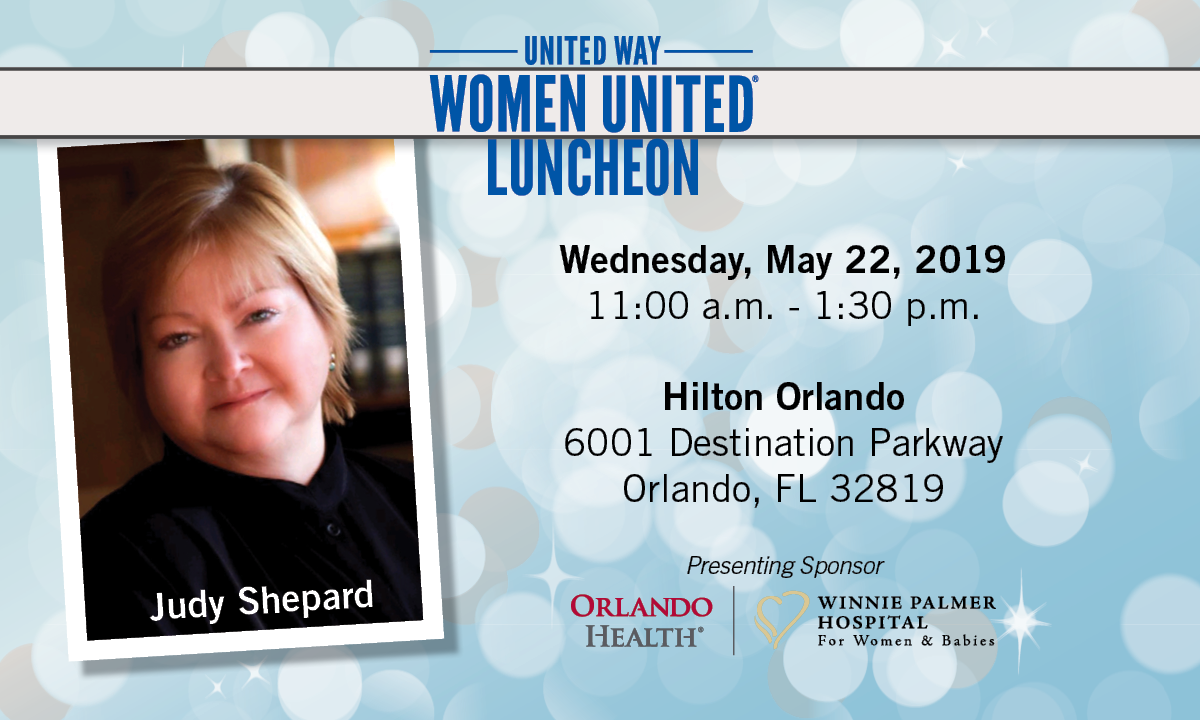 Judy Shepard Featured at Women United Luncheon
2019 Women United Luncheon
For 12 years, the Women United Luncheon has been hosted by Women United, a group of passionate female professionals and philanthropists fighting for the betterment of Central Florida. The Luncheon is a chance to network with like-minded women and take a stand for issues that matter most to our community. This year we are excited to announce that the inspirational keynote speaker at the Luncheon is advocate and author Judy Shepard.
As a renowned activist, Judy will inspire the audience to connect with their passion and find their voice. As a woman who struggled to cope with the unthinkable, she found a way to transform her pain into a lifelong battle for human rights. Judy's message resonates strongly with the advocacy work of Women United. This year's Women United Luncheon will ignite guests to join the movement and lend their voice to changing Central Florida.

Keynote Speaker Judy Shepard
In 1998, Judy lost her son Matthew to a murder motivated by anti-gay hate that shocked and captivated the nation. The author of the best-seller, The Meaning of Matthew, Judy offers an intimate look at how her life and the entire fight for equal rights changed when her son was killed. With a name now synonymous with activism and equal rights, Judy leaves an indelible imprint with her words, compassion and raw honesty as she urges audiences to make their schools and communities safer for everyone, regardless of race, sex, religion or gender identity.
"This brave mother from Wyoming, with her beloved son's memory in her heart, has worked tirelessly to make the laws of our land recognize hate crimes for what they are," said Kari Conley, Orlando Health & Women United co-chair. "Prejudice and hate still live among us and it is up to all of us as women and mothers to promote tolerance and protect every child in America."
Join Us at the Women United Luncheon
We invite you to join us and over 800 of Central Florida's prominent and influential leaders at the Women United Luncheon on Wednesday, May 22, 2019. Networking and registration will begin at 11:00 with the program and lunch starting at 12:00. All proceeds will benefit the United Way's education and literacy initiatives.

For information about sponsorship and corporate tables, contact WomenUnited@HFUW.org.